Out and Home.
24th February 1916
Page 13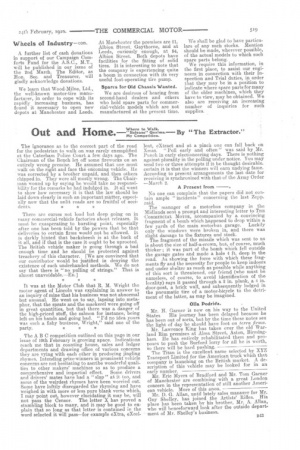 Page 13, 24th February 1916 —
Out and Home.
Close
Where to Walk. "Release" Qualms.
MY Competition.
By "The Extractor."
• The ignorance as to the correct part of the road for the pedestrian to walk on was rarely exemplified at the Caterham Police Court a few days ago. The 'Chairman of the Bench let off some fireworks on an entirely wrong premise. He assumed that one must walk on the right and face the oncoming vehicle. He was corrected by a brother unpaid, and then others chipped in. They were all mostly wrong. The Chairman wound up by saying he would take no responsibility for the remarks he had indulged in. It all went to show how necessary it is that the law should be laid down clearly in such an important Matter, especially now that the unlit roads are so fruitful of accidents.
There are curses not loud but deep going on in many commercial-vehicle factories about releases. It must be exasperating to bursting point, especially after one has been told by the powers that be that deliveries to certain firms would not be allowed. It is darkly hinted that backsheesh is at the back of it all, and if that is the case it ought to be uprooted. The British vehicle maker is going through a bad enough time and he should be protected against treachery of this character. [We are convinced that our contributor would be justified in denying the existence of such underhanded methods. We do not say that there is "no pulling of strings." That is almost unavoidable.—En.] It was at the Motor Club that R. M. Wright the motor agent of Lincoln was explaining in answer to an inquiry of mine that his business was not abnormal but unusual. He went on to say, lapsing into metaphor, that the sprats and the mackerel were going off in great quantities, but that there was a danger of the high-priced stuff, the salmon for instance, being left on his hands and going bad. "I'd no idea yours was such a fishy business. Wright," said one of the party.
The A B C competition outlined on this page in our issue of 10th February is growing apace. Indications reach me that in counting house, sales and ledger departments and drawing office of various concerns they are vying with each other in producing jingling rhymes. Intending prize-winners in prominent vehicle concerns are not hesitating to ascribe wonderful qualities to other makers' machines so as to produce a comprehensive and impartial effect. Some drivers and drivers' mates have had a "slap" at it too, and sonic of the weirdest rhymes have been worried out. Some have loftily disregarded the rhyming and have weighed in with more or less pure blank verse which, I may point out, however elucidating it may be, will not pass the Censor. The letter X has proved a stumbling block to many, and it may be good to explain that so long. as that letter is contained in the word selected it will pass--for example eXtra, eXcel
lent, eXtract and at a pinch one can fall back on
Xmas. 'Poll early and often" was said by Mr. Punch in early electioneering days. There is nothing against plurality in the Dolling under notice. You may send two or three attempts if it be thought desirable. certain it is that the winners will earn undying fame. According to present.arrangements the last date for
receiving is synchronized with that of the Army Order —March 2.
A Present from •
No one can complain that the papers did not contain ample " incidents " concerning the last Zepp.
raid.
The manager of a. motorbus company in the Midlands sent a prompt and interesting letter to THE 'COMMERCIAL MOTOR, accompanied by a convincing fragment of a bomb which happened to drop within a. few yards of the main motorbus garage. Luckily only the windows were broken in, and there was
slight damage to the fixtures and stock. The fragment of the missile which was sent to us is about the size of half-a-crown, but, of course, much thicker ; it was part of the bomb which fell outside the garage gates and made a hole 4 ft. deep in the road. As showing the force with which these frag ments fly and the necessity for people to keep indoors and under shelter as much as possible while anything of this sort is threatened, our friend (who must be nameless, of course, to avoid identification of the locality) eays it passed through a 2 in. plank, a 4 in. door-post, a brick wall, and subsequently lodged in the pneumatic tire of a motor-bicycle to the detriment of the latter, as may be imagined.
011a Podrida.
Mr. H. Garner is now on his way to the United
States His journey has been delayed because he has been out of sorts but by the time these notes see
the light of day he sorts, have foot on terra firma.
Mr. Lawrence King has taken over the old War land Rim premises at Alma Street, Aston, Birmingham. He has entirely rehabilitated them and proposes to push the Burford lorry for all he is worth, so there will be hard pushing. The Titan is the excellent name selected by XYZ Transport Limited for the American truck which that company is launching on the British market. A de scription of this vehicle may be looked for in an early number. Mr. Eric Myers of Bradford and Mr. Tom Garner of Manchester are combining with a great London concern in the representation of still another Ameri can vehicle. More of this anon.
Mr. D. G. Allan, until lately sales manager for Mr.
Guy Shelley, has joined the Artists' Rifles. His place has been taken by his brother, Mr. A. Allan, who will henceforward look after the outside depart ment of Mr. Shelley's business.