PRESS OFFICER
24th August 1989
Page 61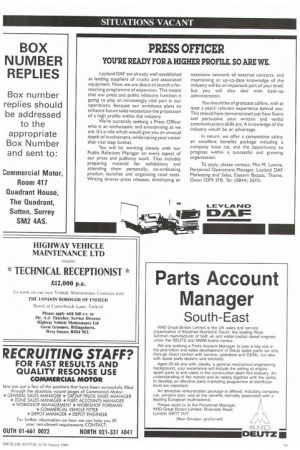 Page 61, 24th August 1989 —
PRESS OFFICER
Close
YOU'RE READY FOR A HIGHER PROFILE. SO ARE WE.
Leyland DAF are already well-established as leading suppliers of trucks and associated equipment. Now, we are about to launch a farreaching programme of expansion. This means that our press and public relations function is going to play an increasingly vital part in our operations, because our ambitious plans to enhance future sales necessitate the projection of a high profile within the industry.
We're currently seeking a Press Officer who is an enthusiastic and enterprising as we are. It's a role which would give you an unusual depth of involvement, while taking your career that vital step further.
You will be working closely with our Public Relations Manager on every aspect of our press and publicity work. That includes preparing material for exhibitions and attending them personally; co-ordinating product launches and organising road tests. Writing diverse press releases, developing an extensive network of external contacts, and maintaining an up-to-date knowledge of the industry will be an important part of your brief, but you will also deal with back-up administration.
You should be of graduate calibre, with at least a years' relevant experience behind you. This should have demonstrated just how fluent and persuasive your written and verbal communications skills are. A knowledge of the industry would be an advantage.
In return, we offer a competitive salary, an excellent benefits package including a company lease car, and the opportunity to progress within a successful and growing organisation.
To apply, please contact: Mrs M. Lawrie, Personnel Operations Manager, Leyland OAF Marketing and Sales, Eastern Bypass, Thame, Oxon 0X9 3FB. Tel: (0844) 261111.