Temp drivers cam 1HA concern
24th August 1989
Page 6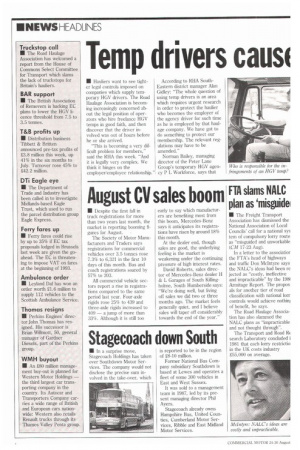 Page 7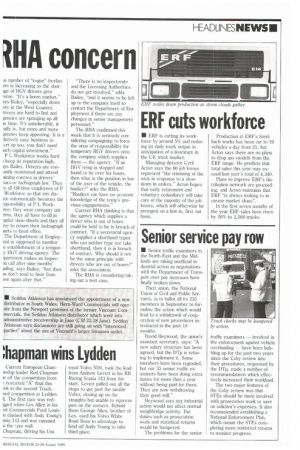 Page 6, 24th August 1989 —
Temp drivers cam 1HA concern
Close
• Hauliers want to see tighter legal controls imposed on companies which supply temporary HGV drivers. The Road Haulage Association is becoming increasingly concerned about the legal position of operators who hire freelance HGV temps in good faith, and then discover that the driver involved was out of hours before he or she arrived.
"This is becoming a very difficult problem for members," said the RHA this week. "And it is legally very complex. We think it hinges on the employer/employee relationship.' According to RHA SouthEastern district manager Alan Gidley: "The whole question of using temp drivers is an area which requires urgent research in order to protect the haulier who becomes the employer of the agency driver for such time as he is employed by that haulage company. We have got to do something to protect our membership. The relevant regulations may have to be amended."
Norman Bailey, managing director of the Peter Lane Group's temporary HGV agency P L Workforce, says that
ie number of "rogue" freelaners is increasing as the shorige of HGV drivers gets -orse. "It's a boom market," lys Bailey, "especially down ere in the West Country. Irivers are hard to find and gencies are springing up all le time. It's unbelievable, it tally is, but more and more gencies keep appearing. It is a !latively easy business to :art up too, you don't need iuch capital investment." P L Workforce works hard ) keep its reputation high, iys Bailey. Drivers are conantly monitored and attend aining courses in drivers' Airs or tachograph law. They -e all full-time employees of P Workforce so that any disite automatically becomes the :sponsibility of P L Workrce; they wear company unirms, they all have to fill in !gular time-sheets and they all we to return their tachograph mils to head office.
The Department of Employent is supposed to monitor e establishment of a tempory HGV driving agency. The !pun-I-lent makes an inspecxi call after nine months' ading, says Bailey, "but then xi don't tend to hear from em again after that."
"There is no inspectorate and the Licensing Authorities do not get involved," adds Bailey, "and it seems to be left up to the company itself to contact the Department of Employment if there are any changes in senior management personnel."
The RHA confirmed this week that it is seriously considering campaigning to force the onus of responsibility for temporary HGV drivers onto the company which supplies them — the agency. "If an HGV temp is stopped and found to be over his hours, then what is the position in law of the user of the vehicle, the haulier?" asks the RHA. "Hauliers can have no accurate knowledge of the temp's previous engagements."
Current RHA thinking is that the agency which supplies a driver who is out of hours could be held to be in breach of contract. "If a secretarial agency supplies a shorthand typist who can neither type nor take shorthand, then it is in breach of contract. Why should it not be the same principle with drivers who are out of hours?" asks the association.
The RHA is considering taking out a test case.