Buy-out prospeci dims in Lothian
24th August 1989
Page 18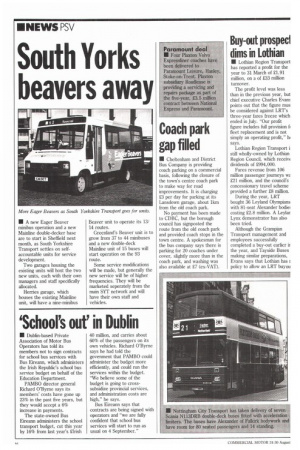 Page 19
Page 18, 24th August 1989 —
Buy-out prospeci dims in Lothian
Close
Group after MIT assets
• Lothian Region Transport has reported a profit for the year to 31 March of 21.91 million, on a of 233 million turnover.
The profit level was less than in the previous year, but chief executive Charles Evan: points out that the figure mus be considered against LRT's three-year fares freeze which ended in July. "Our profit figure includes full provision f■ fleet replacement and is not simply an operating profit," III says, Lothian Region Transport i still wholly-owned by Lothian Region Council, which receiv( dividends of £994,000.
Fares revenue from 106 million passenger journeys wz £21 million, and the council's concessionary travel scheme provided a further 28 million.
During the year, LRT bought 36 Leyland Olympians with 81-seat Alexander bodie: costing 22.8 million. A Leylar Lynx demonstrator has also been tried.
Although the Grampian Transport management and employees successfully completed a buy-out earlier is the year, and Tayside Buses making similar preparations, Evans says that Lothian has policy to allow an LRT buyou
Merthyr Tydfil Transport !ased operating at midnight Tuesday last week, after niggling to keep going, faced ith a winding-up order from till Oil and by competition am National Welsh. Adminisator Cork Gulley is unable to .y who owns the company, it says that outstanding ages will be paid to staff. A consortium of local indemdent operators, Evans of ew Tredegiuand Shamrock ivate Hire Services, is persting with a bid for the vehim and non-property assets of 1'T, though they claim an [flier offer failed because of e short timescale imposed by e administrators.
Ian Evans, a director of the asortium, says it will be takg legal action to require erthyr Borough Council to complete the transfer of the company to the consortium. A deposit was paid and the final value was to be based on the asset value at a takeover planned to take place in July. However, no figure was given and the sale was not completed, although Evans and Clayton Jones had been appointed directors in June.
At the time of closure MTT owned 27 vehicles, mainly Leopards and Nationals, with two Dennis Lancets and one AEC. There were also 27 leased vehicles, comprising 18 Lynxes, five MCW Metroriders, one Royal Tiger Doyen and two Plaxton 3500 Tigers.