Giants snap up Lowfield
24th August 1989
Page 14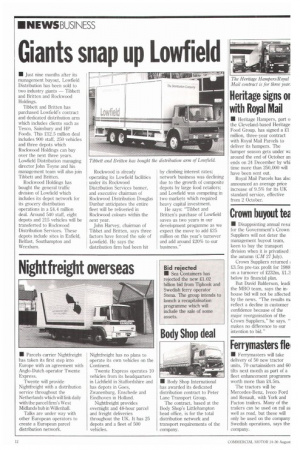 Page 14, 24th August 1989 —
Giants snap up Lowfield
Close
• Just nine months after its management buyout, Lowfield Distribution has been sold to two industry giants — Tibbett and Britten and Rockwood Holdings.
Tibbett and Britten has purchased Lowrield's contract and dedicated distribution arm which includes clients such as `Fesco, Sainsbury and HP Foods. This £12.5 million deal includes 9(X) staff, 250 vehicles and three depots which Rockwood Holdings can buy over the next three years. Lowfield Distribution managing director John Toyne and his management team will also join Tibbett and Britten.
Rockwood Holdings has bought the general traffic division of Lowfield which includes its depot network for its grocery distribution operations in a 24.4 million deal Around 540 staff, eight depots and 215 vehicles will be transferred to Rockwood Distribution Services. These depots include sites in Enfield, Belfast, Southampton and Wrexham. Rockwood is already operating its Lowfield facilities under its Rockwood Distribution Services banner, and executive chairman of Rockwood Distribution Douglas Dunbar anticipates the entire fleet will be reliveried in Rockwood colours within the next year.
John Harvey, chairman of Tibbet and Britten, says three factors have forced the sale of Lowfield. He says the distribution firm had been hit by climbing interest rates; network business was declining due to the growth of composite depots by large food retailers; and Lowfield was competing in two markets which required heavy capital investment.
He says: "Tibbet and Britten's purchase of Lowfield saves us two years in our development progamme as we expect the move to add 225 million on this year's turnover and add around £20% to our business."