MARKET GARDENERS AND FRUIT GROWERS' ISSUE.
24th August 1905
Page 2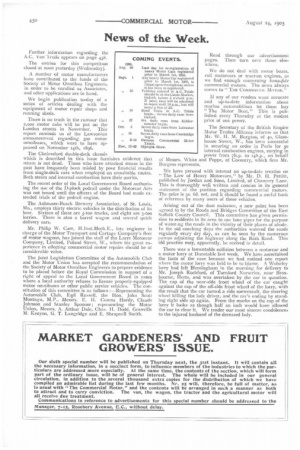 Page 2, 24th August 1905 —
MARKET GARDENERS AND FRUIT GROWERS' ISSUE.
Close
Our sixth special number will be published on Thursday next, the 31st instant. It will contain all the necessary information, in a succinct form, to influence members of the industries to which the particulars are addressed more especially. At the same time, the contents of the section, which will form part of the ordinary issue, will be of general interest. The whole will be included in our general circulation, in addition to the several thousand extra copies for the distribution of which we have compiled an admirable list during the last few months. Ne. 25 will, therefore, be full of matter, as is usual with "The Commercial Motor." and the contents will be arranged in such a manner as both to attract and to carry conviction. The van, the wagon, the tractor and the agricultural motor will all receive due treatment.
Communications in reference to advertisements for this special number should be addressed to the Manager, 7-15, Rosebery Avenue, E.C., without delay.