The Motor Drivers News.
24th August 1905
Page 15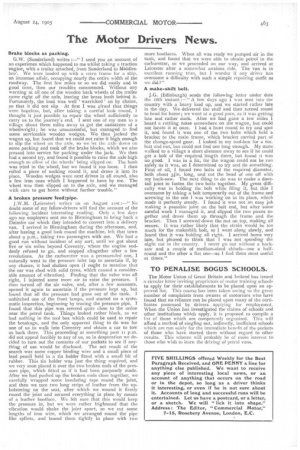 Page 15, 24th August 1905 —
The Motor Drivers News.
Close
Brake blocks as packing.
G.W. (Sunderland) writes :—" I send you an account of an experience which happened to me whilst taking a traction engine, with a trailer attached, from Sunderland to Middlesbro'. We were loaded up with a stern frame for a ship, an immense affair, occupying nearly the entire width of the roadway. The lirst few miles or so we did easily and in good time, then our troubles commenced. Without any warning at all one of the wooden back wheels of the trailer came right off the axle, leaving the brass bush behind it. Fortunately, the load was well warricked ' on by chains, so that it did not slip At first I was afraid that things were hopeless, but, after taking a careful look round, I thought it just possible to repair the wheel sufficiently to carry us to the journey's end. I sent one of my men to a village about three miles away to get the assistance of a wheelwright; he was unsuccessful, but managed to find some serviceable wooden wedges. We then jacked the wagon up, but found that we could not raise it high enough to slip the wheel on the axle, so we let the axle down on some packing and took off the brake blocks, which we also pressed into service for packing under the jack. We then had a second try, and found it possible to raise the axle high enough to allow of the wheels' being slipped on. The bush was tried in the wheel, but we found it too loose. I then rolled a piece of sacking round it, and drove it into its place. Wooden wedges were next driven in all round, also a few iron ones which I happened to have by me. The wheel was then slipped on to the axle, and we managed with care to get home without further trouble."
A broken pressure feed3pipe.
J.W.M. (Leicester) writes us on August 2 1St :-" No doubt some of my fellow-drivers will find the account of the Following incident interesting reading. Only a few days ago my employers sent me to Birmingham to bring back a Daimler car which they intended to convert into a delivery van. I arrived in Birmingham during the afternoon, and, after having a good look round the machine, left that town about 9 p.m., taking two passengers with me. We had a good run without incident of any sort, until we got about five or six miles beyond Coventry, where the engine suddenly refused to go, and stopped altogether after a few revolutions. As the carburetter was a pressure-fed one, I naturally went to the pressure inlet tap to ascertain if, by any chance, it had shaken open (I ought to mention that the car was shod with solid tyres, which caused a considerable amount of vibration). Finding that the valve was all right, I injected some more air to raise the pressure. I then turned off the air valve, and, after a few moments, opened it again to ascertain if the pressure kept up, but found that all the pressure had gone out of the tank. I unhitched one of the front lamps, and started on a systematic inspection, beginning by tracing the pressure pipe. I found that this pipe was severed quite close to the union near the petrol tank. Things looked rather black, as we had nothing in the tool box which could be used to repair the breakage, and the only apparent thing to do was for one of us to walk into Coventry and obtain a car to tow us back there. This proceeding at something past ti p.m. did not appeal forcibly to any of us, so in desperation we decided to turn out the contents of our pockets to see if anything of use would be disclosed. The net result of the search was some copper binding wire and a small piece of lead pencil held in a tin holder fitted with a small bit of rubber. This tin holder was just the thing required, and we very soon placed it over the two broken ends of the pressure pipe, which fitted as if it had been purposely made. After we had pushed up the broken ends close together, we carefully wrapped some insulating tape round the joint, and then we tore two long strips of leather from the upholstering on the seat, after which we wound it firmly round the joint and secured everything in place by means of a leather bootlace. We felt sure that this would keep the pressure in, but we were rather frightened that the vibration would shake the joint apart, so we cut some lengths of iron wire, which we arranged round the pipe like splints, and bound them tightly in place with two more bootlaces. When all was ready we pumped air in the tank, and found that we were able to obtain petrol in the carburetter, so we proceeded on our way, and arrived at Leicester after a somewhat anxious ride. The van is in excellent running trim, but I wonder if any driver has overcome a difficulty with such a simple repairing outfit as we did?"
A make-shift bolt.
J.G. (Edinburgh) sends the following letter under date the IS-tit instant :—" A tew days ago I was sent into the country with a heavy load up, and we started rather late in the day. We delivered the stuff and then turned round to head for home; we went at a good pace, as it was getting late and rather dark. After we had gone a few miles I heard a rattling noise somewhere on the wagon, but could not locate it at once. I had a hunt round to try and, spot it, and found it was one of the two bolts which held a bracket to the main frame, which bracket carried part of the change-speed gear. I looked in my tool-box for a 6in. bolt and nut, but could not find one long enough. My mate walked to a village a short distance away to see if he could get a bolt of the required length there, but found it was no good. I was in a fix, for the wagon could not be run safely as it was, so I determined to try and do something. First of all, I found two bolts of the required diameter, both about 34in. long, and cut the head of one off with my hack-saw. The next thing to do was to make a dovetail joint to fasten the two bolts together. My great difficulty was in holding the bolt while filing it, but this I overcame by taking a bolt temporarily out of the frame and screwing in the one I was working on in its place, which made it perfectly steady. I found it was not an easy job making a passable joint on the bolt end, but after some careful work I managed it, and slipped the two pieces together and drove them up through the frame and the bracket. Then 1 screwed down the nut on top, making all secure. It was rather likely that the strain would be too much for the makeshift bolt, so I went along slowly, and found that it was holding all right. I arrived home very late, but pleased to think that I was not spending the night out in the country. I never go out without a hacksaw and a couple of medium-sized chisels--one a half. round and the other a flat one—as I find them most useful at times."
TO PENALISE BOGUS SCHOOLS.
The Motor Union of Great Britain and Ireland has issued a circular letter inviting proprietors of motor training schools to apply for their establishments to be placed upon an approved list. This course has been taken owing to the great number of complaints from owners of motorcars who have found that no reliance can be placed upon many of the certificates possessed by drivers applying for employment. When the Union has investigated the claims of schools and other institutions which apply, it is proposed to compile a list of those which are competently organised. This will afford a method of singling out, indirectly, inefficient schools which are run solely for the immediate benefit of the pockets of those who have started them without regard to other results. This scheme will probably be of more interest to those who wish to learn the driving of petrol vans.