ANSWERS TO CORRESPONDENTS.
24th August 1905
Page 13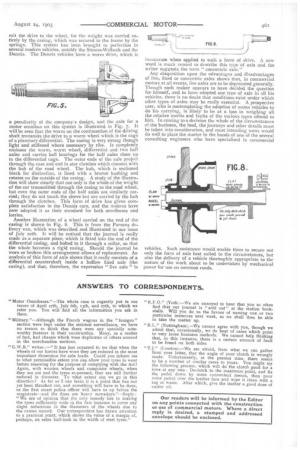 Page 13, 24th August 1905 —
ANSWERS TO CORRESPONDENTS.
Close
"Motor Omnibuses."—The whole case is cogently put in our issues of April 27th, July 6th, t3th, and 27th, to which we refer you. You will find all the information you ask in them.
" Military."—Although the French wagons in the " fourgon" section were kept under the strictest surveillance, we have no reason to think that there were any specially noteworthy features in their construction. Many, as a matter of fact, had chassis which were duplicates of others entered in the merchandise sections.
"G.W.B." writes :—" It has just occurred to me that when the wheels of our lorries have worn they are reduced in the most important dimension for axle loads. Could you inform me to what permissible extent you can allow your tyres to wear before renewing for the purpose of complying with the Act? Again, with wooden wheels and composite wheels, when they are cut and the tyres re-pressed, they are still further reduced in diameter. To what extent can we go in this direction? As far as I can learn it is a point that has not yet been thrashed out, and something will have to be done, or the first smart police officer will have us up before the magistrate—and the fines are heavy nowadays."--Reply : " We are of opinion that the only remedy lies in making the tyres sufficiently wide in the first instance to cover any slight reductions in the diameters of the wheels due to the causes named. Our correspondent has drawn attention to a practical point, which shows the value of a margin of, perhaps, an extra half-inch in the width of steel tyres." " R.F.0." (York).—We are annoyed to hear that you so often find that our journal is "sold out" at the station bookstalls. Will you do us the favour of naming one or two particular instances next week, as we shall then be able to take the matter up.
"R.L." (Nottingham).—We cannot agree with you, though we admit that, occasionally, we do hear of cases which point to very loose business methods. We cannot help thinking that, in this instance, there is a certain amount of fault to be found on both sides
" T.J." (London).—We are afraid, from what we can gather from your letter, that the angle of your clutch is wrongly made. Unfortunately, at the present time, there seems to be a number of similar cases to yours. You might try the following process, which will do the clutch good for a time at any rate: Declutch to the maximum point, and fix the pedal down by some convenient means, then pour some petrol over the leather face and wipe it clean with a rag or waste. After which, give the leather a good dose of castor oil.