P BUSINESS
24th April 2008
Page 6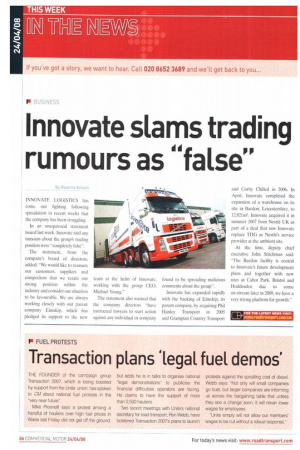 Page 6, 24th April 2008 —
P BUSINESS
Close
Innovate slams trading rumours as "false"
By Roanna Avisw.
INNOVATE LOGISTICS has come out fighting following speculation in recent weeks that the company has been struggling.
In an unequivocal statement issued last week. Innovate said any rumours about the group's trading position were "completely false-.
The statement, from the company's board of directors, added: "We would like to reassure our customers, suppliers and competitors that we retain our strong position within the industry and consider our situation to be favourable. We are always working closely with our parent company Eimskip, which has pledged its support to the new team at the helm of Innovate. working with the group CEO, Michael Young."
The statement also warned that the company directors "have instructed lawyers to start action against any individual or company found to be spreading malicious comments about the group".
Innovate has expanded rapidly with the backing of Eimskip, its parent company, by acquiring Phil Hanley Transport in 2005 and Grampian Country Transport and Corby Chilled in 2006. In April, Innovate completed the expansion of a warehouse on its site in Bardon. Leicestershire, to 12,82Im2. Innovate acquired it in summer 2007 from Nestle UK as part of a deal that saw Innovate replace TDG as Nestle's service provider at the ambient site.
At the time, deputy chief executive John Stitchman said: "The Bardon facility is central to Innovate's future development plans and together with new sites at Cabot Park, Bristol and Hoddesden due to come on-stream later in 2008, we have a very strong platfrom for growth."
M. FOR THE LATEST NEWS VISIT: