uel theft or contamination can punch a large hole in
24th April 2008
Page 48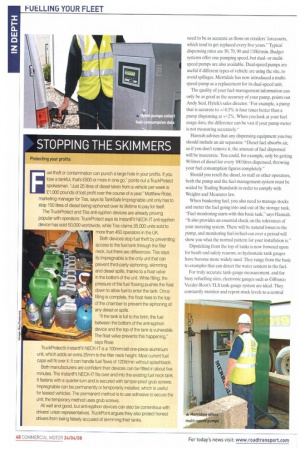 Page 48, 24th April 2008 —
uel theft or contamination can punch a large hole in
Close
your profits. If you lose a tankful, that's £500 or more in one go," points out a TruckProtect spokesman. "Just 25 litres of diesel taken from a vehicle per week is £1,000 pounds of lost profit over the course of a year." Matthew Rose, marketing manager for Tiss, says its TankSafe Impregnable unit only has to stop 150 litres of diesel being siphoned over its lifetime to pay for itself.
The TruckProtect and Tiss anti-syphon devices are already proving popular with operators: TruckProtect says its InstantFit NECK-IT anti-syphon device has sold 50,000 worldwide, while Tiss claims 35,000 units sold to more than 450 operators in the UK.
Both devices stop fuel theft by preventing access to the fuel tank through the filler neck, but there are differences. Tiss says its Impregnable is the only unit that can prevent third-party siphoning, skimming and diesel spills, thanks to a float valve in the bottom of the unit. While filling, the pressure of the fuel flowing pushes the float down to allow fuel to enter the tank. Once filling is complete, the float rises to the top of the chamber to prevent the siphoning of any diesel or spills.
"If the tank is full to the brim, the fuel between the bottom of the anti-syphon device and the top of the tank is vulnerable. The float valve prevents this happening," says Rose.
TruckProtect's InstantFit NECK-IT is a 100mm-tall one-piece aluminium unit, which adds an extra 25mm to the filler neck height. Most current fuel caps will fit over it. It can handle fuel flows of 1201itimin without splashback.
Both manufacturers are confident their devices can be fitted in about five minutes. The InstantFit NECK-IT fits over and into the existing fuel neck tank. It fastens with a quarter-turn and is secured with tamper-proof grub screws. Impregnable can be permanently or temporarily installed, which is useful for leased vehicles. The permanent method is to use adhesive to secure the unit; the temporary method uses grub screws.
All well and good, but anti-syphon devices can also be contentious with drivers' union representatives. TruckPoint argues they also protect honest drivers from being falsely accused of skimming their tanks.