Fiat Grande Punto Van 1.3
24th April 2008
Page 40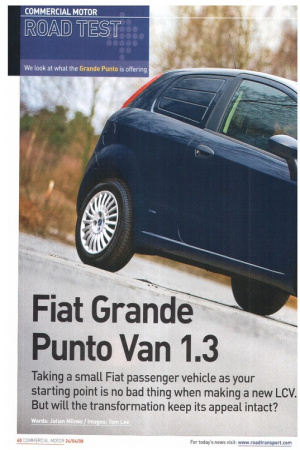 Page 42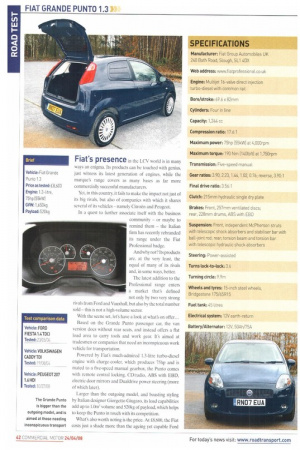 Page 44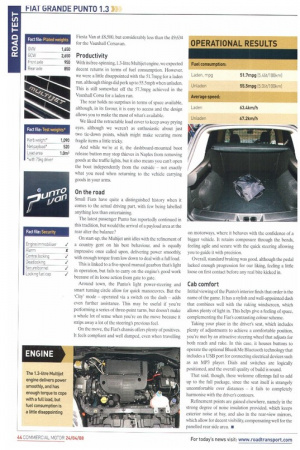 Page 40, 24th April 2008 —
Fiat Grande Punto Van 1.3
Close
Taking a small Fiat passenger vehicle as your starting point is no bad thing when making a new LCV.
But will the transformation keep its appeal intact?
Fiat's presence in the LCV world is in many ways an enigma. Its products can be touched with genius, just witness its latest generation of engines, while thc marque's range covers as many bases as far more commercially successful manufacturers.
Yet, in this country, it fails to make the impact not just of its big rivals, but also of companies with which it shares several of its vehicles — namely Citroen and Peugeot.
In a quest to further associate itself with the business community — or maybe to remind them — the Italian firm has recently rebranded its range under the Fiat Professional badge.
And why not? Its products are, at the very least, the equal of many of its rivals and, in some ways, better.
The latest addition to the Professional range enters a market that defined not only by two very strong rivals from Ford and Vauxhall, but also by the total number sold — this is not a high-volume sector.
With the scene set, let's have a look at what's on offer...
Based on the Grande Punto passenger car, the van version does without rear seats, and instead offers a flat load area to carry tools and work gear. it's aimed at tradesmen or companies that need an inconspicuous work vehicle for transportation.
Powered by Fiat's much-admired 1.3-litre turbo-diesel engine with charge-cooler, which produces 75hp and is mated to a five-speed manual gearbox. the Punto comes with remote central locking, CD/radio. ABS with EBD, electric door mirrors and Dualdrive power steering (more of which later).
Larger than the outgoing model, and boasting styling by Italian designer Giorgetto Giugaro, its load capabilities add up to 1.0m3 volume and 520kg of payload, which helps to keep the Punto in touch with its competition.
What's also worth noting is the price. At £8,600, the Fiat costs just a shade more than the ageing yet capable Ford Fiesta Van at £8,500, but considerably less than the £9,634 for the Vauxhall Corsavan.
Productivity
With its free-spinning, 1.3-litre Multijet engine, we expected decent returns in terms of fuel consumption. However, we were a little disappointed with the 51.7mpg for a laden run, although things did perk up to 55.5mph when unladen. This is still somewhat off the 573mpg achieved in the Vauxhall Corsa for a laden run.
The rear holds no surprises in terms of space available, although, in its favour, it is easy to access and the design allows you to make the most of what's available.
We liked the retractable load cover to keep away prying eyes, although we weren't as enthusiastic about just two tie-down points, which might make securing more fragile items a little tricky.
And while we're at it, the dashboard-mounted boot release button may stop thieves in Naples from removing goods at the traffic lights, but it also means you can't open the boot independently from the outside — not exactly what you need when returning to the vehicle carrying goods in your arms.
On the road
Small Fiats have quite a distinguished history when it comes to the actual driving part, with few being labelled anything less than entertaining.
The latest passenger Punta has reportedly continued in this tradition, but would the arrival of a payload area at the rear alter the balance?
On start-up, the Multijet unit idles with the refinement of a country gent on his best behaviour, and is equally impressive once called upon, delivering power smoothly, with enough torque from low down to deal with a full load.
This is linked to a five-speed manual gearbox that's light in operation, but fails to carry on the engine's good work because of its loose action from gate to gate.
Around town, the Punto's light power-steering and smart turning circle allow for quick manoeuvres. But the 'City' mode — operated via a switch on the dash — adds even further assistance. This may be useful if you're performing a series of three-point turns, hut doesn't make a whole lot of sense when you're on the move because it strips away a lot of the steering's previous feel.
On the move, the Fiat's chassis offers plenty of positives. It feels compliant and well damped, even when travelling on motorways, where it behaves with the confidence of a bigger vehicle. It retains composure through the bends, feeling agile and secure with the quick steering allowing you to guide it with precision.
Overall, standard braking was good, although the pedal lacked enough progression for our liking, feeling a little loose on first contact before any real bite kicked in.
Cab comfort
Initial viewing of the Punto's interior finds that order is the name of the game. It has a stylish and well-appointed dash that combines well with the raking windscreen, which allows plenty of light in. This helps give a feeling of space, complementing the Fiat's contrasting colour scheme.
Taking your place in the driver's seat, which includes plenty of adjustments to achieve a comfortable position, you're met by an attractive steering wheel that adjusts for both reach and rake. In this case, it houses buttons to operate the optional Blue&Me Bluetooth technology that includes a USB port for connecting electrical devices such as an MP3 player. Dials and switches are logically positioned, and the overall quality of build is sound.
That said, though, these welcome offerings fail to add up to the full package, since the seat itself is strangely uncomfortable over distances — it fails to completely harmonise with the driver's contours.
Refinement points are gained elsewhere, namely in the strong degree of noise insulation provided, which keeps exterior noise at bay, and also in the rear-view mirrors, which allow for decent visibility, compensating well for the panelled rear side area. •