P CASE THREE
24th April 2008
Page 32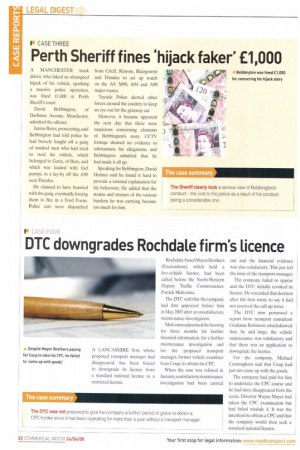 Page 32, 24th April 2008 —
P CASE THREE
Close
Perth Sheriff fines 'hijack faker' £1,000
A MANCHESTER truck driver, who faked an attempted hijack of his vehicle, sparking a massive police operation, was fined £1,000 at Perth Sheriff's court.
David Bebbington, of Darliston Avenue, Manchester, admitted the offence.
Janine Bates, prosecuting, said Bebbington had told police he had bravely fought off a gang of masked men who had tried to steal his vehicle, which belonged to Garic, of Bury, and which was loaded with fuel pumps, in a lay-by off the A90 near Dundee.
He claimed to have brawled with the gang, eventually forcing them to flee in a Ford Focus. Police cars were dispatched from Crieff, Kinross. Blairgowrie and Dundee to set up watch on the A9, M90, A94 and A90 major routes.
Tayside Police alerted other forces around the country to keep an eye out for the getaway car.
However, it became apparent the next day that there were suspicions concerning elements of Bebbington' s story. CCTV footage showed no evidence to substantiate his allegations, and Bebbington admitted that he had made it all up.
Speaking for Bebbington, David Holmes said he found it hard to provide a rational explanation for his behaviour. He added that the strains and stresses of the various burdens he was carrying became too much for him.