No Licence for operating without authority
24th April 2008
Page 31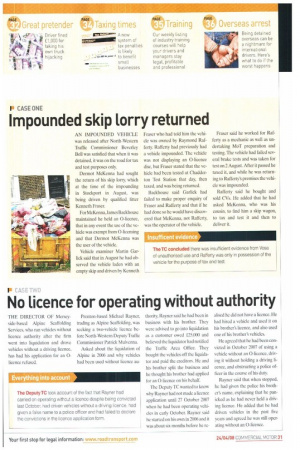 Page 31, 24th April 2008 —
No Licence for operating without authority
Close
THE DIRECTOR OF Merseyside-based Alpine Scaffolding Services, who ran vehicles without licence authority after the firm went into liquidation and drove vehicles without a driving licence, has had his application for an 0licence refused. Prenton-based Michael Rayner, trading as Alpine Scaffolding, was seeking a two-vehicle licence before North-Western Deputy Traffic Commissioner Patrick Mulvenna.
Asked about the liquidation of Alpine in 2006 and why vehicles had been used without licence au thority, Rayner said he had been in business with his brother. They were advised to go into liquidation as a customer owed I25,000 and believed the liquidator had notified the Traffic Area Office. They bought the vehicles off the liquidator and paid the creditors. He and his brother split the business and he thought his brother had applied for an 0-licence on his behalf.
The Deputy TC wanted to know why Rayner had not made a licence application until 27 October 2007 when he had been operating vehicles in early October. Rayner said he started on his own in 2006 and it was about six months before he re alised he did not have a licence. He had hired a vehicle and used it on his brother's licence, and also used one of his brother's vehicles.
He agreed that he had been convicted in October 2007 of using a vehicle without an 0-licence, driving it without holding a driving licence, and obstructing a police officer in the course of his duty.
Rayner said that when stopped, he had given the police his brother's name, explaining that he panicked as he had never held a driving licence. He added that he had driven vehicles in the past five years and agreed he was still operating without an 0-licence.