International licence faces Vosa opposition
24th April 2008
Page 30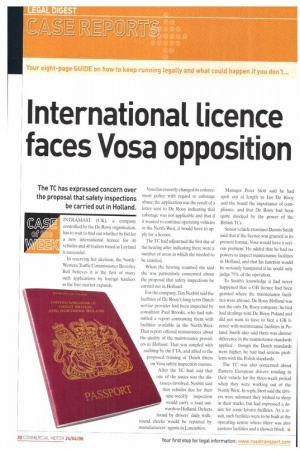 Page 30, 24th April 2008 —
International licence faces Vosa opposition
Close
The TC has expressed concern over the proposal that safety inspections be carried out in Holland.
INTRAMAST (UK), a company controlled by the De Rooy organisation, has to wait to find out whether its bid for a new international licence for 40 vehicles and 40 trailers based at Leyland is successful.
In reserving her decision, the NorthWestern Traffic Commissioner Beverley Bell believes it is the first of many such applications by foreign hauliers as the free market expands. Vosa has recently changed its enforcement policy with regard to cabotage abuse; the application was the result of a letter sent to De Rooy indicating that cabotage was not applicable and that if it wanted to continue operating vehicles in the North-West, it would have to apply for a licence.
The TC had adjourned the first day of the hearing after indicating there were a number of areas in which she needed to he satisfied.
When the hearing resumed she said she was particularly concerned about the proposal that safety inspections be carried out in Holland.
For the company, Tull Nesbitt said the facilities of De Rooy's long-term Dutch service provider had been inspected by consultant Paul Brooks, who had submitted a report contrasting them with facilities available in the North-West. That report offered reassurances about the quality of the maintenance providers in Holland. That was coupled with auditing by the FTA, and allied to the proposed training of Dutch fitters on Vosa safety inspection courses. After the TC had said that one of the issues was the dis tances involved, Nesbitt said that vehicles due for their nine-weekly inspection would carry a load outwards to Holland. Defects found by drivers' daily walkround checks would be repaired by manufacturers' agents in Lancashire, Manager Peter Stott said he had spelt out at length to Jan De Rooy and the board the importance of compliance, and that De Rooy had been quite shocked by the power of the British TCs.
Senior vehicle examiner Dennis Smith said that if the licence was granted in its present format, Vosa would have a serious problem. He added that he had no powers to inspect maintenance facilities in Holland, and that his function would be seriously hampered if he could only judge 75% of the operation.
To Smith's knowledge it had never happened that a GB licence had been granted where the maintenance facilities were abroad. De Rooy Holland was not the only De Rooy company; he had had dealings with De Rooy Poland and did not want to have to face a GB licence with maintenance facilities in Poland. Smith also said there was distinct difference in the maintenance standards applied — though the Dutch standards were higher, he had had serious problems with the Polish standards.
The TC was also concerned about Eastern European drivers residing in their vehicle for the three-week period when they were working out of the North-West. In reply, Stott said the drivers were adamant they wished to sleep in their trucks, but had expressed a desire for some leisure facilities. As a result, such facilities were to be built at the operating centre where there was also canteen facilities and a shower block. •