Helpful suggestions...
24th April 2008
Page 3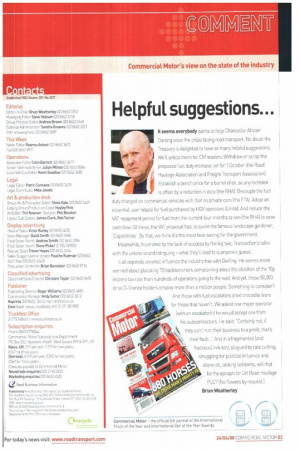 Page 3, 24th April 2008 —
Helpful suggestions...
Close
It seems everybody wants to help Chancellor Alistair Darling solve the crisis facing road transport. No doubt the Treasury is delighted to have so many helpful suggestions. Well précis them for CM readers. Withdraw or scrap the proposed fuel duty increase set for 1 October (the Road Haulage Association and Freight Transport Association]. Establish a bench price for a barrel of oil, so any increase is offset by a reduction in duty the RHA). Decouple the fuel duty charged on commercial vehicles with that on private cars (the FTA). Adopt an essential user rebate for fuel purchased by HGV operators (Unite). And reduce the VAT repayment period for fuel from the current four months to two (the RHA) to ease cash flow. Of these, the VAT proposal has, to quote the famous Landscape gardener, 'Capabilities'. By that, we think its the most face-saving for the government.
Meanwhile, frustrated by the lack of success by the big two, Transaction's talks with the unions sound intriguing what they'll lead to is anyone's guess...
It all depends on what influence the industry has with Darling. He seems more worried about placating 70 backbenchers complaining about the abolition of the 10p income lax rate than hundreds of operators going to the wall. And yet, those 50,000 or so 0-licence holders employ more than a million people. Something to consider? And those with fuel escalators shed crocodile tears for those that haven't. We asked one major operator (with an escalator) if he would accept one from his subcontractors. He said: "Certainly not, if they can't run their business to a profit, that's their fault..." And in a fragmented (and fractious) industry, plagued by rate cuttin struggling for political influence and, above all, lacking solidarity, will that be the epitaph for UK Road Haulage PLO? (No flowers by request.] Brian Weatherley