P cAPETY
24th April 2008
Page 16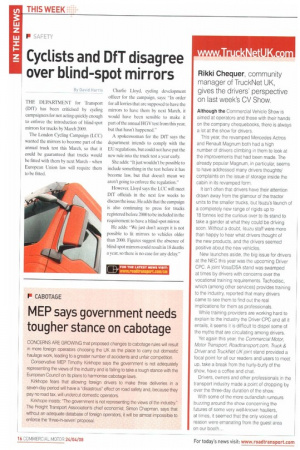 Page 16, 24th April 2008 —
P cAPETY
Close
Cyclists and DfT disagree over blind-spot mirrors
By David Hai i THE DEPARTMENT for Transport (DfT) has been criticised by cycling campaigners for not acting quickly enough to enforce the introduction of blind-spot mirrors for trucks by March 2009.
The London Cycling Campaign (LCC) wanted the minors to become part of the annual truck test this March, so that it could be guaranteed that trucks would be fitted with them by next March when European Union law will require them to be fitted. Charlie Lloyd, cycling development officer for the campaign, says: "In order for all lorries that are supposed to have the mirrors to have them by next March, it would have been sensible to make it part of the annual HGV test from this year, but that hasn't happened."
A spokeswoman for the INT says the department intends to comply with the EU regulations, but could not have put the new rule into the truck test a year early.
She adds: "It just wouldn't be possible to include something in the test before it has become law, but that doesn't mean we aren't going to enforce the regulation."
However. Lloyd says the LCC will meet DfT officials in the next few weeks to discuss the issue. He adds that the campaign is also continuing to press for trucks registered before 2000 to be included in the requirement to have a blind-spot mirror.
He adds: "We just don't accept it is not possible to fit minors to vehicles older than 2000. Figures suggest the absence of blind-spot mirrors could result in 18 deaths a year, so there is no case for any delay."
CyOR THE LATEST NEWS VISIT: IOW