Revoke 0-licences for ved offences: LA
24th April 1982
Page 8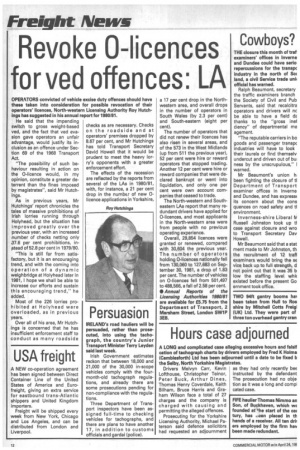 Page 8, 24th April 1982 —
Revoke 0-licences for ved offences: LA
Close
OPERATORS convicted of vehicle excise duty offences should have these taken into consideration for possible revocation of their operators' licences, North-western Licensing Authority Roy Hutchings has suggested in his annual report for 1980/81.
He said that the impending switch to gross weight-based ved, and the fact that ved evasion gave operators an unfair advantage, would justify its inclusion as an offence under Section 69 of the 1968 Transport Act.
"The possibility of such behaviour resulting in action on the 0-licence would, in my opinion, constitute a greater deterrent than the fines imposed by magistrates", said Mr Hutchings.
As in previous years, Mr Hutchings' report chronicles the tales of massive prohibitions of Irish lorries running through Holyhead, but the situation has improved greatly over the previous year, with an increased Inumber of checks netting only 37.6 per cent prohibitions, instead of 52.8 per cent in 1979/80.
"This is still far from satisfactory, but it is an encouraging trend, and with the coming into operation of a dynamic weighbridge at Holyhead later in 1981, I hope we shall be able to increase our efforts and sustain this encouraging trend," he added.
Most of the 226 lorries prohibited at Holyhead were overloaded, as in previous years.
Over all of his area, Mr Hutchings is concerned that he has insufficient enforcement staff to conduct as many roadside checks as are necessary. Checks on the roadside and at operators' premises dropped by 8.67 per cent, and Mr Hutchings has told Transport Secretary David Howell that it would be prudent to meet the heavy lorry's opponents with a greater enforcement effort.
The effects of the recession are reflected by the reports from several of the LAs in 1980/81, with, for instance, a 21 per cent drop in the numb6r of new 0licence applications in Yorkshire,