Persuasion
24th April 1982
Page 8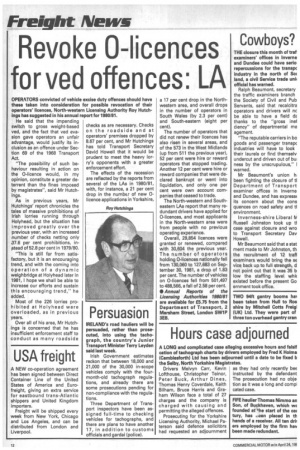 Page 8, 24th April 1982 —
Persuasion
Close
IRELAND's road hauliers will be persuaded, rather than prosecuted, into using the tachograph, the country's Junior Transport Minister Terry Leyden said last week.
Irish Government estimates reckon that between 18,000 and 21,000 of the 30,000 in-scope vehicles comply with the fourmonth-old tachograph regulations, and already there are some prosecutions pending for non-compliance with the regulations.
Three Department of Transport inspectors have been assigned full-time to checking vehicles for tachographs, and there are plans to have another 17, in addition to customs officials and gardai (police). a 17 per cent drop in the Northwestern area, and overall drops in the number of operators in South Wales (by 2.3 per cent) and South-eastern (eight per cent).
The number of operators that did not renew their licences has also risen in several areas, and of the 573 in the West Midlands (up from 511 the previous year), 52 per cent were hire or reward operators that stopped trading. Another 12 per cent were hire or reward companies that were declared bankrupt or went into liquidation, and only one per cent were own account companies that ceased to trade.
The North-western and Southeastern LAs report that many redundant drivers have applied for 0-licences, and most applicants in the North-western area were from people with no previous operating experience.
Overall, 29,854 licences were granted or renewed, compared with 30,604 the previous year. The number of operators holding 0-licences nationally fell from 130,060 to 127,683 on September 30, 1981, a drop of 1.83 per cent. The number of vehicles on 0-licences fell from 501,497 to 488,566, a fall of 2.58 per cent.
• Annual Reports of the Licensing Authorities 1980/81 are available for E5.75 from the Department of Transport, 2 Marsham Street, London SW1P 3EB.