NI aweigh
24th April 1982
Page 7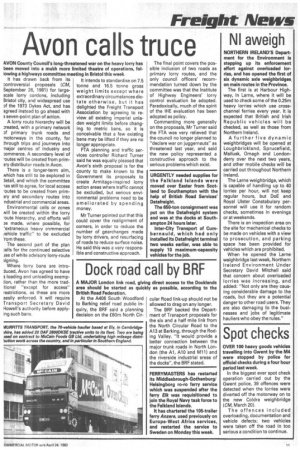 Page 7, 24th April 1982 —
NI aweigh
Close
NORTHERN IRELAND'S Department for the Environment is stepping up its enforcement effort against overloaded lorries, and has opened the first of six dynamic axle weighbridges, on main routes in the Province.
The first is at Harbour Highway, In Larne, where it will be used to check some of the 0.25m heavy lorries which use crosschannel ferries every year. It is expected that British and Irish Republic vehicles will be checked, as well as those from Northern Ireland.
A further five dynamic weighbridges will be opened at Loughbrickland, Sprucefield, Maliusk, Omagh and Londonderry over the next two years, and other mobile checks will be carried out throughout Northern Ireland.
The Larne weighbridge, which is capable of handling up to 40 lorries per hour, will not keep regular hours, but DoE and Royal Ulster Constabulary personnel will use it for random checks, sometimes in evenings or at weekends.
There is an inspection area on the site for mechanical checks to be made on vehicles with a view to prosecution, and parking space has been provided for vehicles which are prohibited.
When he opened the Larne weighbridge last week, Northern Ireland Environment Under Secretary David Mitchell said that concern about overloaded lorries was increasing, and added: "Not only are they causing considerable damage to the roads, but they are a potential danger to other road users. They are also damaging to the businesses and jobs of legitimate hauliers who obey the rules."