Avon calls truce
24th April 1982
Page 7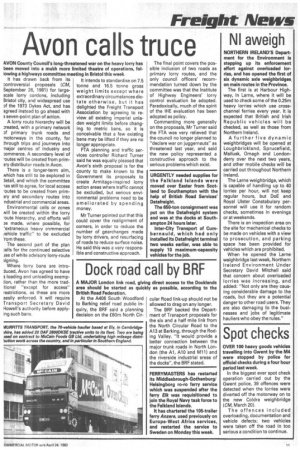 Page 7, 24th April 1982 —
Avon calls truce
Close
AVON County Council's long-threatened war on the heavy lorry has been moved into a mubh more limited theatre of operations, following a highways committee meeting in Bristol this week.
It has drawn back from its :ontroversial proposals (CM, September 26, 1981) for largescale lorry cordons, including Bristol city, and widespread use pf the 1973 Dykes Act, and has agreed instead to go ahead with a seven-point plan of action.
A lorry route hierarchy will be ;mated, with a primary network al primary trunk roads and motorways in the county, for through trips and journeys into major centres of industry and r;ommerce. A secondary level of .outes will be created from primary distributor roads in Avon.
There is a longer-term aim, ivhich has still to be explored in Jetail, and which the committee las still to agree, for local access -outes to be created from primary and secondary routes into ndustrial and commercial areas.
Environmental cells or zones Nill be created within the lorry .oute hierarchy, and efforts will De made, where possible, for 'extraneous heavy commercial /elide traffic" to be excluded :rom these.
The second part of the plan alls for the continued selective Ise of white advisory lorry-route signing.
Where lorry bans are introJuced, Avon has agreed to have a loading and unloading exemption, rather than the more tradtional "except for access" restrictions, as these are more sasily enforced. It will require Transport Secretary David Howell's authority before applying such bans. It intends to standardise on 7.5 tonne and 16.5 tonne gross weight limits except where extraordinary circumstances dictate otherwise, but it has delighted the Freight Transport Association by agreeing to review all existing imperial unladen weight limits before changing to metric bans, so it is conceivable that a few existing bans may be lifted if they are no longer appropriate.
FTA planning and traffic services controller Richard Turner said he was equally pleased that Avon's sixth proposal is for the county to make known to the Government its proposals to create Armitage-inspired lorry action areas where traffic cannot be excluded, but serious environmental problems need to be ameliorated by spending money.
Mr Turner pointed out that this could cover the realignment of corners, in order to reduce the number of gearchanges made by lorry drivers, and resurfacing of roads to reduce surface noise. He said this was a very responsible and constructive approach. The final point covers the possible inclusion of two roads as primary lorry routes, and the only council officers' recommendation turned down by the committee was that the Institute of Highway Engineers' lorry control evaluation be adopted. Paradoxically, much of the spirit of the IHE evaluation has been adopted as policy.
Commenting more generally on the proposals, Mr Turner said the FTA was very relieved that the council no longer planned to "declare war on juggernauts" as threatened last year, and said the new policy represented a constructive approach to the serious problems which exist.