Industilal
24th April 1982
Page 55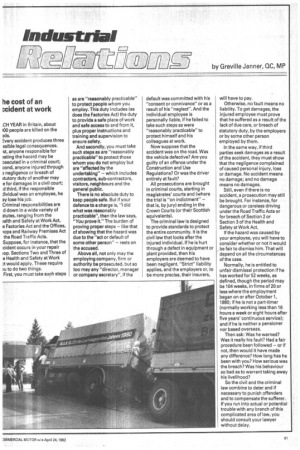 Page 55, 24th April 1982 —
Industilal
Close
RIE
CH YEAR in Britain, about 100 people are killed on the 3ds.
Every accident produces three ssible legal consequences. st, anyone responsible for :Ming the hazard may be psecuted in a criminal court; cond, anyone injured through a negligence or breach of itutory duty of another may e for damages in a civil court; d third, if the responsible Jividual was an employee, he ay lose his job.
Criminal responsibilities are d down in a wide variety of Mutes, ranging from the aalth and Safety at Work Act, e Factories Act and the Offices, lops and Railway Premises Act the Road Traffic Acts.
Suppose, for instance, that the :cident occurs in your repair lop. Sections Two and Three of e Health and Safety at Work .1 would apply. These require )t.1 to do two things.
First, you must take such steps as are "reasonably practicable" to protect people whom you employ. This duty includes (as does the Factories Act) the duty to provide a safe place of work and safe access to and from it, plus proper instructions and training and supervision to ensure safety.
And secondly, you must take such steps as are "reasonably practicable" to protect those whom you do not employ but are "affected by the undertaking" — which includes contractors, sub-contractors, visitors, neighbours and the general public.
There is no absolute duty to keep people safe. But if your defence to a charge is, "I did what was reasonably practicable", then the law says, "You prove it." The burden of proving proper steps — like that of showing that the hazard was due to the "act or default of some other person" — rests on the accused.
Above all, not only may the employing company, firm or authority be prosecuted, but so too may any "director, manager or company secretary", if the default was committed with his "consent or connivance" or as a result of his "neglect". And the individual employee is personally liable, if he failed to take such steps as were "reasonably practicable" to protect himself and his colleagues at work.
Now suppose that the accident was on the road. Was the vehicle defective? Are you guilty of an offence under the Construction and Use Regulations? Or was the driver entirely at fault?
All prosecutions are brought in criminal courts, starting in magistrates' courts and (where the trial is "on indictment" — that is, by jury) ending in the Crown Courts (or their Scottish equivalents).
The criminal law is designed to provide standards to protect the entire community. It is the civil law that looks after the injured individual. If he is hurt through a defect in equipment or plant provided, then his employers are deemed to have been negligent. "Strict" liability applies, and the employers or, to be more precise, their insurers, will have to pay.
Otherwise, no fault means no liability. To get damages, the injured employee must prove that he suffered as a result of the lack of due care, or breach of statutory duty, by the employers or by some other person employed by them.
In the same way, if third parties seek damages as a result of the accident, they must show that the negligence complained of caused personal injury, loss or damage. No accident means no damage; and no damage means no damages.
Still, even if there is no accident, a prosecution may still be brought. For instance, for 'dangerous or careless driving under the Road Traffic Acts or for breach of Section 2 or Section 3 of the Health and Safety at Work Act.
If the hazard was caused by your employee, you will have to consider whether or not it would be fair to dismiss him. That will depend on all the circumstances of the case.
Normally, he is entitled to unfair dismissal protection if he has worked for 52 weeks, as defined, though the period may be 104 weeks, in firms of 20 or less where the employment began on or after October 1, 1980; if he is not a part-timer (normally working less than 16 hours a week or eight hours after five years' continuous service); and if he is neither a pensioner nor based overseas.
Then ask: Was he warned? Was it really his fault? Had a fair procedure been followed — or if not, then would it have made any difference? How long has he been with you? How serious was the breach? Was his behaviour so bad as to warrant taking away his livelihood?
So the civil and the criminal law combine to deter and if necessary to punish offenders and to compensate the sufferer. If you run into actual or potential trouble with any branch of this complicated area of law, you should consult your lawyer without delay.