What competition does it offer?
24th April 1982
Page 41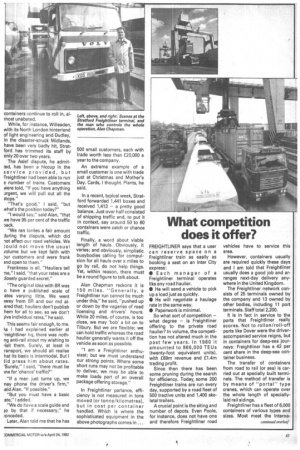 Page 42
Page 41, 24th April 1982 —
What competition does it offer?
Close
FREIGHTLINER says that a user can reserve space on a Freightliner train as easily as booking a seat on an Inter City express: • Each manager of a Freightliner terminal operates like any road haulier.
• He will send a vehicle to pick up a load just as quickly.
• He will negotiate a haulage rate in the same way.
• Paperwork is minimal.
So what sort of competition — what degree — is Freightliner offering to the private road haulier? In volume, the competition has not altered much in the past few years. In 1980 it amounted to 866,000 TEUs (twenty-foot equivalent units), with £69m revenue and £1.4m trading profit.
Since then there has been some pruning during the search for efficiency. Today, some 200 Freightliner trains are run every day, supported by a road fleet of 500 tractive units and 1,400 skeletal trailers.
A crucial point is the siting and number of depots. Even Poole, for instance, does not have one and therefore Freightliner road vehicles have to service this area.
However, containers usually are required quickly these days and I am told that Freightliner usually does a good job and arranges next-day delivery anywhere in the United Kingdom.
The Freightliner network consists of 25 terminals owned by the company and 13 owned by other bodies, including 11 port terminals. Staff total 2,200.
It is in fact in service to the ports that Freightliner really scores. Not to rollon/roll-off ports like Dover were the driveraccompanied service reigns, but in containers for deep-sea journeys: Freightliner has a 42 per cent share in the deep-sea container business.
The transfer of containers from road to rail (or sea) is carried out at specially built terminals. The method of transfer is by means of "portal" type cranes, which can operate over the whole length of speciallylaid rail sidings.
Freightliner has a fleet of 6,000 containers of various types and sizes. Most meet the Interne tional Standards Organisation (ISO) specifications. They include covered, open and curtainsided units. The company carries on its trains containers belonging to other organisations such as shipping companies which have large container fleets of their own.
The system is flexible and a customer himself may deliver or collect a container or this can be done by Freightliner vehicle. In practice about 50 per cent of containers carried are handled by Freightliner vehicles and the remaining 50 per cent by the customer's own vehicle or a haulier on his behalf.
Freightliner has also pioneered a container-based distribution concept, which elimi nates intermediate warehousing.
The chief advantages of the Freightliner system are summarised like this by the company: 1, Speed: Freightliner trains can run at 75mph and travel up to 500 miles (London-Aberdeen) overnight.
2, Regularity and reliability; trains run on a strictly timetabled daily basis. A reservation system ensures that space is available. 3, Size: It is a nationwide business, and has the backing of nationwide resources.
4, Flexibility: a complete doorto-door service, or just the trunk link in a total movement, are both offered. It has different types and sizes of containers to match customers' varied products.
5, Security and freedom from damage: Freightliner trains travel fast to their destinations with no intermediate shunting. The containers themselves carry no labels and their contents are known to only a few people.
6, Simplicity: The system is simple and documentation is minimal.
Freightliner's competitiveness with other forms of freight transport has increased tremendously in recent years. It adds, "Fuel cost increases in particular have improved the company's competitiveness, especially over longer distances. With the introduction of the new EEC regulations on truck drivers' hours and distances, Freightliner comfort ably outstrips the road haulier on journeys over 450 kilometres."