Fleetcare recovery servic
24th April 1982
Page 4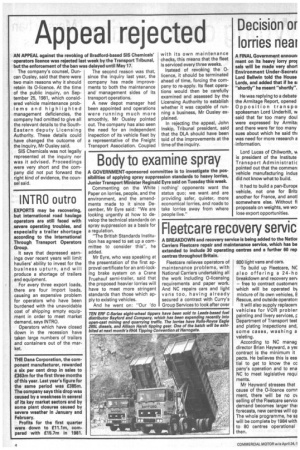 Page 4, 24th April 1982 —
Fleetcare recovery servic
Close
A BREAKDOWN and recovery service is being added to the Natio, Carriers Fleetcare repair and maintenance service, which has be extended to include 30 operating centres and a further 60 rep centres throughout Britain.
Fleetcare relieves operators of maintenance problems, with National Carriers undertaking all the work including 0-licensing requirements and paper work. And NC repairs cars and light vans too, having already secured a contract with Curry's Group Services to look after over 800 light vans and cars.
To build up Fleetcare, NC also offering a 24-ho breakdown and recovery sem — free to contract customers which will be operated by mixture of its own vehicles, E Rescue, and outside operator!
It will also supply replacem vehicles for VOR problen painting and livery services, r Department of Transport test and plating inspections and, some cases, washing a valeting.
According to NC manag director Brian Hayward, a yeE contract is the minimum it pects. He believes this is ess tial to get to know the cc pany's operation and to ena NC to meet legislative requi ments.
Mr Hayward stresses that cause of the 0-licence comn ment, there will be no ov selling of the Fleetcare servicE demand becomes larger thai forecasts, new centres will op The whole programme, he sa will be complete by 1984 with to 80 centres operational then.