Taking up the load
24th April 1982
Page 22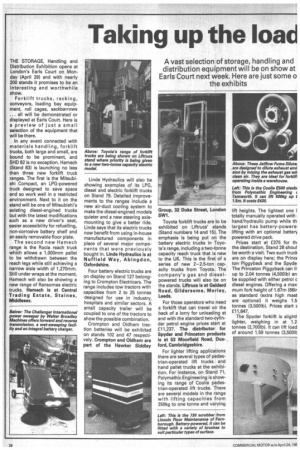 Page 23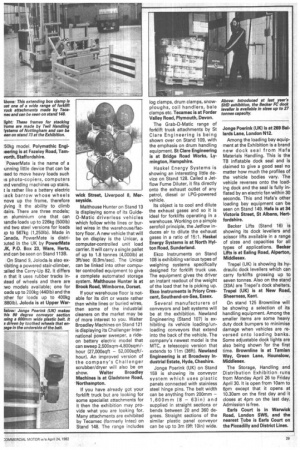 Page 22, 24th April 1982 —
Taking up the load
Close
THE STORAGE, Handling and Distribution Exhibition opens at London's Earls Court on Monday (April 26) and with nearly 200 stands it promises to be an interesting and worthwhile show.
Forklift trucks, racking, conveyors, loading bay equipment, roll cages, sackbarrows
, all will be demonstratedor displayed at Earls Court. Here is a preview of just a small selection of the equipment that will be there.
In any event connected with materials handling, forklift trucks, both large and small, are bound to be prominent, and SHD 82 is no exception. Hamech (Stand 83) is launching no less than three new forklift truck ranges. The first is the Mitsubishi Compact, an LPG-powered truck designed to save space and so work well in a restricted environment. Next to it on the stand will be one of Mitsubishi's existing diesel-engined trucks but with the latest modifications such as a new driver's seat, easier accessibility for refuelling, non-corrosive battery shelf and an easily removable floor plate.
The second new Hamech range is the Rocla reach truck which allows a 1,000mm pallet to be withdrawn between the reach legs while still achieving a narrow aisle width of 1,270mm. Still under wraps at the moment, Hamech will also be showing a new range of Ransomes electric trucks. Hamech is at Central Trading Estate, Staines, Middlesex. Linde Hydraulics will also be showing examples of its LPG, diesel and electric forklift trucks on Stand 79. Detailed improvements to the ranges include a new air-duct cooling system to make the diesel-engined models quieter and a new steering axlemounting to give a better ride. Linde says that its electric trucks now benefit from using in-house manufactured components in place of several major components that were previously bought in. Linde Hydraulics is at Nuffield Way, Abingdon, Oxfordshire.
Four battery electric trucks are on display on Stand 127 belonging to Crompton Electricars. The range includes tow tractors with capacities from 2 to 25 tonnes designed for use in industry, hospitals and similar sectors. A small capacity trailer will be coupled to one of the tractors to show the possible combination.
Crompton and Oldham traction batteries will be exhibited on stands 102 and 47 respectively. Crompton and Oldham are part of the Hawker Siddley Toyota forklift trucks are to be exhibited on Liftrucs' stands (Stand numbers 14 and 15). The emphasis is being put on the • battery electric trucks in Toyota's range, including a two-tonne capacity reach truck that is new to the UK. This is the first of a series of new 2-2.5-ton capacity trucks from Toyota. The company's gas and dieselpowered trucks will also be on the stands. Liftrucs is at Gelderd Road, Gildersome, Morley, Leeds.
For those operators who 'need a forklift that can travel on the back of a lorry for unloading at and with the standard two-cylinder petrol engine prices start at £11,237. The distributor for Spyder and Princeton products is at 53 Moorfield Road, Duxford, Cambridgeshire.
For lighter lifting applications there are several types of pedestrian-operated lift trucks and hand pallet trucks at the exhibition. For instance, on Stand 71, Polymathic Engineering is showing its range of Coolie pedestrian-operated lift trucks. There are several models in the range with lifting capacities from 250kg to one tonne and varying lift heights. The lightest one i totally manually operated with hand/hydraulic pump while th largest has battery-powerel lifting with an optional battery powered drive pack.
Prices start at £375 for th, the destination, Stand 28 shoul be worth a visit. Two such truck are on display here; the Princt ton Piggyback and the Spyde The Princeton Piggyback can li• up to 2.04 tonnes (4,500Ib) an be supplied with either petrol c diesel engines. Offering a max mum fork height of 1.67m (66ir as standard (extra high mast are optional) it weighs 1.5 tonnes (3,5001b). Prices start £11,647, The Spyder forklift is slightl lighter, weighing in at 1.2 tonnes (2,7001b). It can lift load of around 1.59 tonnes (3,5001L PowerMate is the name of a :unning little device that can be ised to move heavy loads such is photo-copiers, computers Ind vending machines up stairs. t is rather like a battery electric ;ack barrow whose wheels nave up the frame, therefore 3iving it the ability to climb ;tairs. There are three models; in aluminium one that can iandle loads up to 226kg (5001b) Ind two steel versions for loads 43 to 567kg (1,250Ib). Made in :anada, PowerMate is distri)uted in the UK by PowerMate JK, P.O. Box 23, Ware, Harts, md can be seen on Stand 1138.
On Stand 9, Joloda, is also exiibiting a powered stair-climber, ;ailed the Carry-Up 82. It differs n that it uses rubber tracks in;teed of wheels and there are :wo models available; one for oads up to 200kg (4401b) and the 3ther for loads up to 400kg 8801b). Joloda is at Upper War wick Street, Liverpool 8, Merseyside.
Malthouse Hunter on Stand 13 is displaying some of its GuideO-Matic driverless vehicles which follow white lines or buried wires in the warehouse/factory floor. A new vehicle that will be on display is the Unicar, a computer-controlled unit load carrier. It will carry a single pallet of up to 1.8 tonnes (4,0001b) at 3ft/sec (0.9m/sec). The Unicar can be linked into other computer controlled equipment to give a complete automated storage system. Malthouse Hunter is at Brook Road, Wim borne, Dorset.
If your warehouse floor is notable for its dirt or waste rather than white lines or buried wires, then some of the industrial cleaners on the market may be of more interest to you. Walter Broadley Machines on Stand 121 is displaying its Challenger International power sweeper, a rideon battery electric model that can sweep 2,500sqm-4,800sqm/hour (27,000sqft — 52,000sqft/hour). An improved version of the company's Challenger scrubber/dryer will also be on show. Walter Broadley Machines is at Gladstone Road, Northampton.
If you have already got your forklift truck but are looking for some specialist attachments for it then the exhibition may provide what you are looking for. Many attachments are exhibited by Tecamec (formerly lntec) on Stand 148. The range includes log clamps, drum clamps, snowploughs, coil handlers, bale clamps etc. Tecamec is at Forder Valley Road, Plymouth, Devon.
The Grab-O-Matic range of forklift truck attachments by St Clare Engineering is being shown over on Stand 109, with the emphasis on drum handling equipment. St Clare Engineering is at Bridge Road Works, Lymington, Hampshire.
Haskel Energy Systems is showing an interesting little device on Stand 128. Called a Jetflow Fume Diluter, it fits directly onto the exhaust outlet of any petrol, diesel or LPG-powered vehicle.
Its object is to cool and dilute the exhaust gases and so it is ideal for forklifts operating in a warehouse. Working on a simple aerofoil principle, the Jetflow induces air to dilute the exhaust gases in a ratio of 15:1. Haskel Energy Systems is at North Hylton Road, Sunderland.
Ekco Instruments on Stand 108 is exhibiting various types of weighing systems specifically designed for forklift truck use. The equipment gives the driver an instant readout of the weight of the load that he is picking up. Ekco Instruments is Priory Crescent, Southend-on-Sea, Essex.
Several manufacturers of conveyors and belt systems will be at the exhibition. Newland Engineering (Stand 107) is exhibiting its vehicle loading/unloading conveyors that extend into the back of the vehicle. The company's newest model is the MTC, a telescopic version that extends to 11rn (36ft). Newland Engineering is at Broadway Industrial Estate, Hyde, Cheshire.
Jonge Poerink (UK) on Stand 159 is showing its conveyor system which uses plastic panels connected with stainless steel hinge pins. The belt width can be anything from 200mm — 1,6 0 Omm (8 — 6 3in) and supplied in straight sections or bends between 20 and 360 degrees. Straight sections of the similar plastic panel conveyor can be up to 3m (9ft 10in) wide. Among the loading bay equipment at the Exhibition is a brand new dock seal from Hafa Materials Handling. This is the TB inflatable dock seal and is claimed to give a good seal no matter how much the profiles of the vehicle bodies vary. The vehicle reverses onto the loading dock and the seal is fully inflated by an electric fan within 30 seconds. This and Hafa's other loading bay equipment can be seen on Stand 149. Hafa is at 34 Victoria Street, St Albans, Hertfordshire.
Becker Lifts (Stand 16) is showing its dock levellers and scissor lifts available in a range of sizes and capacities for all types of applications. Becker Lifts is at Ealing Road, Alperton, Middlesex.
Trepel (UK) is showing its hydraulic dock levellers which can carry forklifts grossing up to seven tonnes. Also on the stand (33A) are Trepel's dock shelters. Trepel (UK) is at New Road, Sheerness, Kent.
On stand 125 Brownline will be showing a selection of its handling equipment. Among the smaller items are some heavy duty dock bumpers to minimise damage when vehicles are reversed onto loading banks. Some adjustable dock lights are also being shown Tor the first time. Brownline is at Tamian Way, Green Lane, Hounslow, Middlesex.
The Storage, Handling and Distribution Exhibition runs from Monday April 26 to Friday April 30. It is open from 10am to 6pm except that it opens at 10.30am on the first day and it closes at 4pm on the last day. Admission is free.
Earls Court is in Warwick Road, London SWS, and the nearest Tube is Earls Court on the Piccadilly and District Lines.