Editoriiil
24th April 1982
Page 2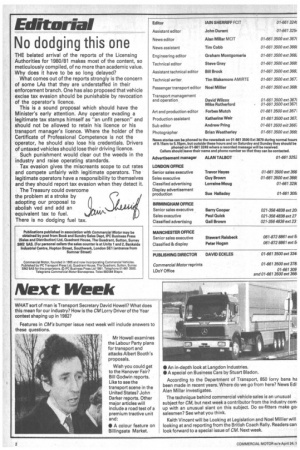 Page 2, 24th April 1982 —
Editoriiil
Close
No dodging this one
THE belated arrival of the reports of the Licensing Authorities for 1980/81 makes most of the content, so meticulously compiled, of no more than academic value. Why does it have to be so long delayed?
What comes out ofthe reports strongly is the concern of some LAs that they are understaffed in their enforcement branch. One has also proposed that vehicle excise tax evasion should be punishable by revocation of the operator's licence.
This is a sound proposal which should have the Minister's early attention. Any operator evading a legitimate tax stamps himself as "an unfit person" and should not be allowed to retain his licence or his transport manager's licence. Where the holder of the Certificate of Professional Competence is not the operator, he should also lose his credentials. Drivers of untaxed vehicles should lose their driving licence.
Such punishment would clear out the weeds in the industry and raise operating standards.
Tax evasion gives the miscreants scope to cut rates and compete unfairly with legitimate operators. The legitimate operators have a responsibility to themselves and they should report tax evasion when they detect it.
The Treasury could overcome the problem at a stroke by adopting our proposal to abolish ved and add an equivalent tax to fuel.
There is no dodging fuel tax.