Spare a thought for the quarry
24th April 1982
Page 15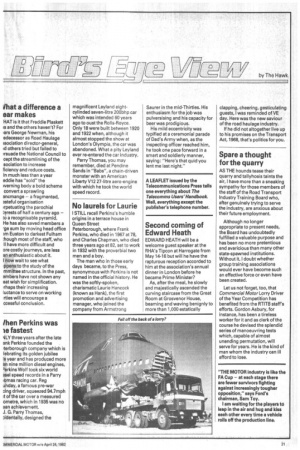 Page 15, 24th April 1982 —
Spare a thought for the quarry
Close
AS THE hounds tease their quarry and tallyhosis taints the air, I have more than a sneaking sympathy for those members of the staff of the Road Transport Industry Training Board who, after genuinely trying to serve the industry, are anxious about their future employment.
Although no longer appropriate to present needs, the Board has undoubtedly fulfilled a valuable purpose and has been no more pretentious and avaricious than many other state-spawned institutions. Without it, I doubt whether group training associations would ever have become such an effective force or even have been created.
Let us not forget, too, that Commercial Motor Lorry Driver of the Year Competition has benefited from the RTITB staff's efforts. Gordon Asbury, for instance, has been a tireless worker for it and as clerk of the course he devised the splendid series of manoeuvring tests which, capable of almost unending permutation, will serve for years. He is the kind of man whom the industry can ill afford to lose.