The next coach to . . .
24th April 1982
Page 13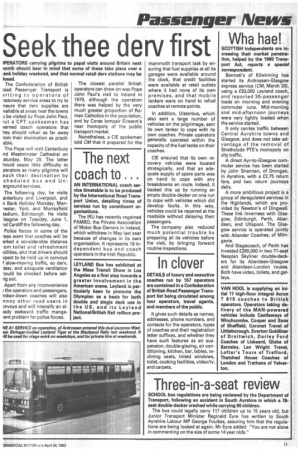 Page 13, 24th April 1982 —
The next coach to . . .
Close
AN INTERNATIONAL coach service timetable is to be produced by the International Road Transport Union, detailing times of services run by constituent organisations.
The 1RU has recently regained PAMBO, the Private Association of Motor Bus Owners in Ireland, which withdrew in May last year because of changes in its own organisation. It represents 19 independent bus and coach operators in the Irish Republic. mammoth transport task by ensuring that fuel supplies at all its garages were available around the clock, that credit facilities were available at retail outlets where it had none of its own premises, and that mobile tankers were on hand to refuel coaches at remote points.
In addition, Ulsterbus, which also sent a large number of vehicles on the pilgrimage, sent its own tanker to cope with its own coaches. Private operators generally operated within the capacity of the fuel tanks on their coaches.
CIE ensured that its own recovery vehicles were located strategically, and that an adequate supply of spare parts was on hand to cope with any breakdowns en route. Indeed, it backed this up by running an empty double-decker on one run to cope with vehicles which did develop faults. In this way, vehicles could be repaired at the roadside without delaying their passengers.
The company also reduced much potential trouble by preparing all its vehicles before the visit, by bringing forward routine inspections.