Seek thee dery first
24th April 1982
Page 13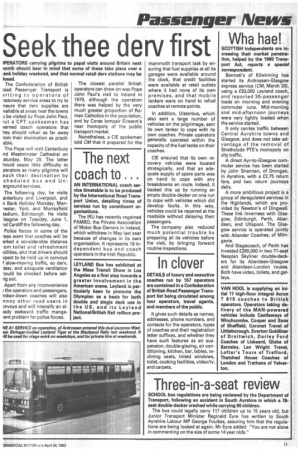 Page 13, 24th April 1982 —
Seek thee dery first
Close
/PERATORS carrying pilgrims to papal visits around Britain next month should bear in mind that some of these take place over a ank holiday weekend, and that normal retail dery stations may be losed.
The Confederation of British load Passenger Transport is iriting to operators of lotorway service areas to try to nsure that dery supplies are vailable at areas near the towns ) be visited by Pope John Paul, wt a CPT spokesman has yarned coach operators that hey should refuel as far away rom their destination as practiable.
The Pope will visit Canterbury nd Westminster Cathedral on aturday, May 29. The latter hould cause little difficulty to perators as many pilgrims will each their destination by cheduled bus and Unerground services.
The following day, he visits anterbury and Liverpool, and n Bank Holiday Monday, Maniester, York, and Murrayfield tadium, Edinburgh. He visits lasgow on Tuesday, June 1, rid Cardiff the following day. Police forces in some of the -eas warn that coaches will be arked a considerable distance .om toilet and refreshment icilities, and that drivers should Kpect to be held up in convoys f slow-moving traffic, so derv, liter, and adequate ventilation iould be checked before setrig out.
Apart from any inconvenience ) the operators and passengers, roken-down coaches will also nnoy other road users in )nvoys and will intensify an al)ady awkward traffic mangelent problem for police forces. The closest parallel British operators can draw on was Pope John Paul's visit to Ireland in 1979, although the operation there was helped by the very much greater proportion of Roman Catholics in the population, and by Coras lompair Eireann's near monopoly of the public transport market.
Nonetheless, a CIE spokeman told CM that it prepared for the