LV powers ahead
24th April 1982
Page 11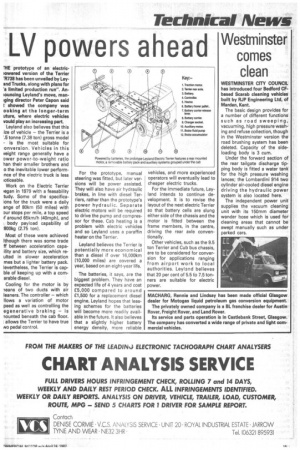 Page 11, 24th April 1982 —
LV powers ahead
Close
HE prototype of an electricmwered version of the Terrier Ii73111 has been unveiled by Leyand Trucks, along with plans for 'a limited production run". Aniouncing Leyland's move, mangling director Peter Capon said t showed the company was ooking at the longer-term uture, where electric vehicles vould play an increasing part. Leyland also believes that this .ixe of vehicle — the Terrier is a .5 tonne (7.38 ton) gross model is the most suitable for .onversion. Vehicles in this veight range generally have a ower power-to-weight ratio ban their smaller brothers and o the inevitable lower performince of the electric truck is less ioticeable.
Work on the Electric Terrier iegan in 1979 with a feasability tudy. Some of the specificaions for the truck were a daily ange of 80km (50 miles) with our stops per mile, a top speed if around 65km/h (40mph), and body payload capability of '800kg (2.76 ton).
Most of these were achieved lthough there was some trade if between acceleration capeility and battery size, which reulted in slower acceleration mes but a lighter battery pack. ievertheless, the Terrier is capble of keeping up with a cornarable diesel.
Cooling for the motor is by leans of two ducts with air leaners. The controller — which llows a variation of motor peed as well as controlling the egenerative braking — is nounted beneath the cab floor. : allows the Terrier to have true No pedal control. For the prototype, manual steering was fitted, but later versions will be power assisted. They will also have air hydraulic brakes, in line with diesel Terriers, rather than the prototype's power hydraulic. Separate electric motors will be required to drive the pump and compressor for these. Cab heating is a problem with electric vehicles and so Leyland uses a paraffin heater on the Terrier.
Leyland believes the Terrier is potentially more economical than a diesel if over 16,000km (10,000 miles) are covered a year, based on an eight-year life.
The batteries, it says, are the biggest problem. They have an expected life of 4 years and cost £5,000 compared to around £1,500 for a replacement diesel engine. Leyland hopes that leasing schemes for the batteries will become more readily available in the future. it also believes that a slightly higher battery energy density, more reliable vehicles, and more experienced operators will eventually lead to cheaper electric trucks.
For the immediate future, Leyland intends to continue development. It is to revise the layout of the next electric Terrier so that battery cells are slung either side of the chassis and the motor is fitted between the frame members, in the centre, driving the rear axle conventionally.
Other vehicles, such as the 9.5 ton Terrier and Cub bus chassis, are to be considered for conversion for applications ranging from airport work to local authorities. Leyland believes that 20 per cent of 5.5 to 7.5 tonners are suitable for electric power.