Ford's new Cargoes
24th April 1982
Page 10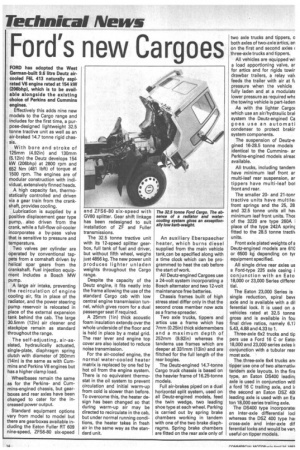 Page 10, 24th April 1982 —
Ford's new Cargoes
Close
FORD has adopted the West German-built 9.6 litre Deutz aircooled F6L 413 naturally aspirated V6 engine rated at 154 kW (206bhp), which is to be available alongside the existing choice of Perkins and Cummins engines.
Effectively this adds nine new models to the Cargo range and includes for the first time, a purpose-designed lightweight 32.5 tonne tractive unit as well as an air-braked 14.7 tonne rigid chassis.
With bore and stroke of 125mm (4.92in) and 130mm (5.12in) the Deutz develops 154 kW (206bhp) at 2800 rpm and 652 Nm (481 lbft) of torque at 1500 rpm. The engines are of modular construction with individual, extensively finned heads.
A high capacity fan, thermostatically controlled and driven via a gear train from the crankshaft, provides cooling.
Lubrication is supplied by a positive displacement gear type pump, also driven from the crank, while a full-flow oil-cooler incorporates a by-pass valve that is sensitive to pressure and temperature.
Two valves per cylinder are operated by conventional tappets from a comshaft driven by helical spar gears from the crankshaft. Fuel injection equipment includes a Bosch MW Pump.
A large air intake, preventing the recirculation of engine cooling air, fits in place of the radiator, and the power steering pump reservoir is relocated in place of the external expansion tank behind the cab. The large 30.5mm (121n) air cleaner and stackpipe remain as standard throughout the range.
The self-adjusting, air-assisted, hydraulically actuated, single-plate, diaphragm spring clutch with diameter of 350mm (14in) is the same as with Cummins and Perkins VB engines but has a higher clamp load.
Wheelbases remain the same as for the Perkinsand Cummins-engined chassis, but gearboxes and rear axles have been changed to cater for the increased power output.
Standard equipment options vary from model to model but there are gearboxes available including the Eaton Fuller RT 609 nine-speed, ZFS6-80 six-speed and ZFS6-80 six-speed with GV80 splitter. Gear shift linkage has been redesigned to suit installation of ZF and Fuller transmissions.
The 32.5 tonne tractive unit with its 12-speed splitter gearbox, full tank of fuel and driver, but without fifth wheel, weighs just 4856 kg. The new power unit produces lighter unladen weights throughout the Cargo range.
Despite the capacity of the Deutz engine, it fits neatly into the frame allowing the use of the standard Cargo cab with low central engine transmission tunnel, which gives room for a dual passenger seat if required.
A 25mm (1n) thick acoustic foam insulation extends over the whole underside of the floor and is held in place by a metal grid. The rear lever and engine top cover are also isolated to reduce noise transmission.
For the air-cooled engine, the normal water-cooled heater matrix is replaced by one fed by hot oil from the engine system. There is no equivalent thermostat in the oil system to prevent circulation and initial warm-up from cold is slower than before. To overcome this, the heater design has been changed so that during warm-up air may be directed to recirculate in the cab, but under normal running conditions, the heater takes in fresh air in the same way as the standard unit. An auxiliary Eberspaecher heater, which burns diesel supplied from the main vehicle tank,can be specified along with a time clock which can be programmed to heat the cab before the start of work.
All Deutz-engined Cargoes use a 24-volt system incorporating a Bosch alternator and two 12-volt maintenance free batteries.
Chassis frames built of high stress steel differ only in that the second cross member now acts as a frame spreader.
Two axle trucks, tippers and artics use a frame which has 7mm (0.25in) thick sidemembers and a maximum depth of 252mm (9.92in) whereas the tandems use frames which are deeper at 331mm (13in) and are flitched for the full length of the rear bogies.
The Deutz-engined 14.7-tonne Cargo truck chassis is based on the heavier frame of 16.25-tonne models.
Full air-brakes piped on a dual horizontal split system, used on all Deutz-engined models, feed the twin wedge, two leading shoe type at each wheel. Parking is carried out by spring brake chambers working in tandem with one of the two brake diaphragms. Spring brake chambers are fitted on the rear axle only of two axle trucks and tippers, both axles of two-axle artics, an on the first and second axles three-axle trucks and tippers.
All vehicles are aquipped wi• a load apportioning valve, ar for artics and for rigids towir drawbar trailers, a relay val% feeds the trailer with air at fi pressure when the vehicle fully laden and al a modulate lower pressure as required whe the towing vehicle is part-laden As with the lighter Cargor which use an air/hydraulic bral system the Deutz-engined Ca goes use an automati condenser to protect brakir system components.
The suspension of Deutz-e gined 16-28.5 tonne models identical to the Cumminsar Perkins-engined models alreac available.
All trucks, including tandem have minimum leaf front ar multi-leaf rear suspension, ar tippers have multi-leaf boi front and rear.
The smaller 20and 21-tonr tractive units have multila front springs and the 25, 28 and 32.5 tonne units all ha% minimum leaf front units. Thof. of the 3220 are type 260A place of the type 242A sprinc. fitted to the 28.5 tonne tracti% units.
Front axle plated weights of a Deutz-engined models are 610 or 6500 kg depending on tyr equipment specified.
All single drive rear axles us a Ford-type 225 axle casing i conjunction with an Eato 18,000 or 23,000 Series differer tial.
The Eaton 23,000 Series is single reduction, spiral bevE axle and is available with a dil ferential lock. It is used on a vehicles rated at 32.5 tonne gross and is available in fou final drive ratios, namely 6.15 5.43, 4.88 and 4.33 to 1.
Three-axle 6x2 trucks and tip pers use a Ford 16 C or Eatoi 18,000 and 23,000 series axles ii conjunction with a tubular rear most axle.
The three-axle 6x4 trucks an tipper use one of two alternativi tandem axle layouts. In the firs type, an Eaton DS400 leadin axle is used in conjunction witl a ford 16 C trailing axle, and ii the second an Eaton DSZ 401 leading axle is used with an Ea ton 18,000 series trailing axle.
The DS400 type incorporate! an inter-axle differential locl whereas the DSZ 400 type ha: cross-axle and inter-axle dif ferential locks and would be ven useful on tipper models.