Men in the News
23rd September 1960
Page 98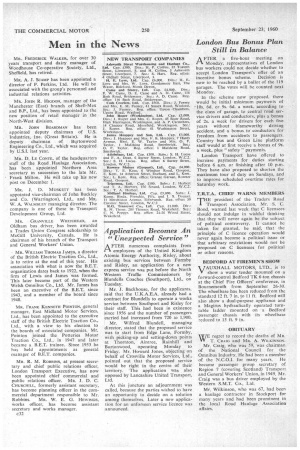 Page 98, 23rd September 1960 —
Men in the News
Close
MR. FREDERICK WALKER, for over 30 years transport and dairy manager of Woodhouse Co-operative Society, Ltd., Sheffield, has retired. • MR. A. J. SCAMP has been appointed a director of F. Perkins, Ltd. He will be associated with the group's personnel and industrial relations activities.
MR. JOHN R. HIGDON, manager of the Manchester (East) branch of Shell-Mex and B.P., Ltd., has been appointed to the new position of retail manager in the North-West division.
MR. JOHN BOARDMAN has been appointed deputy chairman of U.S. Industries, Inc. (Great Britain). He is deputy chairman of Bqrtonwood Engineering Co., Ltd., which was acquired by U.S.I. last year.
MR. D. La Comm, of the headquarters staff of the Road Haulage Association, has been appointed Northern Area secretary in succession to the late Mr. Frank Milton. He will take up his new post on December 1.
MR. J. D. MUSKETT has been appointed vice-chairman of John Buckley and Co. (Warrington), Ltd., and MR. W. A. WALMSLEY managing director. The company is one of those in • Transport Development Group, Ltd.
M. GRANVILLE WHITEHEAD, an Oldham bus driver, has been awarded a Trades Union Congress scholarship to McGill University, Canada. He is chairman of his branch of the Transport and General Workers' Union.
M. WILLIAM THOMAS Jot.Es, a director of the British Electric Traction Co., Ltd., is to retire at the end of this year. His association with what is now the B.E.T. organization dates back to 1922, when the firm of Lewis and James was formed. This later became part of the Western Welsh Omnibus Co., Ltd. Mr. James has been an executive of the B.E.T. since 1943, and a member of the board since 1948.
Ma. FRANK KENNETH POINTON, general manager, East Midland Motor Services, Ltd., has been appointed to the executive staff of the British Electric Traction Co., Ltd., with a view to his election to the boards of associated companies. Mr. Pointon joined the Potteries Motor Traction Co., Ltd., in 1947 and later became a B.E.T. trainee. Since 1953 he has held appointments as general manager of B.E.T. companies.
MR. R. M. ROBBINS, at present secretary and chief public relations officer, London Transport Executive, has now been appointed chief commercial and public relations officer. MR. J. D. C. CHURCHILL, formerly assistant secretary, has become planning officer in the commercial department responsible to Mr.
Robbins. Ma. W. E. G. HEWINGS, Works officer, has become assistant secretary and works manager.
c32
Tags
People
:
D. La Comm
,
R. M. ROBBINS
,
JOHN R. HIGDON
,
J. D. MUSKETT
,
A. J. SCAMP
,
D. C. CHURCHILL
,
James
,
Lewis
,
M. WILLIAM THOMAS
,
FREDERICK WALKER
,
FRANK KENNETH POINTON
,
W. A. WALMSLEY
,
Frank Milton
,
JOHN BOARDMAN