London Bus Bonus Plan Still in Balance
23rd September 1960
Page 98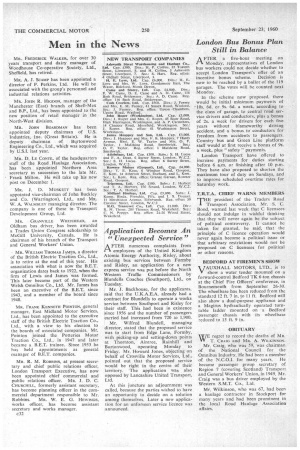 Page 98, 23rd September 1960 —
London Bus Bonus Plan Still in Balance
Close
AFTER a five-hour -meeting on Monday, representatives of London bus workers could not decide whether to accept London Transport's offer of an incentive bonus scheme. Decision is now to be reached by a ballot of the 119 garages. The votes will be counted next Monday.
In the scheme now proposed, there would be initial minimum payments of "10s. 6d. or 9s. fid. a week, according to the class of garage, to central road service drivers and conductors, plus a bonus of 2s. a week for drivers for each five years without blameworthy driving accident, and a bonus to conductors for freedom from accidents to passengers. Country bus and Green Line platform staff would at first receive a bonus of 9s. a week, plus " safety " payments.
London Transport have offered to increase payments for duties starting before 6 a.m. or finishing after 10 p.m. They have also proposed to shorten the maximum tour of duty on Sundays, and to improve scheduled overtime rates for Saturday work.
T.R.T.A. CHIEF WARNS MEMBERS
THE president of the Traders Road Transport Association, Mr. S. C. Bond, warned last week that C licensees should not indulge in wishful thinking that they will never again be the subject of political controversy. It cannot be taken for granted, he said, that the principle of C licence operation would never again become a political issue or that arbitrary restrictions would not be proposed on C licensees for political or other reasons.
BEDFORD AT FIREMEN'S SHOW 'VAUXHALL MOTORS, LTD., is to V show a water tender mounted on a forward-control Bedford TK 6-ton chassis at the Chief Fire Officers' conference, in Bournemouth from September 26-30. The wheelbase has been reduced from the standard 12 ft. 7 in. to 11 ft. Bedford will also show a dual-purpose appliance and a Magirus hydraulically operated turntable ladder mounted on a Bedford passenger chassis with its wheelbase reduced to 15 ft. 9 in.
OBITUARY
WE regret to record the deaths of MR. T. CRAIG and MR. A. WILKINSON. Mr. Craig, who was 59, was chairman of the National Council for the Omnibus Industry. He had been a member of the N.C.O.I. for many years. He became passenger group secretary of Region 7 (covering Scotland) Transport and General Workers' Union, in 1949. Mr. Craig was a bus driver employed by the Western S.M.T. Co., Ltd.
Mr. Wilkinson, who was 67, had been a haulage contractor in Stockport for many years and had been prominent in the local Road Haulage Association affairs.