Higher Speeds and Plating for Lorries May Come Soon
23rd September 1960
Page 97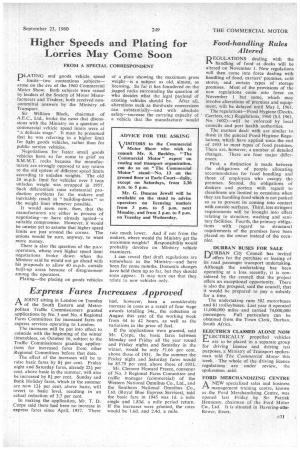 Page 97, 23rd September 1960 —
Higher Speeds and Plating for Lorries May Come Soon
Close
FROM A SPECIAL CORRESPONDENT
DLATING and goods vehicle speed A limits—two contentious subjects— arose on the eve of the 1960 Commercial Motor Show. Both subjects were raised by leaders of the Society of Motor Manufacturers and Traders; both received noncommittal answers by the Ministry ofTransport.
Sir William Black, chairman of A.E.C., Ltd., broke the news that discussions with the Ministry on a question of commercial vehicle speed limits were at " a delicate stage." It must be presumed that he was referring to a higher limit for light goods vehicles, rather than for public service vehicles.
Negotiations for faster small goods vehicles have so far come to grief on S.M.M.T. rocks because the manufacturers are strongly opposed to any return to the old system of different speed limits according to unladen weights. The old 20 m.p.h. limit for vehicles over 3 tons unladen weight was scrapped in 1957. Such differentials raise substantial production problems for the makers and inevitably result in " building-down " to the weight limit whenever possible.
It would seem now, then, that the manufacturers are either in process of negotiating—or have already agreed—a suitable compromise. However, it would be unwise yet to assurhe that higher speed limits are just around the corner. The unions would be sure, anyway, to want more money.
There is also the question of the p.s,v. operators, whose own higher speed limit negotiations broke down when the Minister said he would not go ahead with his proposals to allow 40 m.p.h. outside built-up areas because of disagreement among the operators.
Plating—the placing on goods vehicles of a plate showing the maximum gross weight—is a subject as old, almost, as licensing. So far it has foundered on the jagged rocks surrounding the question of who decides what the legal payload of existing vehicles should be. After all, alterations such as third-axle conversions can substantially—and with absolute safety—increase the carrying capacity of a vehicle that the manufacturer would rate much lower. And if not from the makers, where would the Ministry get the maximum weights? Responsibility would probably devolve on Ministry vehicle examiners.
I can reveal that draft regulations are somewhere in the Ministry—and have been for some mcmths. Domestic changes have held them up so far, but they should soon appear. It may turn out that they relate to new vehicles only.