Food-handling Rules Altered R EGULATIONS dealing with the handling of food
23rd September 1960
Page 97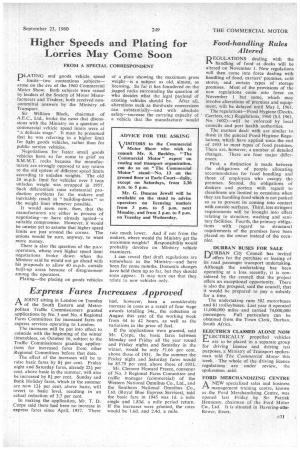 Page 97, 23rd September 1960 —
Food-handling Rules Altered R EGULATIONS dealing with the handling of food
Close
at docks will be altered on November 1. New regulations will then come into force dealing with handling of food, carriers' premises, cold stores, and certain types of storage premises. Most of the provisions of the new regulations come into force on November 1 but some, which may involve alterations of premises and equipment, will be delayed until May 1, 1961.
The regulations—Food Hygiene (Docks, ' Carriers, etc.) Regulation's, 1960 (S.I. 1961, No. 1602)--will be enforced by local councils and port health authorities.
The matters dealt with are similar to those in the general Food Hygiene Regulations, which have applied since the end of 1955 to most types of food premises. There are, however, a number of detailed changes. There are four major differences.
First, a distinction is made between the obligations of people allocating accommodation for food handling and those of employers who occupy the premises. Second, the obligations of dockers and porters with regard to cleanliness are limited to occasions when they are handling food which is not packed so as to prevent its coming into contact with outside surfaces. Third, less stringent requirements will be brought into effect relating to structure, washing and sanitary facilities. Fourth, the primary obligations with regard to structural requirements of the premises have been placed on the owner instead of the occupier.
DURBAN BUSES FOR SALE
nURBAN City Council has invited
offers for the purchase or leasing of its road passenger transport undertaking. Although the undertaking has been operating at a loss recently, it is considered by the council that the project offers an exceptional opportunity. There is also the prospect, said the council, that it would be prepared to pay a subsidy for a time.
The undertaking runs 302 motorbuses and 81 trolleybuses. Last year it operated 11,000,000 miles and carried 74,000,000 passengers. Full particulars can be obtained from the Town Clerk, Durban. South Africa.
ELECTRICS CLASSED ALONE NOW
ELECTRICA.LLY propelled vehicles arc to be placed in •a separate group for driving licence and driving test purposes, a Ministry of Transport spokesman told The Commercial Motor this week. The whole of the driving licence regulations are under review, the spokesman, said FORD MERCHANDIZING CENTRE A NEW specialized sales and business PI management training centre, known as -the Ford Merchandizing Centre, was opened last Friday by Sir Patrick Hennessy, chairman of the Ford Motor Co., Ltd. It is situated in Havering-atteBower, Essex.