Express Fares In creases Approved
23rd September 1960
Page 97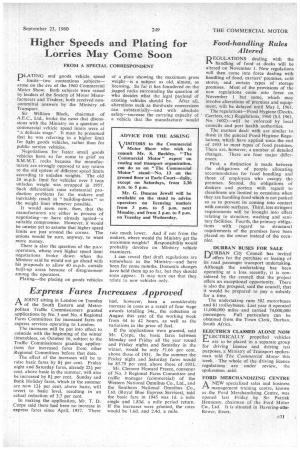 Page 97, 23rd September 1960 —
Express Fares In creases Approved
Close
AJOINT sitting in London on Tuesday of the South Eastern and Metropolitan Traffic Commissioners granted applications by No. 3 and No. 4 Regional Fares Committees for increased fares on express services operating to London.
The increases will be put into effect to coincide with the beginning of the winter timetablees, on October 16, subject to the Traffic Commissioners granting applications for increased fares from other Regional Committees before that date.
The effect of the increases will be to raise basic fares by 8+ per cent. Friday night and Saturday fares, already 221 per cent. above basic in the summer, will also be increased by 81 per cent. Sunday and Bank Holiday fares, which in the summer are now 12+ per cent. above basic, will revert to basic level, resulting in an actual reduction of 3.7 per cent.
In making the application, Mr. T. D. Corpe said there had been no increase in express fares since April, 1957. There
had, however, been a considerable increase in costs as a result of four wage awards totalling 34s., the reduction in August this year of the working week from 44 to 42 hours, as well as the variations in the price of fuel.
If the applications were granted, said Mr. Corpe, the basic fares between Monday and Friday all the year round and Friday nights and Saturday in the winter, would be only 51.66 per cent. above those of 1931. In the summer the Friday night and Saturday fares would be 85.79 per cent, above those of 1931.
Mr. Clement Howard Preece, convenor of No. 3 Regional Fares Committee and traffic manager (cOmmercial) of the Western National Omnibus Co., Ltd., and the Southern National Omnibus Co., Ltd. (Royal Blue Express Services), said the basic fare in 1945 was Id. a mile single and 1.83d. a mile period return. If the increases were eanted, the rates would be 1.6d. and 2.4d. a mile.