Public Campaign on Diesel Fumes
23rd September 1960
Page 96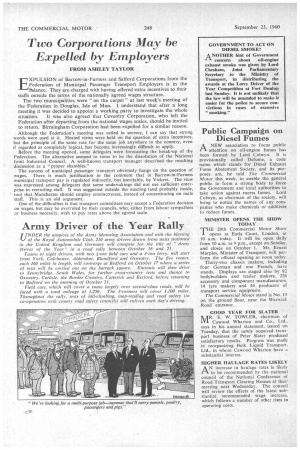 Page 96, 23rd September 1960 —
Public Campaign on Diesel Fumes
Close
riA NEW association to focus public attention on oil-engine fumes has been formed by Lord Colwyn. It is provisionally called Defume, a code name which stands for Diesel Exhaust Fume Abatement Society, and its purposes are, he told The Commercial Motor this week, to enable the general public to form a strong body to force the Government and local authorities to take action against excess fumes. Lord Colwyn, as chairman of the society, will bring to notice the names of any companies who make chemicals or additives. to reduce fumes.
MINISTER OPENS THE SHOW TODAY
THE 20th Commercial Motor Show opens at Earls Court, London, at 10 a.m. today. It will be open daily from 10 a.m. to 9 p.m., except on Sunday, and closes on October 1. Mr. Ernest Marples, Minister of Transport, will perform the official opening at noon today.
Thirty-two chassis makers, including four German and one French, have stands. Displays are ,staged also by 82 bodybuilders and trailer makers, 226 accessory and component manufacturers. 14 tyre makers and 44 producers of transport service equipment.
The Commercial Motor stand is No. 13 on the ground floor, near the Warwick Road entrance.
GOOD YEAR FOR SLATER
MR. E. W. TOWLER, chairman of Cawood Wharton and Co., Ltd., says in his annual statement, issued on Tuesday, that the newly acquired transport business of Peter Slater produced satisfactory results. Progress was made in reorganizing Bulk Liquid Transport, Ltd., in whom Cawood Wharton have a substantial interest.
HIGHER HAULAGE RATES LIKELY
AN increase in haulage rates is likely to be recommended by the national council of the National Conference of Road Transport Clearing Houses at their meeting next Wednesday. The council will review the effects of the latest substantial recommended wage increase, which follows a number of other rises in operating costs.