Army Driver of the Year Rally U NDER the auspices of
23rd September 1960
Page 96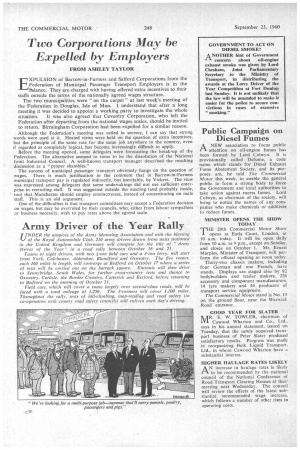 Page 96, 23rd September 1960 —
Army Driver of the Year Rally U NDER the auspices of
Close
the Army Motoring Association and with the blessing of the Royal Autotnobile Club, 210 army drivers drawn from units stationed in the United Kingdom and Germany will compete for the title of "Army Driver of the Year" in a road rally between October 16 and 21.
Teams of eight drivers, with two i-ton field cars and a 3-ton lorry, will start from York, Colchester, Aldershot, Blandford and Oswestry. The five routes, each 160 miles in length, will converge at Bedford on October 17 where a series of tests will, be carried out on the barrack square. Entrants will then drive to Sennybridge, South Wales, for further cross-country tests and thence to Oswestry, Carlisle, the Border Country, Catterick and Retford, before returning to Bedford on the morning of October 21.
Field cars, which will cover a route largely over second-class roads, will be faced with a total mileage of 1,250. The 3-tanners will cover 1,100 miles. Throughout the rally, tests of hill-climbing, map-reading and road safety (in co-operation with county road safety councils) will enliven each day's driving.