the world's largest re 441 of the latest 422 stands
23rd September 1960
Page 93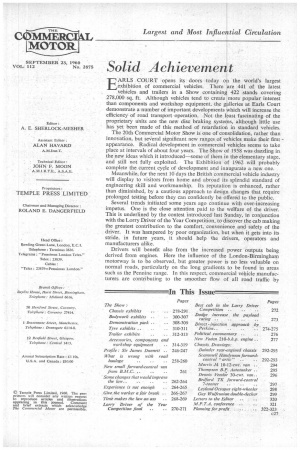 Page 94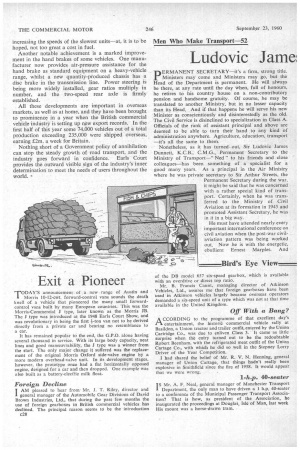 Page 93, 23rd September 1960 —
the world's largest re 441 of the latest 422 stands
Close
covering more popular interest lleries at Earls Court hich will increase the ast fascinating of the s, although little use has yet been made of this method of retardation in standard vehicles.
The 20th Commercial Motor Show is one of consolidation, rather than innovation, but several significant new ranges of vehicles make their first appearance. Radical development in commercial vehicles seems to take place at intervals of about four years. The Show of 1958 was dazzling in the new ideas which it introduced—some of them in the, elementary stage, and still not fully exploited. The Exhibition of 1962 will probably complete the current cycle of development and inaugurate a new one.
Meanwhile, for the next 10 days the British commercial vehicle indastry will display to visitors from home and abrOad its splendid standard of engineering skill and workmanship. Its reputation is enhanced, rather than diminished, by a cautious approach to design changes that require prolonged testing before they can confidently be offered to the public.
Several trends initiated some years ago continue with ever-increasing impetus. One is the close attention paid to the welfare of the driver. This is underlined by the contest introduced last Sunday, in conjunction with the Lorry Driver of the Year Competition, to discover the cab making the greatest contribution to the comfort, convenience and safety of the driver. It was hampered by poor organization, but when it gets into its stride, in future years, it should help the drivers, operators and manufacturers alike.
Drivers will benefit also from the increased power outputs being derived from engines. Here the influence of the London-Birmingham motorway is to be observed, but greater power is no less valuable on normal roads, particularly on the long gradients to be found in areas such as the Pennine range. in this respect, commercial vehicle manufacturers are contributing to the smoother flow of all road traffic by EARLS COURT opens its doors today o exhibition of commercial vehicles. There vehicles and trailers in a Show con tainin 278,000 sq. ft. Although vehicles tend to create than components and workshop equipment, the g demonstrate a number of important developments efficiency of road transport operation. Not the 1 proprietary units are the new disc braking syste increasing the speeds of the slowest units—at, it is to be hoped, not too great a cost in fuel.
Another notable achievement is a marked improvement in the hand brakes of some vehicles. One manufacturer now provides air-pressure assistance for the hand brake as standard equipment on a heavy-vehicle range, whilst a new quantity-produced chassis has a disc brake in the transmission line. Power steering is being more widely installed, gear ratios multiply in number, and the two-speed rear axle is firmly established.
All these developments are important in overseas markets, as well as at home, and they have been brought to prominence in a year when the British commercial vehicle industry is setting up new export records. In the first half of this year some 74,000 vehicles out of a total production exceeding 235,000 were shipped overseas, earning .E2m. a week for Britain.
Nothing short of a Government policy of annihilation can stop the steady growth of road transport, and the industry goes forward in confidence. Earls Court provides the outward visible sign of the industry's inner determination to meet the needs of users throughout the world. •