Exit a Pioneer
23rd September 1960
Page 94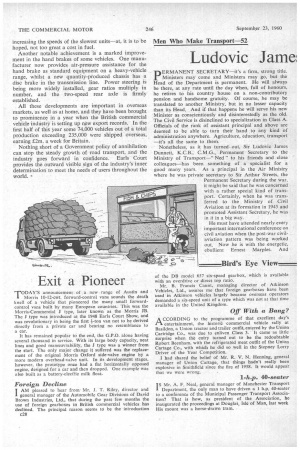 Page 95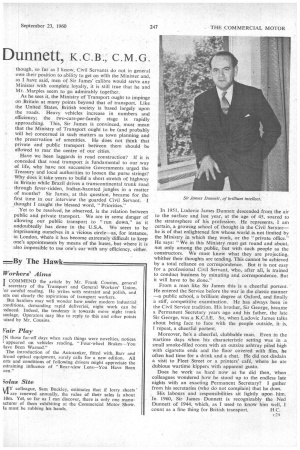 Page 94, 23rd September 1960 —
Exit a Pioneer
Close
T ODAY'S announcement of .a new range of Austin and I Morris I0-12-cwt. forward-control vans sounds the death knell of a vehicle that pioneered the many small forwardcontrol vans built by many European countries. This was the Morris-Commercial J type, later known as the Morris JB. The J type was introduced at the 1948 Earls Court Show, and was revolutionary in being the first 4.-ton van not to be derived directly from a private car and bearing no resemblance to a car.
It has remained popular to the end, the G.P.O. alone having several thousand in service. With its large body capacity, neat lines and good manceuvrability, the I type was a winner from the start. The only major change it suffered was the replacement of the original Morris Oxford side-valve engine by a more modern overhead-valve unit. In its development stages, however, the prototype once had a flat horizontally opposed engine, designed for a car and then dropped. One example was also built as a battery-electlic milk float.
Foreign Decline
I AM pleased to hear from Mr. J. T. Riley, director and I general manager of the Automobile Gear Divisions of David Brown Industries, Ltd., that during the past few months the use of foreign gearboxes in British commercial vehicles has declined. The principal reason seems to be the introduction
c28
of the DB model 657 six-speed gearbox, which is available with an overdrive or direct top ratio. Mr. B. Francis Caunt, managing director of Atkinson VehicleS, Ltd., assures me that foreign gearboxes have been used in Atkinson vehicles largely because overseas operators demanded a six-speed unit of a type which was not at that time available in the United Kingdom.
Off With a Bang?
ACCORDING to the programme of that excellent day's 1-1. entertainment, the histork commercial vehicle rally at Basildon, a Union tractor and trailer outfit, entered by the Union Cartridge Co., was due to enliven Class 3. It came as little surprise when the entry turned out to be the redoubtable Robert Beenham, with the refrigerated meat outfit of the Union Cartage Co., with which he did so well in the Stepney Lorry Driver of the Year Competition.
I had shared the belief of Mr. R. V. N. Henning, general manager of Union Cartage, that things hadn't really been explosive in Smithfield since the fire of 1958, It would appear that we were wrong.
1-h.p. 40-seater
I S Mr. A. F. Neal, general manager of Manchester Transport Department, the only man to have driven a 1 h.p. 40-seater to a conference of the Municipal Passenger Transport Association? That is how, as president of the Association, he inaugurated the proceedings at Douglas, Isle of Man, last week His mount was a horse-drawn tram.
Workers' Aims"
I COMMEND the article by Mr. Frank Cousins, general secretary of the Transport and General Workers' Union, or careful reading. He _writes with restraint and polish, and sets out clearly the aspirations of transport workers.
But hauliers may well wonder how under modern industrial_ :onditions, demanding rapid deliveries, night work can be 7educed. Indeed, the tendency is towards more night trunk laulage. Operators may like to reply to this and other points -aised by Mr. Cousins.
Fair Play
EN those far-off days when such things were novelties; notices L appeared on vehicles reading, "Four-wheel Brakes—You lave Been Warned."
The introduction of the Autotanker, fitted with Barr and ;troud optical equipment, surely calls for a new edition. All orts and conditions of following drivers might appreciate the estraining influence of "Rear-view Lens—You Have Been een."
5olus Site oly colleague, Sam Buckley, estimates that if lorry sheets' VI are renewed annually, the value of their sales is about 10m. Yet, so far as I can discover, there is only one manuacturer of them exhibiting at the Commercial Motor Show. le must be rubbing his hands.