GREATEI
23rd September 1960
Page 218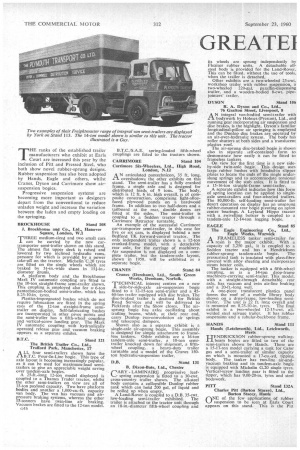 Page 219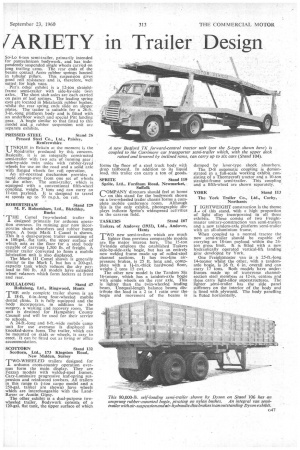 Page 218, 23rd September 1960 —
GREATEI
Close
Keywords :
iARIETY in Trailer Design THE ranks of the established trailer manufacturers who exhibit at Earls Court are increased this year by the inclusion of Pitt and Pressed Steel, who both show novel rubber-sprung designs. Rubber suspension has also been adopted by Hands, Eagle and others, whilst Cranes, Dyson and Carrimore show airsuspension bogies.
Progressive suspension systems are becoming more important as designers depart from the conventional to reduce unladen weight and increase the variation between the laden and empty loading on the springing.
BROCK HOUSE Stand 108 .1. Brockhouse and Co., Ltd., Hanover Square, London, W.1
MFIREE medium-sized and two small cars 1. can be carried by the new cartransporter semi-trailer shown on this stand. The almost flat upper deck is raised and lowered by two inclined hydraulic rams, pressure for which is provided by a power take-off on the tractor. Michelin C.20 tyres are fitted on the single wheels which are braked by 3f-in.-wide shoes in 15*-in.diameter drums.
A platform body and the Brockhouse Mark IV automatic coupling are fitted to the 10-ton straight-frame semi-trailer shown. This coupling is employed also for a. 6-ton pantechnicon-bodied semi-trailer, which has 8.25-10-in. tyres.
Plastics-impregnated bushes which do not require lubrication are fitted in the spring eyes of the 12-ton straight-frame semitrailer on display. Self-lubricating bushes i are incorporated n other pivot points and the semi-trailer has a fifth-wheel coupling and vertical-screw landing gear. The Mark IV automatic coupling with hydraulically operated release gear and vacuum braking appears as a separate exhibit.
B.T.C. Stand 121 The British Trailer Co., Ltd., Trafford Park, Manchester, 17
ALL four semi-trailers shown have the B.T.C. Four-In-Line bogie. This type of axle layout is becoming increasingly popular, as it can be used for maximum-load semitrailers to give an appreciable weight saving over tandem-axle bogies.
A 25-ft.-long 12-ton model displayed is coupled to a Thames Trader tractor, whilst the other semi-trailers on view are all of 15-ton payload capacity. Two have platform bodies and another a I,000-cu.-ft capacity van body. The van has vacuum and airpressure braking systems, whereas the other 15-tonners have twin-line air braking. Vacuum brakes are fitted to the 12-ton model.
ci46 B.T.C./S.A.E. spring-loaded fifth-wheel couplings are fitted to the tractors shown.
CARRIMORE Stand 104 Carrimore Six-Wheelers, Ltd., High Road, London, N.12
AN articulated pantechnicon, 35 ft. long, overshadows the other exhibits on this stand. The semi-trailer has a fully cranked frame, a single axle arid is designed for distributed loads of 9 tons. The body, which is 12 ft. 6 in. high overall, is of composite construction, comprising light-alloyfaced plywood panels on a hardwood frame. In addition to two half-doors and a tailboard at the rear, double doors are fitted at the sides. The semi-trailer is coupled to a Seddon tractor through a Carrimore Retractor turntable.
An example of the successful Carrimore car-transporter semi-trailer, in this case for five or six cars, is displayed behind a new Bedford TK forward-control tractor. The only independent trailer shown is a 12-ton cranked-frame model, with a detachable rear axle, for the carriage of machinery. Air suspension is not displayed on a complete trailer, but the tandem-axle layout, shown in 1958, will be exhibited as a separate bogie.
CRANES Stand 84
Cranes (Dereham), Ltd.' South Green Works, Dereham, Norfolk.
'TECHNICAL interest centres on a new I side-by-side-axle air-suspension bogie fitted to a I2-15-ton semi-trailer and a 4560-ton trailer equipped with disc brakes. The disc-braked trailer is destined for British Road Services and will be delivered to Pickfords after the Show closes. The airsprung bogie has axles oscillating about trailing beams, which, at their rear end, carry Dunlop two-convolution air springs and telescopic dampers.
Shown also as a separate exhibit is a single-axle air-sprung bogie. This assembly is designed for simple attachment to frameless tankers. Other exhibits are a 16-ton tandem-axle semi-trailer, a 10-ton semitrailer knocked down for shipment, a fifthwheel coupling, a heavy-duty trailer turntable and a model of the Cranes 150ton hydraulic-suspension trailer.
D.B. Stand 131
B. Dixon-Bate, Ltd., Chester (—NARY LAMINAIRE progressive leaf spring suspension is fitted to a 30-cwt. cross-country trailer shown. The all-steel body contains a collapsible Dunlop rubber tank which can hold 200 gal, of liquid and be rolled up when empty.
A Land-Rover is coupled to a D.B. 35-cwt. low-loading semi-trailer exhibited. The trailer is attached to the tractor unit through an 18-in.-diameter fifth-wheel coupling and its wheels are sprung independently by Flexitor rubber units. A detachable allsteel body is provided for the Land-Rover. This can be fitted, without the use of tools, when the trailer is detached.
Other exhibits are a two-wheeled 25-cwt. workshop trailer with rubber suspension, a two-wheeled 220-gal, paraffin-dispensing trailer, and a wooden-bodied 8-cwt, pipejointers' trailer.
DYSON Stand IL A. Dyson and Co., Ltd., 106 76 Grafton Street, Liverpool, 8
A N integral van-bodied semi-trailer with ..C1 bodywork by Holmes (Preston), Ltd., and' running gear incorporating air suspension and disc brakes, is the highlight. Dyson's familiar longitudinal-pillow air springing is employed and the Dunlop disc brakes are operated by an air-over-hydraulic system. The body has roller shutters at both sides and a translucent plastics roof. The air-sprung disc-braked bogie is shc*.vn also in separate self-contained form to demonstrate how easily it can be fitted to frameless tankers.
On view for the first time is a new sideby-side twin-axle bogie. This design uses large rubber hushes with bonded-in slipper plates to locate the ends of the single underslung springs and to accommodate torsional movement of the stub axles. It is fitted to a 15-16-ton straight-frame semi-trailer.
A separate exhibit indicates how this form of spring location can be applied to singleaxle semi-trailers and four-wheeled trailers. The 80,000-lb. self-loading semi-trailer for desert operation on display has an unsprung rubber-mounted rear bogie pivoting on nylon centre bearings. A Leyland Hippo tractor with a swivelling bolster is coupled to a tandem-axle 12-14-ton logging bogie.
EAGLE Stand 85 The Eagle Engineering Co., Ltd., Eagle Works, Warwick
A FRAMELESS tanker semi-trailer for .Cl resin is the major exhibit. With a capacity of 3,250 gal., it is coupled to a Seddon tractor and has a Hendrickson rubber-sprung tandem-axle bogie. The pressurized tank is insulated with glass-fibre covered with alloy sheeting and incorporates steam heater coils.
The tanker is equipped with a fifth-wheel coupling, as is a 14-ton drop-frame machinery-carrying semi-trailer. This model, with a straight-through detachable rear axle, has vacuum and twin air-line braking and a 20-ft-long well.
A one-piece translucent plastics panel forms the roof of a mobile library body shown on a drop-frame, low-loading semitrailer. The unit is 22 ft. long overall and is mounted on 8.25-10-in, tyres. The final exhibit is a two-wheeled 12-15-cwt. allwelded steel salvage trailer. It has rubber suspension and a tubular-backbone frame.
HANDS Stand 111
Hands (Letchworthec, Ltd., Letchworth, Hts HENDRICKSON rubber-sprung walkingbeam bogies are fitted to two of the semi-trailers shown by Hands. These are a 15-17-ton model carrying a tank for Calor gas and a semi-trailer of similar capacity on which is mounted a 17-cu.-yd. tipping body. Thetanker has two-line air-andvacuum braking and its tandem-axle bogie is equipped with Michelin G.20 single tyres, Vertical-screw landing gear is fitted to the tipper, which has 9.00-20-in. tyres and steel bodywork.
PITT Stand 132A Charles Pitt (Barton Stacey), Ltd., Barton Stacey, Hants
ONE of the few applications of rubber suspension to be seen at Earls Court appears on this stand. This is the Pitt
So-Lo 6-ton semi-trailer, primarily intended for pantechnicon bodywork, and has • independently suspended single wheels carried on long trailing arms. The rear ends of the beams contact Aeon rubber springs housed in tubular pillars. This suspension gives good roll resistance and is, therefore, well suited for high vans.
Pitt's other exhibit is a 12-ton straightframe semi-trailer with side-by-side twin axles. The short stub axles arc each carried on pairs of leaf springs. The leading spring eyes are located in Metalastik rubber bushes, whilst the rear spri7 ends slide on slipper plates. The" trailer is suitable for a 26-ft, 3-in.-long platform body and is fitted with an underfloor winch and special Pitt landing gear, A bogie similar to that fitted to this model and a rubber suspension unit are separate exhibits.
PRESSED STEEL Stand 26 Pressed Steel Co., Ltd., Paisley, Rent re ws hire IQUE. in Britain at the moment is the Roadrailer produced by this concern. Basically, it is an integrally constructed semi-trailer with two sets of running gear: side-by-side twin axles with rubher-tyred wheels for use on the road and a solid axle with flanged wheels for rail operation. An air-operated mechanism provides a rapid .change-over from one set of wheels to the other. The semi-trailer, which is equipped with a conventional fifth-wheel coupling, weighs 5 tons and can carry an 11-ton payload. It is designed to travel at speeds up to 70 m.p.h, on rail.
ROBF,RTSHAW Stand 129 M. F. Robertshaw, Ltd., Bletchley, Bucks
THE Camel two-wheeled trailer is designed primarily for arduous operation overseas. Its running gear now incorporates shock absorbers and rubber bump stops. A basic Mark I Camel is shown. This is a dual-purpose trailer consisting of a 100-gat, fiat tank, the upper surface of which acts as the floor for a steel body capable of carrying 1,500 lb. of freight. A similar trailer converted to form a mobile lubrication unit is also displayed. The Mark III Camel shown is generally similar to the Mark I, but has a 200-gal. capacity tank which reduces the dry payload to 500 lb. All models have extended wheel valances which form lockers at front arid rear.
ROLLALONG Stand 47 Rollalong, Ltd., Ringwood, Hants
THE only complete trailer shown is an 1 18-ft. 6-in.-long four-wheeled mobile dental clinic. It is fully equipped and the body incorporates, in addition to the surgery, a waiting and recovery room, The unit is destined for Hampshire County Council and will be used for their service to schools.
A 24-ft-long and 8-ft.-wide mobile camp unit for use overseas is displayed in knocked-down form. The trailer, which can be mounted on skids or wheels, is easy to erect. It can he fitted out as living or office accommodation.
SCOTTORN Stand 132
Scottorn, Ltd.' 173 Kingston Road, New Maiden, Surrey TWO-WHEELED trailers designed for 1 arduous cross-country operation overseas form the main display. They are Fezzan models with welded-steel frames, Cary:Laminaire progressive leaf-spring suspension and reinforced towbars. All trailers in this range (a t-ton cargo model and a 250-gal, tanker are shown) have wheels which are interchangeable with the LandRover or Austin Gipsy. The other exhibit is a dual-purpose twowheeled trailer. Bodywork consists of a 120-gal, flat tank, the upper surface of which
forms the floor of a steel truck body with drop tailboard. In addition to its liquid load, this trailer can carry a ton of goods.
SPRITE Stand 119 Sprite, Ltd., Fordham Road, Newmarket, Suffolk
r`OMPANY directors should feel at home
on this stand for the bodywork shown on a two-wheeled trailer chassis forms a complete mobile conference room. Although this is the only exhibit, photographic displays indicate Sprite's widespread activities in the caravan field.
TASKERS Stand 107 Taskera of Andover (1932), Ltd., Andover, Hants
TWO new semi-trailers which are much lighter than previous comparable models are the major interest here. The 15-ton Twinside employs the established Taskers side-by-side-axle bogie, but has an entirely new welded frame made up of rolled-steel channel sections. It has two-line airpressure brakes, is 25 ft. long and, compplete with a 11-in.-thick hardwood floor, weighs 2 tons 15 cwt. The other new model is the Tandem Six 16-tonner, which has a tandem-axle bogie with single wheels on the rear axle. This is lighter than the twin-wheeled leading beam. Unequal-length balance beams distribute the load in a 2 to 1 ratio over thebogie and movement of the beams is
damped by lever-type shock absorbers.
The D-S automatic coupling is demonstrated in a full-scale working exhibit consisting of a Thornycroft tractor and a 10-ton straight-frame semi-trailer. This coupling and a fifth-wheel are shown separately,
YORK Stand 113 The York Trailer Co., Ltd., Corby, Northants
LIGHTWEIGHT construction is the theme of this stand, with a high proportion of light alloy incorporated in all three exhibits. These consist of two Freightmaster unitary-construction van semi-trailers and a new tandem-axle platform semi-trailer with an all-aluminium frame.
When coupled to a normal tractor the new semi-trailer should be capable of carrying an 18-ton payload within the 24ton gross limit. It is fitted with a new hydraulically operated vertical-lift landing gear developed by York,
One Freightmaster van is a 25-ft.-long 14-tonner whilst the other, with a tandemaxle bogie, is 26 ft. 6 in overall and can carry 17 tons. Both models have underframes made up of transverse channelsection steel members at 12-in, centres and these carry light-alloy superstructures. The lighter semi-trailer has the side panel stiffeners on the interior of the body and is lined with plywood. The body panelling is fluted horizontally.