Advances on a Wide Front
23rd September 1960
Page 216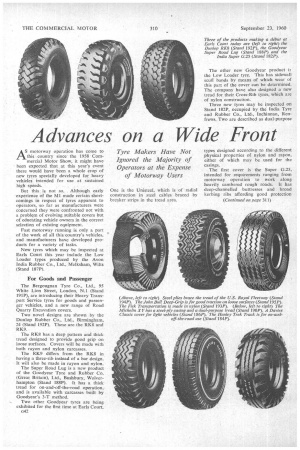 Page 217
Page 216, 23rd September 1960 —
Advances on a Wide Front
Close
Tyre Makers Have Not Ignored the Majority of Operators at the Expense of Motorway Users
As. motorway operation has come to this country since the 1958 Commercial Motor Show, it might have been expected that at this year's event there would have been a whole crop of new tyres specially developed for heavy vehicles intended for use at sustained
high speeds. .
But this is not so. Although early experience of the MI made certain shortcomings in respect of tyres apparent to operators, so far as manufacturers were concerned they were confronted not with a problem of evolving suitable covers but of educating vehicle owners in the correct selection of existing equipment.
Fast motorway running is only a part of the work of all this country's vehicles, and manufacturers have developed products for a variety of tasks.
New tyres which may be inspected at Earls Court this year include the Low Loader types produced by the Avon India Rubber Co., Ltd., Melksham, Wilts (Stand 187P).
For Goods and Passenger
The Bergougnan Tyre Co., Ltd,, 95 White Lion Street, London, N.1 (Stand 191P), are introducing their Heavy Transport Service tyres for goods and passenger vehicles, and a new range of Road Quarry Excavation covers.
Two novel designs are shown by the Dunlop Rubber Co., Ltd., Birmingham, 24 (Stand 192P). These are the RK8 and RK9.
The RK8 has a deep pattern and thick tread designed to provide good grip on loose surfaces. Covers will be made with both rayon and nylon carcasses.
The RK9 differs from the RK8 in having a three-rib instead of a bar design. It will also be made in rayon and nylon.
The Super Road Lug is a new product of the Go-odyear Tyre and Rubber Co. (Great Britain), Ltd., Bushbury, Wolverhampton (Stand 188P). It has a thick tread for on-and-off-the-road operation, and is available with carcasses built by Goodyear's 3-T method.
Two other Goodyear tyres are being exhibited for the first time at Earls Court. 042 One is the Unisteel, which is of radial construction in steel cables braced by breaker strips in the tread area.
The other new Goodyear product i5 the Low Loader tyre. This has sidewall scuff bands by means of which wear of this part of the cover can be determined. The company have also designed a new tread for their Cross-Rib tyres, which are of nylon construction.
Three new tyres may be inspected on Stand 182P, occupied by the India Tyre and Rubber Co., Ltd., Incbinnan, Renfrews, Two are described as dual-purpose
types designed according to the different physical properties of nylon and rayon, either of which may be used for the casings.
The first cover is the Super 0.25, intended for requirements ranging from motorway operation to work along heavily cambered rough roads. It has deep-channelled buttresses and broad kerbing ribs affording good protection against scuffing. The nylon-carcass version of this cover is offered for export markets, in which it will be known as the Nylode, .
The other dual-Purpose tyre is the Super G.26, deigned for vehicles operating on unmade roads. Abroad it will be sold as the •Nytrak and only in nylon construction, hut, like the Super G.25, will be offered at home with either a rayon ornylon
India's third. new cover is for light • vehicles and has been introduced in only one size, 6.50-16.
The Michela] Tyre Co., Ltd., 81 Fulham Road, London, S.W.3 (Stand VOP), have brought odt two new sizes of X cover. These are 8.25-17 and 7.00-16.
The Dual-Purpose is a new product of Pirelli, Ltd., 343 Euston Road, London, N.W.1' (Stand 183P): It' • is intended for vehicles operating over rough surfaces. • ' New exhibitors a the Show are the 'Kelly Springfield .Tyre Co., Ltd_ 1 Redh ill Street, London, N.W.1 (Stand 189P). This concern are displaying the Super •Armor. Trac, which is claimed to be
exceptionally, cool run
ning.' It, avadable in
nylon, construction. The
Dual `Frac . is a tyre designed for on-and-offthe road use, arid a speciality of this com pany is the Tractor Rib, a ,nylon tyre for the driving wheel of prime movers.
As' well as these products .making their debut at Farts Court, the established types which, may be inspected reflect the • wide choice available. In the category of standard tyre equipment for. normal road use-, the t34-es which operators may examine include the Avon Highroad, Highway Monarch and Light Truck. .
The Classic tyre, shown by the Davies Tyre Co.,' Ltd.,' The Hyde, London, N.W.9 (Stand 1,86.p), is intended for mainroad use. Its buttress design affords quick dissipation of heat generated by flexing.
Dunlop are exhibiting their Highway and Highway Major covers, and tubeless tyres for light vehicles.
Transport arid Super Transport tyres for general road use are displayed by the
Firestone Tyre and Rubber Co., Ltd., Great West Road, Brentford, Middx (Stand 185P). The Super Transport is a premium tyre: Tubeless Truck-Bits tyres fitted to Firestone one-piece drop-centre rims may also he ,examined.
Fisk Tyres, Ltd., 1 Frederick Street, Ridding, Derby (Stand I93P), .offer the Transportation cover for heayy vehicles. The ribbed tread design is said to 'provide ease of steering. The Transportation Nylon cOver has greater resistance to bruising and rupture.
Goodyear Traction Hi-Miler and HiMiler Extra Tread Type S tYres are also on show. The Traetion Hi-Miler is made with either a rayon or nylon casing, whilst the other cover has a high-tenacity rayon casing 4nd a tread of heat-resistant rubber.All-Weather and All-Service light-van tyres are further products of these Makers.
Henley's Tyre and. Rubber Co., Ltd., Randolph Avenue, Mairla Vale, London, W.9 (Stand 184P), exhibit their Maxi Miler. • This has a tapering buttress design which reduces the build-up of heat. , The Super 0.17 displayed by India is another example of tyre intended for main-road work.
Envoy and Deep-Grip tyres for light vehicles are exhibited by the John Bull Rubber Co., Ltd., Leicester (195P), as well as giant types.
Michelin X • Zigzag tyres on show embrace sizes 6;50-20, 8.25-20; 10.00-20 and a D.20. Two XC light-vehicle covers may also be examined, together with two Metallic tyres and three Steel covers,
these five being for 20-in. wheels. The U.S. Royal Fleetway tyre shown by the North British Rubber Co., Ltd., Castle Mills, Edinburgh, 3 (Stand 194.0), incorporates a steel-ply barrier in the tread.
Use of Tyrex cord by Pirelli is claimed to have enhanced' the life of their Carriload tyre by•20 per cent. The Carriload P.5 has a similar tread design but the carcass is heavier.
The.Cintura tyre is also displayed on the Pirelli stand. Its main feature is a circumferential belt under the tread to resist the stresses which tend to distort a normal .cover. Pirelli also exhibit Light Truck and Electruck tyres, Other covers especially made for delivery vans include the Avon Express Delivery, Davies Classic Light Truck, Fisk Airborne and Air-Flight, and India Light Truck. Low-loader tyres are shown by Avon, as mentioned above, Davies, Dunlop, Goodyear and India.
Tyres made for use on unmade surfaces fall broadly into three categories,
first, those for vehicles which work mainly on the road but occasionally have to divert from it on to loose ground. Next come covers for vehieles which are mainly operated on bad surfaces, and finally there are tyres for vehicles and machines wholly employed over rough ground, such as in quarries.
Tyres falling into these categories which can be inspected at the Show include the Avon Traction Mileage, Davies Dual-Grip, Dunlop Power Grip Major, Firestone Super Mileage Lug and All-Traction Truck, Fisk Tuf-Lug, Goodyear Road Lug, Henley Trek Track and Cross Country, India Super Rufway and Super All Purpose, Michelin XY and U.S. Royal Fleetrnaster and Super Fleetmaster.
Tyresoles, Ltd., Wembley, Midd (Stand 181P) are drawing attention to the cool-running characteristics which their
reconditioning processes p r o-v-i d e.
Michelin exhibit a 9.00-20 X tyre renovated by the Rebuildex method,