Contracts Refused : Lack of Vehicles
23rd September 1960
Page 215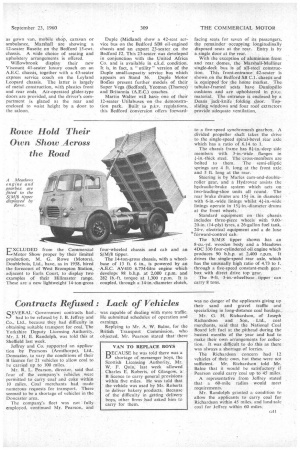 Page 215, 23rd September 1960 —
Contracts Refused : Lack of Vehicles
Close
QEVERALGovernment contracts had
had to be refused by J. B. Jeffrey and Co., Ltd., because they had difficulty in obtaining suitable transport for coal. The Yorkshire Deputy Licensing Authority, Mr. J. H. E. Randolph, was told this at Sheffield last week.
Jeffrey and Co. supported an application by Pearsons (Armthorpe), Ltd., Doncaster, to vary the conditions of their 13 licence for 21 vehicles to allow coal to be carried up to 100 Miles.
Mr. R. L. Pearson, director, said that four of the company's vehicles were permitted to carry coal and coke within 10 miles. Coal merchants had, made numerous requests for transport. There seemed to be a shortage of vehicles in the Doncaster area.
The company's fleet was not fully employed, continued Mr. Pearson, and was capable of dealing with more traffic. He submitted schedules of operation and earnings.
Replying to Mr. A. W. Balne, for the British Transport Commission, who objected, Mr. Pearson stated that there was no danger of the applicants giving up their sand and gravel traffic and specializing in long-distance coal haulage.. Mr. G. H. Richardson, of Joseph Richardson and Son, Ltd., coal merchants, said that the National Coal Board left fuel at the pithead during the busiest months of the year and had to make their own arrangements for collection, It was difficult to do this as there was always a shortage of lorries.
The Richardson concern had 12 vehicles of their own, but these were not sufficient Mr. Richardson told Mr. Balne that it would be satisfactory if Pearson could carry 'coal up to 45 miles.
A representative from Jeffrey stated that a 60-mile radius would meet requirements.
Mr. Randolph granted a condition to allow the applicants to carry coal for Richardson within 45 miles, and land-sale coal for Jeffrey within 60 miles.