NEW DESIGN! br NEW DUTIES
23rd September 1960
Page 186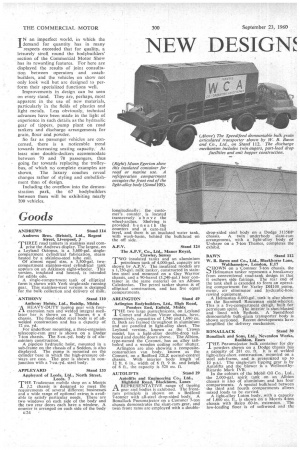 Page 187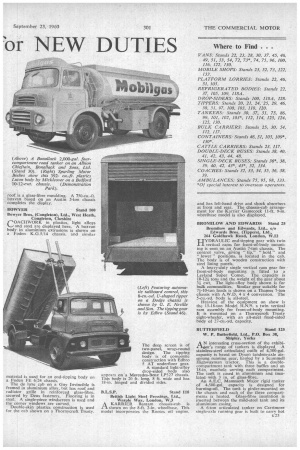 Page 188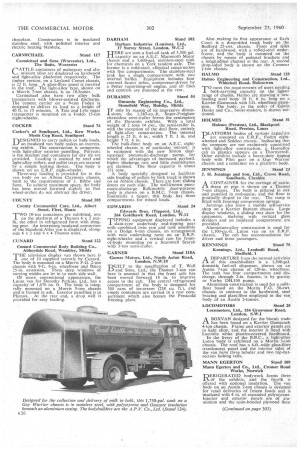 Page 193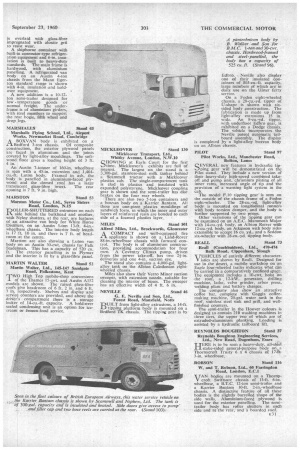 Page 194
Page 207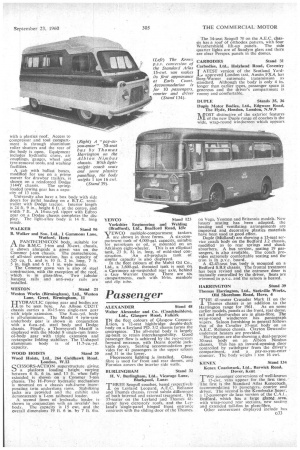 Page 208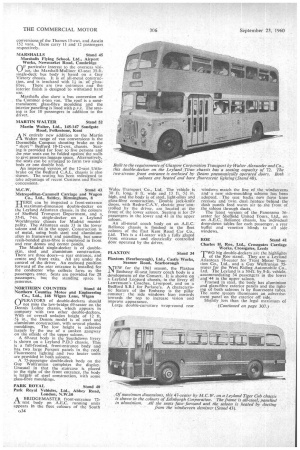 Page 213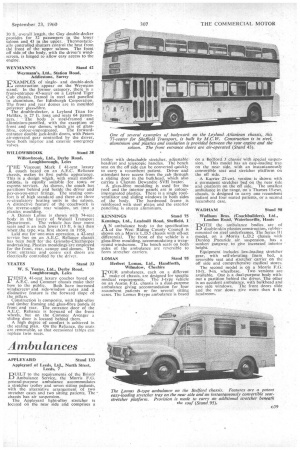 Page 186, 23rd September 1960 —
NEW DESIGN! br NEW DUTIES
Close
Keywords :
IN an imperfect world, in which the demand for quantity has in many respects exceeded that for quality, a leisurely stroll round the bodybuilders' section of the Commercial Motor Show has its rewarding features. For here are displayed the results of joint consultation between operators and coachbuilders, and the vehicles on show not only look well but are designed to perform their specialized functions well.
Improvements in design can be seen on every stand. They are, perhaps, most apparent in the use of new materials, particularly in the fields of plastics and light metals. Less obviously, technical advances have been made in the light of experience in such details as the hydraulic gear of tippers, pump plant on road tankers and discharge arrangements for grain, flour and powder.
So far as passenger vehicles are concerned, there is a noticeable trend towards increasing seating capacity. At least nine double-deckers accommodate between 70 and 78 passengers, thus going far towards replacing the trolleybus, of which no complete examples are shown. The luxury coaches reveai changes rather of styling and embellishment than of design.
Including the overflow into the demonstration park, the 67 bodybuilders between them will be exhibiting nearly 200 vehicles.
Goods
ANDREWS Stand 114 Andrews Bros. (Bristol), Ltd., Regent Street, Liverpool, 3 'THREE road tankers in stainless steel cora.1 prise the Andrews display. The largest, on a Leyland Octopus, is a 3,600-gal. singlecompartment cylindrical fabrication, steam heated by a stainless-steel tube coil.
Of almost equal size, a 3,500-ga1. twocompartment stainless-steel cylindrical tank appears on an Atkinson eight-wheeler. This version, insulated and heated, is intended for edible oils.
A single-compartment tank of elliptical form is shown with York single-axle running gear. This stainless-steel version is designed for the bulk collection and delivery of milk.
ANTHONY Stand 110 Anthony Hoists, Ltd., Ruislip, Middx
A HEAVY-DUTY tipping gear with four.C1 extension ram and welded integral oscillator bar is shown on a Thames 6 x 4 chassis. The fixed-sided steel body is of allwelded construction and has a capacity of 12 cu. yd.
For underfloor mounting, a three-extension telescopic-ram gear is shown on a Dodge 7-ton chassis. The 8-cu.-yd. body is of aluminium construction.
A pipeless hydraulic hoist, mounted in a sub-frame on the chassis of a Seddon, is also displayed. The pump is mounted on the cylinder base in which the high-pressure oilways are cask The gear is shown in conjunction with a 7-cu.-yd. steel body.
APPLEYA.RD Stand 133 Appleyard of Leeds, Ltd., North Street, Leeds, 7
THE Tradesman mobile shop on a Morris J.2 chassis is designed to meet the requirements of several different businesses and a wide range of optional extras is available to satisfy particular needs. There are two windows on each side of the body and the two rear doors each have a window. A counter is arranged on each side of the body
re24 • longitudinally; the customer's counter . is located transversely "a b ov e the wheel-arches. Shelving is provided beneath the counters and at cant-rail level, and there is an insulated water tank, with wash-basin, behind the bulkhead on the oft side.
A.P.V. Stand 124 The A.P.V. Co., Ltd., Manor Royal, Crawley, Surrey
TWO insulated tanks and an aluminium petroleum tank of 4,000-gal, capacity are shown by A.P.V. The .insulated models are a 1,750-gal. milk tanker, constructed in stainless steel and mounted on a Guy Warrior chassis, and a 90-barrel (3,240-gal.) beer container in the same material on an Albion Caledonian. The petrol tanker shown is of elliptical construction, and has five equal compartments.
ARLINGTON Stand 49 Arlington Bodybuilders Ltd., High Road, Ponders End, Enfield, Middy
THE two large pantechnicons, on Leyland Cornet and Albion Victor chassis, have, respectively, capacities of 1,740 and 1,690 Cult. Both are framed throughout in aluminium and are panelled in light-alloy sheet. The Leyland version, known as the Crown model, has a light-alloy double-drop tailboard and double doors above. The Albion, type-named the Coronet, has an alloy tailbard and a wooden coiling roller shutter.
Arlington are also showing a compositeconstruiction van body, known as the Consort, on a Bedford J2LZ normal-control chassis. With interior body length of 12 ft. 6 in., width of 6 ft. 9 in. and height of 6 ft., the capacity is 520 cu. ft.
AUTOLIFTS Stand 29 Antolifts and Engineering Co., Ltd., Highfield Road, Blackburn, Lanes
AREPRESENTATIVE range of tipping gear and bodies is exhibited. The frontram principle is shown on a Bedford 7-tanner with all-steel drop-sided body. A Bonallack Pneumajector on a Commer 7-ton chassis demonstrates the slant-ram .gear, and twin front rams are employed with a double
drop-sided steel body on • a Dodge 3135BP chassis. A twin underbody slant-ram arrangement, with a light-alloy body of U-shape on a 7-ton Thames, completes the exhibit.
BAWN Stand 112 ' W. B. Hawn and Co., Ltd., Blackhorse Lane, Walthamstow, London, E17 CHOWN on a Commer 7-ton chassis, the Helmsman tanker represents a breakaway from conventional road-tank design in that it eschews side fairings. The rear end of the tank shell is extended to form an operating compartment for Varley DH100 pump, meter,air eliminator and hydraulic-hose rewind equipment. A Helmsman 4,000-01 tank is also shown on the Scamtriell Routeenan eight-wheeler. This is a five-compartment design, built for petroleum spirit. The interior is shot-blasted and • lined with Epikote. A Speedifeed demountable balk-grain transporter body is shown sectioned. Recent developments have simplified the delivery mechanism.
BONALLACK Stand 30 Bonallack and Sons, Ltd., Nevendon Works, Basildon, Essex
T1-1E. Pneumajector bulk container for dry powders shown on a Dodge chassis has a capacity of 281 cu. ft. It is of welded light-alloy-sheet construction, mounted on a steel sub-frame, and is pressurjzed up to 10 p.s.i. The single-ram tipping gear is by Autolifts and the blower is a WellworthyRicardo Mark IVB.
In the colours of the Mobil Oil Co., Ltd" the 2,000-gal. spirit tank on an Albion chassis is also of aluminium and has four compartments. A special bulkhead between the third and fourth compartments allows mixed loads to be carried. A light-alloy Luton body, with a capacity of 1,600 Cu. ft., is shown on a Morris 4-top chassis with Baico 60-in. -extension. The low-loading floor is of softwood. and the roof is a glass-fibre moulding. A 750-cu.-ft. boxvan based on an Austin 5-ton chassis completes the display.
BOWYER Stand NO Bowyer Bros. (Congleton), Ltd., West Heath, Congleton, Cheshire
.COAC,COACHWORK in plastics, light alloys HWORK steel are displayed here. A boxvan
body in aluminium extrusions is shown on a Foden K.G.5/I4 chassis, and similar material is used for an end-tipping body on Foden FE 6124 chassis.
The de luxe cab on a Guy Invincible is framed in aluminium alloy, but has roof and radiator grille in reinforced glass-fibre, secured by Dzus fasteners. Flooring is in steel. A single-piece windscreen is used and the corner windows are curved.
Double-skin plastics construction is used for the cab shown on a Thornycroft Trusty. The deep screen is of two-panel, wrap-round design. The tipping body is of composite construction with Edhro 5 AT underfloor gear.
A standard light-alloy drop-sided body also appears on a Mercedes-Benz LP327 chassis. This body is 20 ft. long, 8 ft. wide and has 18-in, hinged and divided sides.
B.L.S.P. Stand 118 British Light Steel Pressings. Ltd., Warple Way, London, W.3
AKARRIER Bantam chassis-cab is shown on the 8-ft. 2-in. wheelbase. This model incorporates the Rootes oil engine. and has left-hand drive and shock absorbers at front and rear. The chassis-cab arrangement for the Karrier Gamecock 11-ft. 9-in. wheelbase model is also displayed.
BROMILOW AND EDWARDS Stand 25 Bromilow and Edwards, Ltd., ejo Edwards Bros. (Tippers), Ltd., 264 Goldhawk Road, London, W.12
HYDRAULIC end-tipping gear with twin vertical rams for front-of-body mounting is seen on an Austin 7-ton chassis. The control valve, giving "tip," " hold " and "
lower" positions, is located in the cab. The body is of wooden construction with steel lining panels. A heavy-duty single vertical ram gear for front-of-body mounting is fitted to a Leyland Super Comet. The capacity is 10-124 tons and the weight of the gear about 3f cwt. The light-alloy body shown is for bulk commodities. Similar gear suitable for 7f-10-ton loads is shown on a Thames 7-ton chassis with A.W.D. 4 x 4 conversion. The 5-cu.-yd. body is all-steel. Heaviest of the equipment on show is the 15-18-ton Model 5LN/9, a twin vertical ram assembly for front-of-body mounting. It is mounted on a Thornycroft Trusty eight-wheeler, with an all-steel fixed-sided body of 27-cu.-yd. capacity.
BUTTERFIELD Stand 125 W. P. Butterfield, Ltd., P.O. Box 38, Shipley, Yorks
A N interesting cross-section of the exhibi-Cle.tor's range of tankers is displayed. A stainless-steel articulated outfit of 4,300-gal. capacity is based on Dyson tandem-axle airsprung running gear, hauled by a Scammell Highwayman tractor. This is a doublecompartment tank with three baffles and an I8-in, manhole serving each compartment. The tank is cased in aluminium and insulated with 3 in. of glass-fibre.
An A.E.C. Mammoth Major rigid tanker of 4,500-gal. capacity is designed for burning-oil. The tank is girder-mounted on the chassis and each of the three compartments is heated. Glass-fibre insulation is inserted between the mild-steel tank and its aluminium casing.
A 6-ton articulated tanker on Carrimore single-axle running gear is built to carry hot K/5 chocolate. Construction is in insulated stainless steel, with polished interior and electric heating blankets, CARMICHAEL Stand 117 Carmichael and Sons (Worcester), Ltd., The Butts, Worcester
CATTLE containers of mahogany and aluk-, MilliUM alloy are displayed on hardwood and light-alloy platforms respectively. The timber version, on a Leyland Comet chassis, is 22 ft. long. A glass-fibre panel is inserted in the roof. The light-alloy type, shown on a Morris 7-ton chassis, is an 18-footer.
Carmichael also have two alloy bulk. transporters with blower-assisted discharge. The cement -carrier on a 9-ton Foden is designed to deliver its load to a height of 40 ft. in 15 minutes. A Tate and Lyle sugar transporter is mounted on a Foden 154on eight-wheeler.
COCKER Stand 74 Cocker's of Southport, Ltd., Kew Works, Meols Cop Road, Southport TIESIGNED to carry pallets or bulkloads, 1.1 an insulated van body makes an interesting exhibit. The construction is composite, with light-alloy exterior-panelling. Polyzote is theinsulant and containers for dry ice are provided. Loading is assisted by steel and light-alloy rollers, and pallet trays are secured by a simple locking device. The body is shown on an E.R.F. eight-wheeler.
Three-way loading is provided for in the van body on an Albion Claymore chassis, built to the requirements of J. Bibby and Sons. To achieve maximum space, the body has been moved forward slightly so that wheel-arches do not obstruct the driver.
COL NTY Stand 105 County Commercial Cars, Ltd., Albert Street, Fleet, Hants TWO 10-ton containers are exhibited, one 1 on the platform of a Thames 6t 2 outfit, the other in refrigerated form with slinging gear. An interesting insulated conversion of the Standard.Adas van is displayed, alongside 6 x 2 and 6 x 4 Thames units.
CUNARD Stand 122 Cunard Commercial Body Building Co., Abbeydale Road, Wembley, Middx television display van shown here is 1 one of 10 supplied recently by Cunard. The body is mounted on a Morris E.G. 2-ton chassis with 9-ft. 6-in, wheelbase and Baico 25-in. extension. Three deep windows of varying widths are let in to each side wall.
Of more conventional appearance, the Luton van for Dorothy Perkins, Ltd., has a capacity of 1,070 Cuft. The body is integrally mounted on a Morris 5-ton chassis and is framed in ash. Exterior panelling is in Plymax. • At the rear end, a drop well is provided for easy loading. DARHAM Stand 102 Darham Industries (London), Ltd.,
17 Surrey Street, London, W.C.2 Li-ERE are seen a fuel-oil tank of 3,500 gal. 1.1._ capacity on an A.E.C. Mammoth Major chassis and a 3,600-gal. stainless-steel tank for chemicals on a York tandem axle. The former isa mild-steel, elliptical construction with five compartments. The stainless-steel tank has a single compartment with two internal baffles. Equipment includes four external heater tubes, compressor-driven by a Peter vaporizing-oil engine, and air lines and controls are mounted at the rear.
DURAMIN Stand 54 Duramin Engineering Co., Ltd., Stonefield Way, Ruislip, Middx TF only by reason of its impressive dimen1 sions, the 1,387-cu.-ft. Super-Freighter chassisless semi-trailer forms the centrepiece of the Duramin exhibits. With a total weight of 2 tons 14 cwt., the semi-trailer is-, with the exception of the deal floor, entirely of light-alloy construction. The internal length is 25 ft. 6 in., width 7 ft. 3 in. and height 7 ft. 6 in. The bulk-flour body on an A.E.C. eightwheeled chassis is of particular interest : it is equipped with the new Simon dualsqueegee pneumatic-discharge pump, for which the advantages of increased payload, higher discharge rate and little maintenance are claimed. The flour capacity is about 151 tons. A body specially . designed to facilitate side loading of pallets by fork truck is shown on an Albion chassis. There are four sliding doors on each side. The well-known pneumatic-discharge Bulkmobile dual-purpose body is shown on a B.M.C. 7-ton chassis. Essentially a tipper, this body has three compartments for mixed loads. • EDWARDS Stand 24 Edwards Bros. (Tippers), Ltd., 264 Goldhawk Road, London, W.12
TIPPING equipment displayed includes a slant-type underbody end-tipping gear with combined twin ram and tank assembly on a Dodge 6-ton chassis, an arrangement with twin underslung rams on an E.R.F. eight-wheeler and a vertical ram for frontof-body mounting on a Scamrnell. Scarab with 3-ton semi-trailer.
GARNER Stand 118A Garner Motors, Ltd., North Acton Road, London, N.W.10
BUILT to the specification of T. Wall and Sons, Ltd., the Thames 3-ton van here is unusual in that the front axle has been moved forward 18 in. to improve access to the cab. The central refrigerated compartment of the body is designed for 300 cans. of ice-cream (238 cu. ft.), and empty containers are carried in a rear compartment which also houses the Presteold freezing plant.
Also making its first appearance at Earls Court is a drop-sided truck body on the Bedford 25-cwt. chassis. Floor and sides are of hardwood, with a rolled-steel underframe, and the body is mounted on the chassis by means of pedestal brackets and a longitudinal channel at the rear. A second.. drop-sided body is shown on the Commer -1-ton chassis.
HALMO Stand 128 Halmo Engineering and Construction, Ltd., Whitehall Road, Halesowen
-ro meet the requirements of users needing 1 bulk-carrying capacity on the lighter range of chassis, Halmo are showing a lowloading steel body 18 ft: 6 in, long on a Karrier Gamecock with 3-ft. Wheelbase extenskin. The body, to the order of Edwin Danks and Co., boiler-makers, is shown sectioned.
PLATFORM bodies of various capacities arc mounted on E.R.F" Foden eightwheeled and Seddon chassis. Indicating that the company are not exclusively concerned with light-alloy construction, a Hoinalloy cab in plastics appears on a Thornycroft. Other exhibits include a heavy-duty tipping body with Pilot gear on a Guy Warrior chassis and a container on a platform body.
JENNINGS Stand 23 3. H. Jennings and Son, Ltd., Crewe Road, Sandbach, Cheshire
A CONTAINER for the, carriage of cattle, .CI sheep or pigs is shown on a Thames 7-ton chassis. The body is pillared in oak and panelled in mahogany, and the floor is gradually sloped to the rear. The ramp is fitted with Jennings compression springs.
'Jennings also show a mobile self-service shop on a Karrier Bantam chassis. Large display windows, a sliding rear door for the customers, shelving with vertical glass dividers and an insulated compartment are . provided.
Aluminium-alloy construction is used for the 1,100-cu.-ft. Luton van on an E.R.F. chassis. The cab has accommodation for driver and three passengers.
A DEPARTURE from the normal activities .CI of this coachbuilder is a 1,500-gal. domestic fuel-oil dispenser, shown on an Austin 7-ton chassis of 120-in. wheelbase. The tank has four -compartments and discharge, through 2-in faucets, is by gravity or Varley DH.100 pump. Aluminium construction is used for a milkfloat based on the Morris F.G. 30-cwt. chassis, in contrast to the hardwood, steel bracing and glass-fibre employed in the van. body of an Austin 2-tonner.
LOCOMOTORS Stand 28 Locomotors, Ltd., 154 Grosvenor Road, London, S.W.1
ABOXVAN designed for the biscuit trade has been based on a Karrier Gamecock 4-ton chassis. Frame and exterior panels are in light alloy, and the interior is lined with lacomte white plastics-covered hardboard.
In the livery of the 13,11.C., a light-alloy Luton body is exhibited on a Morris 3-ton chassis. The roof has a 6-ft.-wide glass-fibre transluseent panel and the interior sides of the van have three tubular and two trip-hatsection lashing rails..
MANN EGERTON • • Stand 109 Mann Egerton and Co., Ltd.. Cromer Road Works, Norwich _LkERIGERATED bodywork forms three of the exhibits and the fourth is .offered with -optional insulation. The van
• body on an Austin 2-ton chassis is designedfor retail deliveries of frozen foods and is insulated with 4 in. of expanded polystyrene. Interior and exterior panels are -of aluminium and the resin-bonded plywood floor • is overlaid with glass-fibre impregnated with aloxite grit to resist wear.
A shipborne container with built-in convector-type refrigeration equipment and 6-in. insulation is built to heavy-duty standards. The main frame is hardwood, with alunitnium panelling, A refrigerated van body on an Austin 4-ton chassis from the Mann Egerton standard range is shown with 4-in, insulation and holdover equipment.
A new addition is a 10-12ton semi-trailer designed for low temperature goods Or normal freight. The underframe is of aluminium girders, with Steel members to support the rear bogie, fifth wheel and drop legs.
MARSHALLS Shoed 45 Marshalls Flying School, Ltd., Almost Works, Newmarket Road, Cambridge . A 130XVAN body is exhibited on a
..Cl. Bedford 3-ton chassis. Of composite construction, the exterior plywood panels are faced in aluminium and the joints covered by light-alloy mouldings. The softwood floor gives a loading height of 3 ft. 4 in.
An Austin 7-tormer of lft0-in. wheelbase is seen with a 45-in, extension and 1,464cu,-ft. Luton body. Framed in ash, the. body is panelled in aluminium-faced plywood and the domed roof has a large translucent glass-fibre insert. The real opening it 7 ft. 9 in. high.
MARSTON Stand 53
Marston Motor Co., Ltd., Seven Sisters Road, London, N.15
ROLLER-SHUTTERED entrances on each side behind the bulkhead and another, with Nyloy shutters, at the rear, are features of an attractive van body for White Horse Distillers, on an Austin 5-ton 13-ft. 4-in.wheelbase chassis. The interior body length is 17 ft. 10 in. and there is 7 ft. of headroom at the centre.
Marston are also showing a Luton van body on an Austin 30-cwt. chassis for Falk Stade/man. This has a capacity of 520 Cu. ft. The exterior panelling is in Plymax and the interior is lit by a glass-fibre panel.
MARTIN WALTER Stand 52 Martin Walter, Ltd., 145-147 Sandgate Road, Folkestone, Kent
TWO High Top mobile-shop conversions 1 of the Thames l5-cwt. and, Austin A152 models are shown. The raised glass-fibre roofs give headroom of 6 ft. 2 in. and 6 ft. 7 in. respectively. Shelves and display and service counters arc provided, and above the driver's compartment there is a storage
locker of 14-cu.-ft. capacity. A hold-over sealed condensing unit is an option for icecream or frozen-food service. MICKLEOVER Stand 130
Mickleover Transport, Ltd., Whitby Avenue, Loudon, N.W.10 CROWING at Earls Court for the first time, IVIickleover's exhibits are full of interest. The largest on the stand is a 3,300-gal. stainless-steel milk tanker behind a Scammell tractor with a Mickleover plastics cab. The single-compartment tank is clad in plastics and insulated with expanded polystyrene. Mickleover coupling gear is shown and the semi-trailer has disc brakes on the four rear wheels.
There are also two 5-ton containers and a boxyan body on a Karrier Bantam. All these are one-piece plastics mouldings of sandwich form, in which the inner and outer layers of reinforced resin are bonded to each side of a foamed plastics layer.
MILES Stand 101 Alfred Miles, Ltd., Brockworth, Gloucester
ACOMPACT and well-equipped fire appliance is shown on a. Land-Rover 88-in.-wheelbase chassis with forward control. The body is of aluminium construction, providing accommodation for four men. A Coventry Climax pump, driven from the power take-nit, has two 2k-in. deliveries and one 4-in, suction eye.
The stand also contains a 4,000-gal, lightalloy tank on the Albion Caledonian eightwheeled chassis.
Miles also show their Verso Minor suction sweeper, with extension nozzle, suitable for cleaning the interior of buses. The sweeper has an effective width of 4 ft. 6 in.
NEVILLE Stand 46
G. E. Neville and Son' Ltd., Forest Road, Mansfield, Notts BUHT from light-alloy extrusions, a 14-ft. tipping platform body is mounted on a Bedford TK chassis. The tipping gear is by Edb-ro. . Neville also display one of their insulated containers of 80.5-en.-ft. capacity, large numbers of which are in daily use on the Ulster ferry service.
On a Loden eight-wheeled chassis, a 28-cu.-yd. tipper of U-shape is shown with sixsided body construction. The fabrication is made up from light-alloy extrusions 15 in. wide. An 8-cu.-yd. tipper, with underfloor Edbro gear, is exhibited on a Dodge chassis. The vehicle incorporates the Neville patent automatic tailboard assembly. The display is completed by a light-alloy boxvan body on an Albion chassis.
PILOT Stand 97 Pilot Works, Ltd., Manchester Road, Bolton, Lanes QEVERAL new features in hydraulic tip%._)ping gear will he demonstrated on the Pilot stand. They include a new version of their heavy-duty high-speed combined takeoff and pump unit, chromium plating of all inner rams, increased angle of tip and the provision of a warning light system in the cab.
The model F.1() tipping gear' is aeon on the outside of the chassis frame of a Foden eight-wheeler. The 28-cu.-yd. light-alloy body. is mounted on longitudinal runners with body torsion damper, and the body is further supported by two props.
Other variations of the tipping gear can be examined on an A.E.C. Mammoth Major with 14-cu.-yd. body, an Albion Reiver with 12-cu.-yd. body, an Atkinson with body sides extensible to accept 16 cu yd., and a Seddon six-wheeler with 28-cu.-yd. tipping body.
REALL Stand 73
Reail (Coachbuiders), Ltd., 470-474 Bath Road, Cippenham, Slough 'VEHICLES of entirely different characterV istics are shown by Reall. Designed for use in the desert, a mobile workshop on an Eagle foul-wheeled trailer indicates what can be carried in a domparatively confined space. The equipment includes a 10-cwt, hoist on the roof. a 12-kW. generator, drilling machine, lathe, valve grinder, arbor press, welding plant and battery charger.
The company also show an attractive coffee bar, complete with Gaggia coffeemaking machine, 20-gal. water tank in the roof, stainless steel sink and grill, and wellfinished counters.
The semi-trailer in the Hoover colours is designed to contain 210 washing machines in three tiers, the upper two of which are of extruded-aluminium planking. Loading is assisted by a hydraulic tailboard lift.
REYNOLDS BOUGHTON Stand 27
Reynolds Boughton Engineering Services, Ltd., New Road, Dagenham,-Essex HERE is to be seen a heavy-duty, all-st0e1 stake-sided general-purpose body on. a Thornycroft Trusty 6 x 4 chassis of 17-ft. 3-in. wheelbase,
ROBSON Stand 116 W. and T. Robson, Ltd., 60 Earringdon Road, London, E.C.I
TAN bodies are mounted on a ThornyV croft Swiftsure chassis of 13-ft. 6-in. wheelbase, a B.T.C. 12-ton semi-trailer and a Karrier Bantana 10-ft. 2-in.-wheelbase chassis. A distinctive feature of all these bodies is the slightly barrelled shape of the side wails. Aluminium-faced plywood is used for the exterior panelling. The semitrailer body has roller shutters in each side and at the rear, and a boarded roof. K31
ROOTES Stand 135 Rootes, Ltd., Len Engineering Works, Mill Street, Maidstone, Kent
it LIGHT bus on the Commer i-ton El forward-control chassis has a '-full range of luxury optional extras. This version, with left-hand drive, appears in the fleet colours of K.L.M. and is powered by the Rootes petrol engine. A milk-float version based on a similar chassis is also shown. This is an oil-cngined model, with the 5.62 to 1 rear-axle ratio. A chassis-cab Arrangement for the 10-ft. 2-in. wheelbase Karrier Bantam, in the Walpamur colours, completes the display.
SCAMMELL Stand 103 G. Scammell and Nephew, Ltd., High Road, Finchley, London, N.12
EXIIIBITED in the fleet colours of British European Airways, a 300-gal, water tanker has been constructed on a Karrier Bantam chassis. Construction is in hardwood framing with aluminium panelling, with the rear, floor and water tank insulated with glass-fibre. Two hose reels are stowed at the rear and the central compartment accommodates four rubbish bins.
A 30-cu.-yd, light-alloy tipping body of tapered form is shown on at Foden F.G, 6/20 chassis. The unusual shape is intended to free the material immediately the body is tipped. Detachable tops are fitted to the body sides, so that the load can be reduced when required.
SPARSHAAT Stand 37 3. H. Sparshatt and Sons, Ltd., London Road, Hilsea, Portsmouth
ONE of the most interesting exhibits is a refrigerated container carried inside a van body on a Thames 3-ton chassis. The container is of frameless light-alloy construction and insulated with -5 in. of polystyrene. An " egg-box " floor is used to reduce conductivity. The independent outer body, of light alloy with barrelled sides, leaves room at the rear for the Prestcold condensing unit.
The company are also showing an 850cu.-ft. Luton van on an Austin 3-ton chassis. This is panelled in colour-impregnated glassfibre and has a full-length single-piece translucent glass-fibre roof. An Albion Claymore with full forward control has a single, panoramic windscreen and seating for the driver and three other passengers. The Luton body is of 1200, cu. ft. On a Commer 7-tonner of 9-ft. 7-in. wheelbase, a 1,500-gal, domestic oil-fuel delivery tank is shown in. Charrington's colours. The power-operated hose rewind gear and all controls are at the rear of the vehicle for one-man operation.
SPENBOROUGH Stand 20 Spenborough Engineering Co., Ltd., Union Road, Heckmondwike, Yorks
IN addition to their range of hydraulic pumps, control valves, rams and power take-offs, Spenborough demonstrate their new E.P.T. 1700 tipping gear. This is shown with an aluminium body on a Guy Warrior chassis and on a York trailer of 22 ft. overall length. The model E.P. 1700 is also new and appears with a stabilized light-alloy body on a 6-ton Atkinson.
The display includes a steel body with U.P.T. 140(I tipping gear on a Dodge 7tanner, the chassis frame of which has been shortened at the rear.
SPURL1NG Stand 22
Spading Motor Bodies, Ltd. Edgware Road, The Hyde, Hendon, London, N.W.9 AN ice-cream van with Prestcold built-in condenser unit is shown on a Bedford J2LZ7 3-ton chassis in the fleet colours of T. Wall and Sons, Ltd. Of aluminium construction, the van has two compartments, the forward being the " cold room" and the rear a store for empty containers and condenser house. Refrigeration is by Winget-Dole plates an body sides and roof.
A box body on an extended Bedford 4-ton chassis is of composite construction, with a translucent roof panel. A light alloy rear roller shutter is provided and the softwood floor has a centre strip of aluminium chequer plate. Spurlings are also showing a platform body of composite construction on a Thornycroft Mastiff chassis. The front bulkhead is framed in light alloy, and floor and headboard are in hardwood.
STEEL BARREL Stand 99
Steel Barrel Co., Ltd., High Road, Finchley, London, N.12 JULTI-COMPARTMENT tanks designed 1V1 for different applications, are shown here. On an Albion RE.27N chassis is a 3,000-gal. five-compartment tank , with standard fittings and a Varley SH.75 pump. A 4,000-gal. six-compartment semi-trailer spirit tank is attached to a Leyland Beaver tractor. A two-compartment aircraft refuelling tank of 1,450-gal, capacity is mounted on a Bedford TK chassis, and a Dennis Condot carries a 1,250-gal. threecompartment lubricating-oil dispenser.
TELEHOIST Stand 50 Telehoist, Ltd., Manor Road, Cheltenham
MEW tipping gear, known as the model S.L.8, is introduced on an Albion Clydesdale chassis with 8-cu.-yd. fixed-sided
body. With a tubular trunnion mounting, from which the ram is suspended, the gear offers a low ram locating point and avoids adding torsional rigidity to the chassis frame by providing a free bearing at one end. Another new exhibit is the all-steel 6-cu.-yd. body with S.L.7 tipping .gear on both Bedford and Rootes oil-engine chassis.
THOMPSON • Stand 86 Thompson Bros. (Bilston), Ltd., Bradley Engineering Works, Bilston, Staffs
TN addition to the rear-engined 4,000-gal. 1 tanker (page 295), the exhibitors are showing two tankers of more conventional design. These are a 3,000-gal, five-compartment drop-centre articulated type for spirit or kerosene, shown in conjunction with art A.E.C. Mercury tractor. A frameless stainless steel tank of 4.500-gal, capacity for industrial alcohol is mounted on a Scammell tandem bogie behind a Scammell tractor.
UNIVERSITY Stand 72 University Commercials and Coachwork, Ltd., 80 Piccadilly, London, W.1
TYRE servicing on site is the purpose of a Morris F.G. 2-ton van. The framework is of hardwood, panelled in aluminium,
with a plastics roof. Access to compressor and tool compartment is through aluminium roller shutters and the rear of the body is open. Equipment includes hydraulic crane, air couplings, gauges, wheel and tyre-removal tools, and washing facilities.
A cab with ballast boxes, modified for use on a prime mover for drawbar trailers, is shown on a reinforced Dodge
3144Y chassis. The springloaded towing gear has a capacity of 13 tons.
University, also have a box body with side doors for pallet loading on a B.T.C. semitrailer with Dodge tractor. Interior length is 24 ft. 9 in., height 6 ft. at the centre, and width 7 ft. A 14-cu.-yd. tipper with Edbro gear on a Dodge chassis completes the display. The light-alloy body is 14 ft. long inside.
WALKER Stand 96 B. Walker and Son, Ltd., 1 Ganunons Lane, Watford, Hertz
A PANTECHNICON body, suitable for .L-1. the B.M.C. 1-ton and 30-cwt. chassis, is shown alongside a gown van on the Commer 1-ton chassis. The pantechnicon, of all-steel construction, has a capacity of 525 cu. ft. and is 10 ft. 2 in. long, 7 ft. 5 in. high and 6 ft. 1 in, wide inside.
The Cornmer gown van is also of steel 'construction, with the exception of the roof, which is in glass-fibre. Two tubular hanging rails and anti-sway rails are installed.
WESTON Stand 21
Weston Works (Birmingham), Ltd.' Weston Lane, Greet, Birmingham, 11 HYDRAULIC tipping gear and bodies are to he seen here. An Albion CD2IT chassis carries a 10-15-ton single-ram gear with triple extension. The 8-cu.-yd, body is all-aluminium. The Model 4 twin-ram underbody gear is shown in conjunction with a 6-cu.-yd. steel body and Dodge chassis. Finally, a Thomycroft Mastiff is displayed with the Model 8 single-ram frontof-body gear with triple extension and rectangular folding stabilizer. The U-shaped aluminium body is of 11.7-cu.-yd. capacity.
WOOD HOIST'S Stand 20 Wood Hoists, Ltd. 264 Goldhawk Road, London. W.12
CCISSORS-ACTION superstructure giving .3 a platform loading height varying between 4 ft. 6 in. and. 13 ft. when fully extended is shown on a Commer 7-ton chassis. The Hi-Power hydraulic mechanism is mounted on a chassis sub-frame incorporating twin underslung rams. Stabilizing jacks are provided and the exhibit also demonstrates a 1-ton tailboard loader.
A, second form of hydraulic loader is shown in conjunction with an invalids' bus body. The capacity is 15 cwt. and the overall dimensions 19 ft. 6 in. by 7 ft. din. YEWCO Stand 123
Yorkshire Engineering and Welding (Bradford), Ltd., Bradford Road, Idle
YEWCO multiple-compartment tankers are shown in three forms. A six-compartment tank of 4,000-gal, capacity, suitable for petroleum or oil, is mounted on an Atkinson eight-wheeler. This is an elliptical tank, 23 ft. 812 A in. long, of mild-steel con struction, n all-products tank of similar capacity is also displayed. fri the fleet colours of the Mobil Oil Co., Ltd., a 3,600-gal. throated tank is seen on.
Carrimore air-suspended rear axle, behind a Guy Warrior tractor. There are six compartments, each with 16:in, manhole and dip tube.
Passenger
ALEXANDER Stand 48 Waller Alexander and Co. (Coachhuilders), Ltd., Glasgow Road, Falkirk
IN the fleet colours of Glasgow Corporation, a 72-seat highbridge double-deck body on a Leyland PD. 3/2 chassis forms the centrepiece. The all-metal body is largely jig-built to retain interchangeability. Good passenger flow is achieved by the two-stream forward entrance, with Deans double jackknife doors. Seating accommodation provides for 41 passengers in the upper saloon and 31 in the lower.
Fluorescent lighting ,is installed. Glassfibre is used for front and rear domes, and Formica covers the interior side walls.
BURLINGHAM Stand 32 H. V. Burlingham, Ltd., Vicarage Lane, Blackpool, Lance THREE Seagull coaches, based respectively 1 on Leyland Leopard, A.E.C. Reliance and Thames chassis, reveal subtle .differences of both internal and external treatment. The 37-seater on the Leyland and Thames 41seater have clerestory roofs, and the Leyland's 'single-panel hinged front entrance contrasts with the sliding door of the Thames.
The 34-seat Seagull 70 on the A.E.C. chassis has a roof of orthodox pattern, with four Weathershield lift-up panels. The side quarter lights are of Sundym glass and there are clear Perspex panels in the domes.
CARBOD1ES Stand 31
Carbodies, Ltd., Holyhead Road, Coventry T ATEST version of the Scotland Yard
approved London taxi, Austin FX.4, has Borg-Warner automatic transmission as standard. Although the body is only 4 in. longer than earlier types, passenger space is generous and the driver's compartment is roomy and comfortable.
DUPLE Stands 35, 36
Duple Motor Bodies, Ltd., Edgware Road, The Hyde, Hendon, London, N.W.9 lt /TOST distinctive of the exterior features _al of the new Duple range of coaches is the wide, wrap-round windscreen which appears
on Vega, Yeoman and Britannia models. New luxury seating has been adopted, the heating and ventilating arrangements are improved and decorative plastics materials have been used to good effect.
Duple (Midland) are showing a 15-seat service coach body on the Bedford J.2 chassis, modified as to rear springs and shock absorbers. A bus version, seating 19 passengers, is also available. The coach provides extremely comfortable seating and the trim is in p.v.c. board.
A 42-43-seat bus body is mounted on a Bedford S.B.8 chassis. The frontal treatment has been revised and the entrance door is manually controlled by the driver. Seats are trimmed in p.v.c. and the saloon is heated.
HARRINGTON Stand 39 Thomas Harrington, Ltd., Sisekville Works, Old Shoreham Road, Hove, 4 'T'HE 41-seater Crusader Mark II on the 1 Thames chassis is an addition to the Harrington range for 1961. As on some earlier models, panels at the front, rear dome, tail and wheel-arches are in glass-fibre. The wrap-round windscreen has pantograph wipers. Saloon furnishing in general follows that of the Cavalier 37-seat body on an A.E.C. Reliance chassis. Clayton Dewandre underseat heaters are provided. . Harrington are also showing a dual-purpose 30-seat body on an Albion Nimbus chassis. This has an inward-opening door controlled by switehgear from the driver's compartment, and a pay-as-you-enter counter. The body weighs I ton 16 cwt.
KENEX Stand 134 Kenex Coachwork, Ltd., Barwick Road, Dover, Kent
TWO passenger conversions of well-known 15-cwt. vans appear for the first time.. The first is the Standard Atlas Kenecoach, accommodating 10 passengers, courier and driver. The second is the Kenebrake Super, a 12-passenger de luxe version of the C.A.L. Bedford, which has a large glazed .area, with wrap-round rear sections, new seating and extended tail-fins in glass-fibre.
Other conversions displayed include bus conversions of the Thames 15-cwt. and Austin 152 vans. These carry 11 and 12 passengers respectively.
MARSHALLS Stand 45 MarshaIls Flying School, Ltd., Airport Works, Newmarket Road, Cambridge
OF particular interest to the overseas visi-. tor, the Marshall-Mulliner 63-seat 35-ft. single-deck bus body is based on a Guy Victory chassis. It is of all-metal construction, and is insulated with 11 in. of ;lassfibre. There are two entrances and the interior finish is designed to withstand hard use.
Marshalls also show a bus conversion of the Commer /-ton van. The roof is a semitranslucent glass-fibre moulding and the interior panelling is lined with p.v.c. The seating is for 10 passengers in addition to the driver.
MARTIN WALTER Stand 52 Martin Walter, Ltd., 145-147 Sandgate Road, Folkestone, Kent
A N entirely new addition to the Martin Walter range of van conversions is the Dormobile Compact shooting brake on the "short" Bedford 10-12-cwt. chassis. Seating is provided for four to five persons and he rear seats can be folded against the walls to give generous luggage space. Alternatively, the seats can be arranged to form two single beds or one double bed.
An improved version of the 12-seat Utilabrake on the Bedford C.A.L. chassis is also shown. The seating has been redesigned to take advantage of recent Customs and Excise concessions.
M.C.W. Stand 43 Metropolitan-Cammell Carriage and Wagon Co., Ltd., Saltley, Birmingham, 8
HERE can be inspected a front-entrance maximum-dimension double-decker on the Leyland Atlantean chassis, in the colours of Sheffield Transport Department, and a. 35-ft. 7-in. single-decker on a Leyland Worldmaster chassis for Madrid municipality. The Atlantean seats 33 in the lower saloon and 44 in the upper. Construction is of metal, using both steel and aluminium alloy in framework and panelling, but some resin-bonded glass-fibre is employed in front and rear domes and corner panels.
The Madrid single-decker is of doubleskin, steel and aluminium construction. There are three doors—a rear entrance, and centre and front exits. All are under the control of the driver. An enclosed position forward of the rear entrance is installed for the conductor who collects fares as the passengers enter. Seats are provided for 28 passengers, but the standing space is generous.
NORTHERN COUNTIFS Stand 44 Northern Counties Motor and Engineering Co., Ltd., 146 Wigan Lane, Wigan
OPERATORS of double-deckers should not miss the low-bridge 69-seater on the Dennis Loline chassis, which appears in company with two other double-deckers. With an overall unladen height of 12 ft. 511 in., the Dennis model is of steel and aluminium construction, with several plastics mouldings. The tow height is achieved largely by the use of a sunken gangway on the offside of the upper saloon. A 69-seat body in the Southdown livery is shown on a Leyland P.D.3 chassis. This is a full-fronted, front-entrance body and has two large Perspex panels in the roof. Fluorescent lighting and two heater units are provided in both saloons.
A 75-passenger double-deck body on the Guy Wulfrunian completes the display. Unusual in that the staircase is placed to the right of the front entrance, the body is largely of steel construction, with some glass-fibre mouldings.
PARK ROYAL Stand 40 Park Royal Vehicles, Ltd., Abbey Road, London, N.W.10
A BRIDGEMASTER front-entrance 72.C1. scat body on A.E.C. running units appears in the fleet colours of the South G34 Wales Transport Co., Ltd. The vehicle is 30 ft. long, 8 ft. wide and 13 ft. 5f in_ high, and the body is of steel, light-alloy and glass-fibre construction. Double jack-knife doors, with Redro-C.A.V. electric gear controlled by the driver, are located . at the front of the lower saloon. Seating is for 29 passengers in the lower and 43 in the upper saloon.
An all-metal coach body on an A,E.C. Reliance chassis is finished in the fleet colours of the East Kent Road Car Co., Ltd. This is a 41-seater with a fully glazed front entrance and electrically controlled door operated by the driver.
PLAXTON Stand 34 Plaztons (Scarborough), Ltd., Castle Works, Seamer Road, Scarborough
NEW for the 1961 season, the Plaxton Embassy 4I-seat luxury coach body is a development of the Consort. It is shown on a Leyland Leopard chassis, in the livery 6f Lawrenson's Coaches, Liverpool, and on a Bedford S.13.1 for Parlane's. A characteristic feature of the Embassy is the pillar contour: the side windows lean inwards towards the top to increase vision and improve appearance.
Large double-curvature wrap-round rear
windows match the line of the windscreens and-a new side-moulding scheme has been adopted. The seat backs now have knee recesses and -twin dual heaters behind the dash panels feed warm air to the front of the saloon through ducts.
The latest version of the Panorama 36seater for Sheffield United Tours, Ltd., on an A.E.C. Reliance chassis, has individual drop-down tables for each passenger, a rear buffet and venetian blinds to all side windows.
ROE Stand 41 Charles 11. Roe, Ltd., Crossgates Carriage Works, Crossgates, Leeds
TWO big double-deckers are the highlights of the Roe stand. They are a Leyland Atlantean 78-seater for Trent Motor Traction Co., Ltd" and a Guy Wulfrunian 75seater for the West Riding Automobile Co., Ltd. The Leyland is a 30-ft. by 8-ft. vehicle, accommodating 34 passengers in the lower 'and 44 in the upper saloon.
Framed in steel, the body has aluminium and glass-fibre exterior panels and the lighting of both saloons is by fluorescent tubes. The same system illuminates an advertisement panel on the exterior off side.
Slightly less than the legal maximum of
30 ft. overall length, the Guy double-decker provides for 32 passengers in the tower saloon and 43 in the upper. Thermostatically controlled shutters control the heat from the front of the upper saloon. The front off side of the body, with the driver's windscreen, is hinged to allow easy access to the engine.
WEYMANN'S • Stand 42 Weymann's,.Ltd., Station Road, • Addlestone, Surrey
EXAMPLES of singleand double-deck construction appear' on the Weymann stand. In the former, category, there is a front-entrance 47-seater on a Leyland Tiger Cub chassis, framed in steel and panelled in aluminium, for Edinburgh Corporation. The front and rear domes are in moulded polyester glass,fibre. The double-decker, a Leyland Titan for Halifax, is 27 ft. long and seats 64 passengers. The body is ste0-framed and aliiminium-panelled, with the exception of front and rear domes, which are of glassfibre, colour-impregnated. The forwardentrance double jack-knife doors, with Peters air-operated gear controlled by the driver, have both interior and exterior emergency -valves.
W ILLOWBROOK Stand 38 Willowbrook, Ltd., Derby Road, Loughborough, Leies
'HE Viscount Mark I 41-seat luxury 1 coach based on an A.E.C. Reliance chassis, makes its first public appearance. This is a design which. with small modifications, is equally suitable for tours or express services. As Shown, the coach has partitions behind and beside the driver and pay-as-you-enter fittings. The seating comfort is of high standard and there are three re-circulatory heating units in the saloon. A distinctive feature of the -coachwork is the reverse-angle rear window, set into a plastics moulding.
. A Dennis Loline is shown with 74-seat body in the livery of Walsall Transport Department. The 'vehicle has four more seats and is an inch lower (13 ft. 6 in) than whert_the type was first shown in 1958.
Laid out for one-man operation, a 42-seat service bus on an A.E.C. Reliance chassis has been built for the Grimsby-Cleethorpes undertaking. Plastics mouldings are employed for the front, rear, canopy and domes. The front entrance and centre exit doors are electrically controlled by the driver.
YEATES • Stand 33 W. S. Yeates, Ltd., Derby Road, Loughborough, Leics
-CIESTA 41-seat luxury coaches based on A.E.C. and Commer chassis make their
bow to the public. Both have increased windscreen' and side-window areas and a distinctive feature is the forward slope of the pillars.
Construction is composite, with light-alloy and timber framing and glass-fibre panels at front and rear. The entrance door of the A.E.C. Reliance is forward of the front wheels, but on the Commer Avenger a sliding door is located behind them.
A high degree of comfort is achieved in the seating plan. On the Reliance, the seats are removable, so that occasional tables can replace twin seats.
Ambulances
APpLEYARD Stand 133 Appleyard of Leeds, Ltd., North Street, Leeds, '7
11QUILT to the requirements of the Bristol 1.1 Ambulance Service, the Morris F.G. general-purpose ambulance accommodates a stretcher trolley and seven, sitting patients, with the alternative arrangement of two Stretcher cases and two sitting patients. The chassis has air suspension.
The Appleyard light-alloy stretcher is located on the near side and comprises a trolley with detachable stretcher, adjustable headrest and telescopic handles, The bench seat on the off side can be converted quickly to carry a recumbent patient. Driver and attendant have access from the cab through a sliding door in the bulkhead", which also carries a Clayton Dewandre SVII heater. A glass-fibre moulding is used for the roof and the interior paneg are in colourimpregnated plastics. There is a single roofventilator and sliding windows in both sides of the body. The hardwood frame is reinforced with steel plates and the exterior panelling is stucco aluminium.
KENNINGS Stand 75 Kennings, Ltd., Leadmill Road, Sheffield, 1 • •
AN ambulance body to the Specification of the West Riding County Council is shown on a Moeris L.D.5 chassis with off-set differential. The front of the vehicle is a glass-fibre moulding, accommodating a wrapround windscreen. The bench seats on both sides of the ambulance arc reversible to form stretcher carriers.
LOMAS Stand 95 Herbert Lomas, Ltd., Haudforth, Wilmslow, Cheshire
FOLIR ambulances, each on a different make of chassis, are designed for specific medical requirements. The J-type vehicle on an Austin E.G. chassis is a dual-purpose ambulance giving accommodation for four recumbent patients or for several sitting cases. The Lomas B-type ambulance is based on a Bedford J chassiswith ,Special suspension. This model has an easy-loading tray on the near side, with an instantaneously convertible seat and stretcher platform on the off side.
A KarrIer 25-cwt. version is Shown with a permanent stretcher bed on the near side and platform on the off side. The smallest ambulance in the range, on a Thames 15-cwt. chassis, is designed to carry one recumbent patient and four seated patients, or a second recumbent case.
WADHAM Stand 98
Wadham Bros. (Coachbuilders); London Road, Waterlooville, Hants' B01-11 the ambulance bodies are of double-skin plastics construction, rubberniertinted on steel underframes. The Series lit model, on a -Morris L.D.2 chassis with Dunlop Pneuride. air suspension, has a sunken gangway, to give increased interior
height. '
Equipment includes low-loading stretcher gear, with self-elevating foam bed, a reversible Seat and stretcher carrier on the off side and comprehensive medical stores.
The second model is on a Morris KG.
10-ft. 9-in. wheelbase. Two versions are available. One is a dual-purpose body without a partition behind the driver. The other is an accident ambulance. with bulkhead and two side windows. The front doors slide and the rear doors give more than 6 ft. head room.