83-UNIPOWER
23rd September 1960
Page 177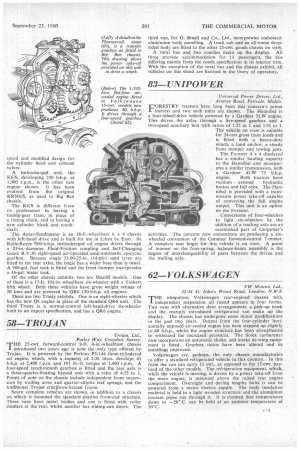 Page 177, 23rd September 1960 —
83-UNIPOWER
Close
Universal Power Drives, Ltd., • Aintree Road, Perivale, Middx. VORESTRY tractors have long been this concern's prime I' interest and two such units are shown. The Hannibal is a four-wheel-drive vehicle powered by a Gardner 5LW engine. This drives the axles through a five-speed gearbox and a two-speed auxiliary box with ratios of 1.25 to 1 and 1.91 to 1. The vehicle on view is suitable for 24-ton gross train loads and is fitted with a heavy-duty winch, a land anchor, a sturdy front bumper and towing jaws.
The Forester 4 x 4 displayed has a similar hauling capacity to the Hannibal and incorporates a similar transmission, with a Gardner 4LW 75 b.h.p.
engine. Both tractors have vacuum assisted hydraulic brakes and full cabs. The Hannibal is provided with a transmission power take-off capable of conveying the full engine output. This unit is an option on the Forester.
Conversions of four-wheelers to light six-wheelers by the tddition of a trailing axle are an established part of Unipower's activities. The concern now concentrate on producing .a sixwheeled conversion of the Commer forward-control 7-tonner. A complete rear bogie fOr this vehicle is on view. A point of interest on the four-spring; balance-beam assembly is the degree of interchangeability of parts between the driven and the trailing axle,