62-VOLKSWAGEN
23rd September 1960
Page 177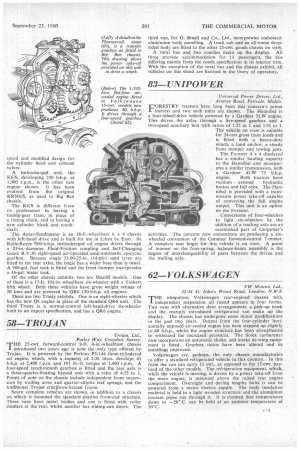 Page 177, 23rd September 1960 —
62-VOLKSWAGEN
Close
VW Motors, Ltd., 32-34 St. John's Wood Road, London, N.W.8.
THE ubicuitous Volkswagen rear-en gined chaSsis with independent suspension all round appears in four forms. Two vans with alternative door arrangements, a pick-up truck and the recently introduced refrigerated van make up the display. The chassis has undergone some minor modifications in the past two years. Output from the four-cylinder horizontally opposed air-cooled engine has been stepped up slightly to 40 b.h.p., whilst the engine structure has been strengthened to withstand the increased pressures. The Solex carburetter now incorporates an automatic choke, and intake de-icing equipment is fitted. Gearbox ratios have, been altered and its
scantlings improved. • .
Volkswagen are, perhaps, the. only • chassis manufacturers to offer a standard refrigerated vehicle in this country. In this form the vancan carry 12 cwt., as opposed to the 15-cwt. payload of the other models. The refrigeration equipment, which, while;the Vehicle is moving, is driven by a power take-off from the main engine; is mounted above the raised rear engine compartment. Overnight and during lengthy halts it can be powered from a mains electric supply. The body insulation material is held in a light wooden structure arid the aluminium coolant pipes run through it. It is claimed that temperatures down to —20° C. can be held at an 4mbient temperature of 50°C.