94-SMITH'S N.C.B.
23rd September 1960
Page 175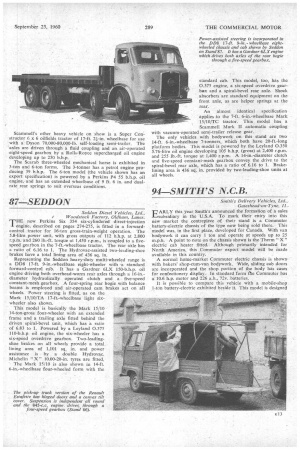 Page 176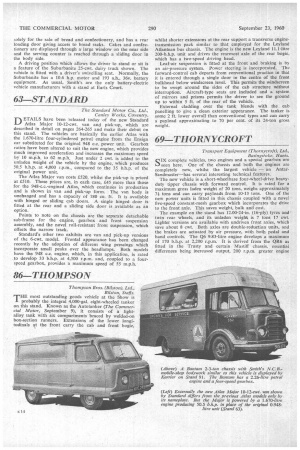 Page 175, 23rd September 1960 —
94-SMITH'S N.C.B.
Close
Smith's Deliver), Vehicles, Ltd., Gateshead-on-Tyne, ll.
..0 ARLY this year Smith's announced the formation of a sales subsidiary in the U.S.A. To mark their entry into this new -market the centrepiece of their stand is a Commuter battery-electric chassis of the type now being sold there. This model was, in the first place, developed for Canada. With van bodywork it can carry I ton and operate at speeds up to 25 m.p.h. A point to note on the chassis shown is the Therm electric cab heater fitted. Although primarily intended for North America, this Commuter export model will be Made available in this country.
A normal home-market Commuter electric chassis is shown with bakers' shop-cum-van bodywork. Wide, sliding cab doors are incorporated and the shop portion of the body has cases for confectionery display. In standard form tie Commuter has a 10.6 h.p. motor and 226 a.h., 72v. batteries.
It is possible to compare this vehicle with a mobile-shop 1-ton battery-electric exhibited beside it. This model is designed solely for the sale of bread and confectionery, and has a rear Loading door giving access to bread racks. Cakes and confectionery are displayed through a large window on the near side and the serving counter is reached through a sliding door in the body side.
A driving position which allows the driver to stand or sit is a feature of the Suburbanite 25-cwt. dairy truck shown. The vehicle is fitted with a driver's swivelling seat. Normally, the Suburbanite has a 10.6 h.p. motor and 193 a.h., 36v. battery equipment. As usual, Smith's are the only battery-electric vehicle manufacturers with a stand at Earls Court.