86-THOMPSON
23rd September 1960
Page 176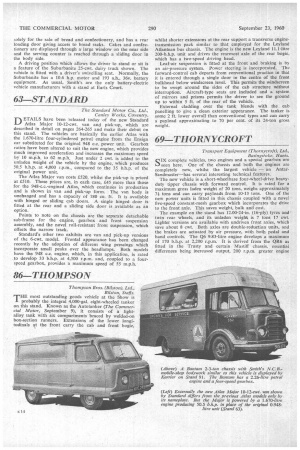 Page 176, 23rd September 1960 —
86-THOMPSON
Close
Thompson Bros. (Bilston), Ltd., Bilston, Staffs.
THE most outstanding goods vehicle at the Show is probably the integral 4,000-gal. eight-wheeled tanker on this stand. Known as the Autotanker (The Commercial Motor, September 9), it consists of a lightalloy tank with six compartments braced by welded-on box-section runners. Extensions of the lower longitudinals at the front carry the cab and front bogie,
whilst shorter extensions at the rear support a transverse enginetransmission pack similar to that employed for the Leyland Atlantean bus chassis. The engine is the new Leyland 11.1-litre 200-b.h.p. unit and drives the rearmost axle of the rear bogie, which has a two-speed driving head.
Leaf-air suspension is fitted at the front and braking is by an air-pressure system. Power steering is incorporated. The forward-control cab departs from conventional practice in that it is entered through a single door in the centre of the front bulkhead below windscreen level. This permits the windscreen to be swept around the sides of the cab structure without interruption. Aircraft-type seats are included and a system of mirrors and prisms permits the driver to see the ground up to within 5 ft. of the rear of the vehicle.
External cladding over the tank blends with the cab panelling to give a clean exterior appearance. The tanker is some 2 ft, lower overall than conventional types and can carry a payload approximating to 70 per cent, of its 24-ton gross weight,