69-THORNYCROFT
23rd September 1960
Page 176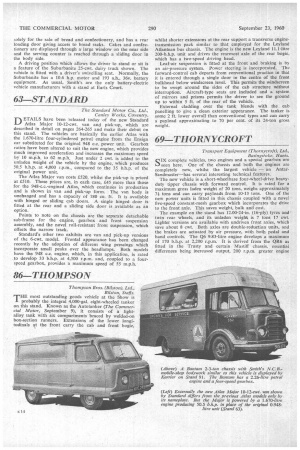 Page 177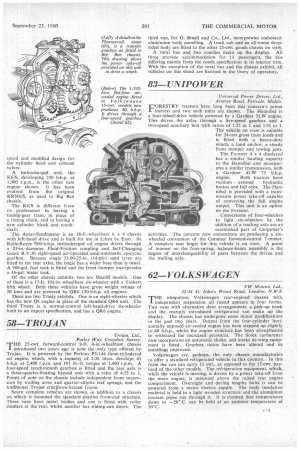 Page 176, 23rd September 1960 —
69-THORNYCROFT
Close
Transport Equipment (Thornycroft), Lid., Basingstoke, Hants. Q IX complete vehicles, two engines and a special gearbox are L3 seen here, One of the chassis and both the engines are completely new, whilst the largest vehicle — an AntarSandmaster—has several interesting technical features.
The new vehicle is a short-wheelbase four-wheel-drive heavyduty tipper chassis with forward control. It is rated for a maximum gross laden weight of 20 tons, weighs approximately 7-k tons and can carry payloads from 10-13 tons. One of the new power units is fitted in this chassis coupled with a novel five-speed constant-mesh gearbox which incorporates the drive to the front axle. This saves weight, bulk and cost.
The example on the stand has 12.00-24-in. (16-ply) tyres and twin rear wheels, and its unladen weight is 7 tons 17 cwt. Lighter versions are available with undriven front axles, which save about 8 cwt. Both axles are double-reduction units, and the brakes are actuated by air pressure, with both pedal and hand controls. The Q6 9.83-litre engine develops a maximum of 170 b.h.p. at 2,200 r.p.m. It is derived from the QR6 as fitted in the Trusty and certain Mastiff chassis, essential differences being increased output, 200 r.p.m. greater engine speed and modified design for the cylinder head and exhaust valves.
A turbocharged unit, the K6/S, developing 230 bh.p. at 1,900 r.p.m., is the other new engine shown. It has been evolved from the original KRN6/S, as used in Big Ben chassis.
The 1(6/S is different from itspredecessor in having a timing-gear train, in place of a timing chain, and in having a new cylinder block and crankshaft.
The Antar-Sandmaster is an 18-ft.-wheelbase 6 x 4 chassis with left-hand drive and is built for use in Libya by Esso. Its Rolls-Royce '300-b.h.p, turbocharged oil engine drives through a 25-in.-diameter Fluid-Friction coupling and Self-Changing Gears R.V.30 eight-speed air-operated semi-automatic epicyclic gearbox. Because single 21.00-25-in. (14-ply) sand tyres are fitted to the rear axles, the bogie has a wider base. than is usual. A 900-gal. fuel tank is fitted and the front bumper incorporates a 16-gal. 'water tank.
Of the other chassis exhibits, two are Mastiff models. One of these is a 17-ft. 101-in.-wheelbase six-wheeler with a Taskers fifth wheel. Both these vehicles have gross weight ratings of 20 tons and are powered by QR6 130-b.h.p. oil engines.
There are two Trusty exhibits. One is an eight-wheeler which has the new Q6 engine in place of the standard QR6 unit. The third Trusty is a normal-control left-hand-drive six-wheeler built to an export specification, and has a QR6 engine.