81-MORRIS
23rd September 1960
Page 174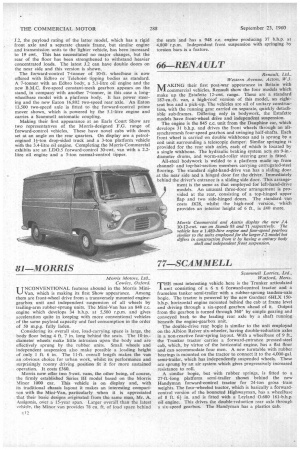 Page 174, 23rd September 1960 —
81-MORRIS
Close
Morris Motors, Ltd., Cowley, Oxford.
UUNCONVENTIONAL features abound in the Morris MiniVan, which is making its first Show appearance. Among them are front-wheel drive from a transversely mounted enginegearbox unit and independent suspension of all wheels by trailing-arm rubber-sprung units. The Mini-Van has an 848 c.c. engine which develops 34 b.h.p. at 5,500 r.p.m. and gives acceleration quite in keeping with more conventional vehicles of the same payload capacity and fuel consumption in the order of 50 m.p.g. fully laden.
Considering its overall size, load-carrying space is large, the body floor being 4 ft. 7 in. long behind the seats. The 10-in.diameter wheels make little intrusion upon the body and are effectively sprung by the rubber units. Small wheels and independent suspension also make possible a loading height of only 1 ft. 6 in. The 11-ft. overall length makes the van an obvious choice for urban work, whilst its performance and surprisingly roomy driving position fit it for more sustained operation. It costs £360.
Morris now offer two 5-cwt. vans, the other being, of course, the firmly established Series 111 model based on the Morris Minor 1000 car. This vehicle is on display and, with its traditional chassis layout it makes an interesting comparison with the Mini-Van, particularly when it is appreciated that their basic designs originated from the same man, Mr. A. Assigonis, over a 15-year span. Larger overall than the latest vehicle, the Minor van provides 78 Cu. ft. of load space behind the seats and has a 948 c.c, engine producing 37 b.h.p. at 4,800 r.p.m. Independent front suspension with springing by torsion bars is a feature.