77-SCAMMELL
23rd September 1960
Page 174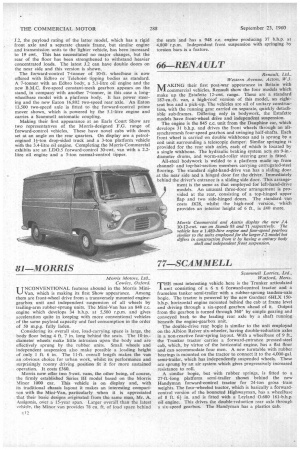 Page 175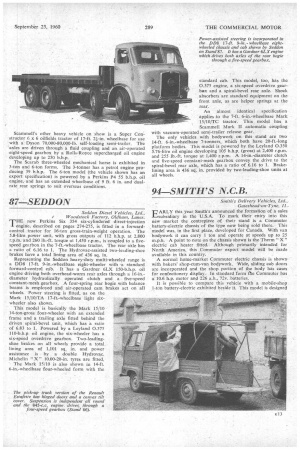 Page 174, 23rd September 1960 —
77-SCAMMELL
Close
Scammell Lorries, Ltd., Watford, Herts.
THE most interesting vehicle here is the Trunker articulated unit consisting of a 6 x 6 forward-control tractor and a frameless tanker semi-trailer with a rubber-sprung tandem-axle bogie. The tractor is powered by the new Gardner 61-ILX 150b.h.p. horizontal engine mounted behind the cab at frame level and driving through a six-speed gearbox ahead of it. Output from the gearbox is turned through 360° by simple gearing and conveyed back to the leading rear axle by a shaft running beneath the engine-gearbox unit.
The double-drive rear bogie is similar to the unit employed on the Albion Reiver six-wheeler, having double-reduction axles in a non-reactive four-spring layout. With a wheelbase of 9 ft., the Trunker tractor carries a forward-entrance pressed-steel cab, which, by virtue 'of the horizontal engine, has a flat floor and canaccommodate four men. A new turntable with rubber bearings is mounted on the tractor to connect it to the 4,000-gal. semi-trailer, which has independently suspended wheels. These are sprung by an air system which gives progressively increased resistance to roll.
A similar bogie, but with rubber springs, is fitted to a 27-ft.-long platform semi-trailer shown behind the new Handyman forward-control tractor for 24-ton gross train weights. The four-wheeled tractor, which is basically a forwardcontrol version of the bonneted Highwayman, has a wheelbase of 8 ft. 6+ in. and is fitted with a Leyland 0.680 161-b.h.p. off engine. This drives the double-reduction rear axle through a six-speed gearbox. The Handyman has a plastics cab. Scammell's other heavy vehicle on show is a Super Constructor 6 x 6 oilfields tractor of 17-ft. 21-in, wheelbase for use with a Dyson 70,000-80,000-16. self-loading semi-trailer. The axles are driven through a fluid coupling and an air-operated eight-speed gearbox by a Rolls-Royce supercharged oil engine developing up to 250 b.h.p. '
The Scarab three-wheeled mechanical horse is exhibited in 3-ton and 6-ton forms. The 3-tonner has a petrol engine producing 39 b.h.p.. The 6-ton model (the vehicle shown has an export specification) is powered by a Perkins P4 55 b.h.p. oil engine,, and has an extended wheelbase of 9 ft. 6 in. and dual rate rear springs to suit overseas conditions.